As the Florida Museum of Natural History commences its new First Colony exhibit in celebration of St. Augustine's 450th anniversary, this is an excellent time to consider how much this clash of civilizations — both Old and New Worlds on either side of the Atlantic — had a lasting influence on our modern lifestyle today.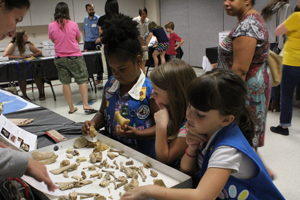 Staff, students and volunteers of the Environmental Archaeology Program (EAP) have been participating in the First Colony and She's a Scientist events hosted at Powell Hall this fall, and the Archaeologists for Autism event on the Space Coast, helping visitors explore the outcomes of this 16th-century cultural fusion through the eyes of an environmental archaeologist. After all, it wasn't just people that traveled the Atlantic – so too did many of the animals and plants we're familiar with today.
At the First Colony event, museum visitors were invited to examine animal remains — including actual bones excavated from St. Augustine! — in order to learn which animals were native to North America and which were brought to the Americas by the Spanish. Girl Scouts participating in the She's a Scientist event also examined animal bones and shells, and tested their knowledge of the origin of domesticated plants and animals on a table-top map. At the AFA event, visitors got all that and more! A lesson on chocolate recipes a lá Maya, based on evidence from residue research.
For young scientists interested in learning where plants and animals originated, we have two worksheets (designed by graduate student Nicole Cannarozzi) for grade levels 1-3 and 4-6 available in PDF format:
First Colony Animals – Grades 1-3.pdf