Macrobotanical Research at St. Catherines Island
Principal Investigator: Donna Ruhl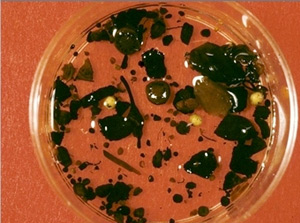 The St. Catherines Island archaeobotanical collection is among one of the largest well preserved plant collections for Spanish colonial remains in the Americas. In addition, its waterlogged component holds potential for ancient DNA research for a number of plant species. Ruhl is involved in two ongoing archaeobotanical projects at St. Catherines Island. The first is an assessment of best practice in archaeobotanical recovery methods (2008 and ongoing). Her second project, also ongoing, is identification and analysis of the carefully collected archaeobotanical remains from the St. Catherines Shell Ring site. In an earlier study of St. Catherines Island mission site macrobotany Ruhl documented the marked differences in the Georgia Bight plant landscape resulting from Old World-introduced domesticates and land-use practices.
---
Shell Ring Invertebrates
Zooarchaeological Analysis of Invertebrate Fauna from St. Catherines Shell Ring (9Li231), Georgia
Project Zooarchaeologist: Nicole Cannarozzi, 2009-2010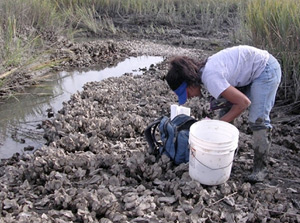 St. Catherines Island is a barrier island located off the coast of Georgia (Liberty County), 50 miles south of Savannah. Excavations led by David Hurst Thomas of the American Museum of Natural History, revealed a Late Archaic-period shell ring (4370 ± 90 BP cal.) adding to the suite of full rings and crescents that dot the coast of Florida, Georgia and South Carolina. While vertebrates have been studied from pre-Hispanic and Hispanic sites, invertebrate remains have not been integrated into zooarchaeological analyses from any site on the island. This study served to complement previous analyses of vertebrate remains to provide a more complete representation of the late archaic-period subsistence.
Well-preserved zooarchaeological remains recovered from three column samples from units within the ring structure were identified and quantified to address questions regarding procurement methods, season of collection, site seasonality, site formation processes, and site function. Questions such as what invertebrate species are present at the ring site, what habitats were exploited, how and during what season(s) of the year animals were captured or collected were explored in this study. These are fundamental data needed to reconstruct the history of occupation and use of the ring site. The fauna were analyzed using standard zooarchaeological methods described in Reitz and Wing (2007).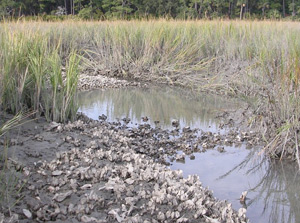 In a previous study, Cannarozzi used stable isotope geochemistry to determine whether oysters on St. Catherines Island accurately record ambient environmental conditions. Her studies of archaeological oyster oxygen isotope ratios show harvests in spring and late summer.
Download her research poster, and read her published reports:
Cannarozzi, Nicole R. "Estimating the season of harvest of the eastern oyster (Crassostrea virginica) from the St. Catherines Shell Ring." Seasonality and Human Mobility Along the Georgia Bight (2012): 171-186.
Cannarozzi NR, Kowalewski M (2019) Seasonal oyster harvesting recorded in a Late Archaic period shell ring. PLOS ONE 14(11): e0224666.
Inventory and Curation
Cataloging, Rehabilitation, and Curation of the St. Catherines Island Paleoenvironmental Collections
Principal Investigators: Donna Ruhl and Kitty Emery (ongoing)
In 2005, the John Edward Noble Foundation via the American Museum of Natural History donated valuable St. Catherines Island paleoenvironmental collections to the Environmental Archaeology Program for permanent curation and long-term research. These important collections represent over 20 years of archaeological work on St. Catherines Island, a barrier island off the coast of Georgia, by David H. Thomas and his colleagues including UF faculty and students. The collections included analyzed and unanalyzed zooarchaeological and archaeobotanical collections from historic (e.g., Mission Santa Catalina de Guale) and prehistoric (e.g., Meeting House Field) sites and modern comparative collections.
Their research potential is extensive. As the permanent repository for these collections, we realized that the transfer and integration into the parent holdings of the FLMNH's EAP would require a four-phased strategy including the crucial steps of inventorying, rehabilitation, computerization, and integration. Inventory, the critical first aspect of collections management, is essential to account for collections. The intent is to assess what we have and in so doing prevent, to the best of our ability, miscataloging, overlooking (not cataloging), misplacing, and/or misidentifying materials, which are potentialities of any comprehensive inventory project. Inventories of AMNH site numbers and boxes were cross-referenced where we could with assistance from David Hurst Thomas, with site name and Georgia Site numbers. Rehabilitation, the second objective for the collection, included rehousing/reboxing in archival quality materials (e.g., cabinetry, vials, bags, containers), labeling, developing finding aids, and preparing materials for computerization and integration into the extant collections. Computerization included entering itemized hand inventories into the computer using Excel and developing standardized data entry worksheets to accommodate final export into the Environmental Archaeology database. This last computerization phase will happen when the EAP database is available (still under construction). The final stage, integration, is still to come.