Ancient Maya Cuisine and Residue Analysis

Project Archaeologist: Lisa Duffy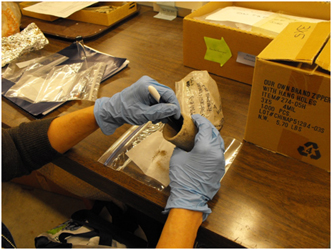 What foods were prepared with ancient Maya pottery and ground stone? I am testing different methods of identifying the residues on ancient food production tools to determine what substances they may have held. Traces of food and drink can be absorbed into pottery vessel walls or the surfaces of stone grinding tools. These can include burned food, microscopic plant or animal remains or chemical compounds such as fats, waxes, proteins and other organic compounds. If preserved, we can collect, analyze and identify these to learn about vessel and tool function, foodways, subsistence, economy and ritual activities.
Different chemical testing methods used to look for residues include:
Liquid chromatography/mass spectrometry
Gas chromatography/mass spectrometry
Stable isotope analysis
Some of the ingredients we can look for include:
Chocolate; we look for caffeine, theobromine and theophylline
Chili peppers; we look for capsaicin
Blood/Meat; we look for cholesterol and animal fats
Corn; microscopic analysis looks for starch grains and phytoliths
Magic mushrooms; we look for psilocybin and psilocin found in mushrooms and other fungi which were used for their psychotropic effects
Tobacco; we look for nicotine which was also sometimes consumed for its psychotropic effects.
The different spices and flavorings used by the ancient Maya in their food and drink, such as vanilla, can also sometimes be identified from chemical markers via mass spectrometry.
By using these different methods, the study of ancient cuisine can go beyond the identification of what foods were consumed to how they were processed, combined and served.  Examining ritual versus household vessels and tools may shed light on which ingredients were used for "special occasions" and which were for ordinary, routine consumption.  Additionally, which plants may have been available from local environments versus which were imported, and how these ancient recipes varied between sites can also be a focus of investigation.
Some of the sites included in this research are:
Cerro Maya, Belize (collection managers Dr. Debra Walker and Dr. Susan Milbrath)
Motul Polity, Guatemala (project directors Dr. Kitty Emery and Dr. Antonia Foias)
Marco Gonzalez/San Pedro, Belize (project director Dr. Elizabeth Graham)
Santa Rita Corozal, Belize (project directors Dr. Diane Chase and Dr. Arlen Chase)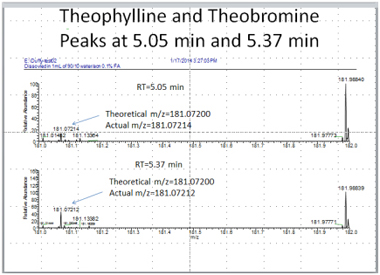 UHPLC-HRMS chromatogram showing the presence of chemical markers associated with cacao. (Results courtesy of UF Biomedical Mass Spectrometry Core).