The Environmental Archaeology program counts also with the dedicated contribution of collection assistants and volunteers. They collaborate to our research projects and to the management of the environmental archaeology collection.
Russell Anderson
E
nvironmental Archaeology Collections Assistant
CM interests: modern and archaeological environmental collections management, specialist in modern/comparative zoological specimen management including sclerochronological specimens.
Research interests: Modern natural resource composition, earth systems analysis, and climate science
Jenna Battillo, Ph.D.
Email: jbattil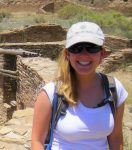 lo@floridamuseum.ufl.edu
Jenna Battillo is an environmental archaeologist and archaeobotanist whose research is focused on reconstructing subsistence practices and ancient environments using pollen and other biological remains from archaeological sites. Her dissertation research, conducted at Southern Methodist University, applied optimal foraging models to paleofecal data in order to assess the motivations of Basketmaker peoples to adopt and intensify farming in southeast Utah. Currently she is working with several other members of the EAP on integrating the fish specimens donated by Andreas Paloumpis into the museum's comparative collections and conducting pollen analysis on soils from Olmec and Maya sites. Jenna will also be working with Julie Waters and her team integrating information on paleofeces into the "Scoop on Poop" Exhibit at the Florida Museum of Natural History, opening in late January.
See Dr. Battillo's new publication on the role of corn fungus in Basketmaker II diet here.
Research Gate Profile: https://www.researchgate.net/profile/Jenna_Battillo