Florida Museum appoints Nicole Cannarozzi as environmental archaeology collections manager
Oct. 5, 2018
Writer: Nikhil Srinivasan, 352-273-2034, nsrinivasan@flmnh.ufl.edu
Source: Nicole Cannarozzi, 352-273-1926, ncannarozzi@flmnh.ufl.edu
Media contact: Paul Ramey, 352-273-2054, pramey@flmnh.ufl.edu
GAINESVILLE, Fla. — Archaeologist and collections assistant Nicole Cannarozzi was recently appointed collections manager of the Florida Museum of Natural History's environmental archaeology program.
Cannarozzi originally started at the Florida Museum in 2004 as a faunal analyst after graduating from the University of Florida with a bachelor's degree in anthropology. She's worked with the museum in various positions over the past 14 years and is presently a UF anthropology doctoral student.
"The museum is one of the reasons I've stayed in Gainesville," said Cannarozzi, who was hired into her current position in March. "I've been lucky to work in one of the best zooarchaeology labs in the country."
Cannarozzi said she wants to focus on outreach, with a goal of recruiting more volunteers and participating in museum-sponsored and external events to expose more people to environmental archaeology.
"I'm very happy, it's my dream job," Cannarozzi said. "I really like the integrated nature of the museum where you have many departments and disciplines under one roof. That kind of atmosphere fosters communication and collaboration that is so important for our research."
The Florida Museum environmental archaeology program was established in 1961. Its researchers use soil and animal and plant remains from archaeological sites to better understand past human interactions with the natural environment.
For more information on the environmental archeology program, visit www.floridamuseum.ufl.edu/envarch.
The Environmental Archaeology Program (EAP) of the Florida Museum of Natural History, University of Florida, is a research and teaching laboratory devoted to the reconstruction of the ancient environments of Southeastern North America and the circum-Caribbean, encompassing Mexico, Central America (including the SE USA, and northern South America). Our aim is to understand the deep-time history of the relationship between humans and their environments.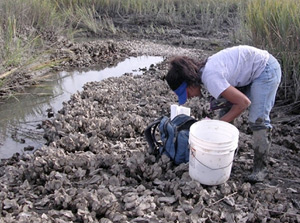 The Environmental Archaeology Program collections include modern comparative and archaeological specimens of zoological, botanical, and pedological materials. Our modern comparative collection represents over 13,000 individual specimens and forms the foundation of our research as well as for biological and ecological studies. The EA Program's collections are strongest in zoological comparative and zooarchaeological specimens, while our archaeobotanical/macrobotanical comparative, archaeopedological and modern soils holdings are growing. Our Environmental Archaeology collections are integrated, combining both comparative and archaeological materials, and are one of only a few such collections in the United States or the world. Our osteological fish comparative collection is one of the largest in North America. The region of our greatest strength is in southeastern North America and the Caribbean. We also have excellent comparative collections from northwestern South America and Mesoamerica and these have shown considerable growth in recent years.