Welcome to Environmental Archaeology
The Environmental Archaeology Program (EAP) of the Florida Museum of Natural History, University of Florida, is a research and teaching laboratory devoted to the reconstruction of the ancient environments of Southeastern North America and the circum-Caribbean, encompassing Mexico, Central America (including the SE USA, and northern South America). Our aim is to understand the deep-time history of the relationship between humans and their environments.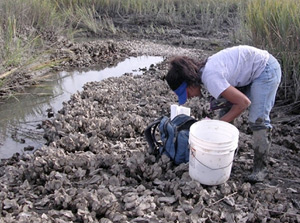 The Environmental Archaeology Program collections include modern comparative and archaeological specimens of zoological, botanical, and pedological materials. Our modern comparative collection represents over 13,000 individual specimens and forms the foundation of our research as well as for biological and ecological studies. The EA Program's collections are strongest in zoological comparative and zooarchaeological specimens, while our archaeobotanical/macrobotanical comparative, archaeopedological and modern soils holdings are growing. Our Environmental Archaeology collections are integrated, combining both comparative and archaeological materials, and are one of only a few such collections in the United States or the world. Our osteological fish comparative collection is one of the largest in North America. The region of our greatest strength is in southeastern North America and the Caribbean. We also have excellent comparative collections from northwestern South America and Mesoamerica and these have shown considerable growth in recent years.​
We are hiring! See our job ad for Environmental Archaeology Collection Manager HERE.