We welcome visitors interested using the FLMNH-EAP collections to conduct academic and scientific research on the interaction of humans in modern and ancient environments of the circum-Caribbean, including southeastern North America, the Caribbean, Central America, and northern South America. Such visits must be pre-arranged with the Curator, Dr. Kitty F. Emery.
The Environmental Archaeology Program holdings are comprised of five separate collections: 1) the modern zoological comparative collection; 2) the zooarchaeological collection; 3) the modern botanical comparative collection; 4) the archaeobotanical collection; and 5) the archaeopedology collection. These represent nearly 3.5 million specimens. Printed and electronic data associated with these collections are also archived in our laboratory. The EAP collections also include publically available data that may be used in accordance with the Florida Museum database policy.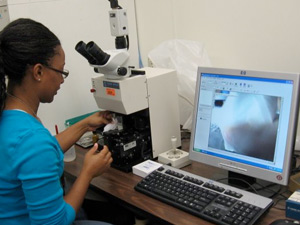 Our collections are intended for academic and scientific research and access to them is governed by the collection policies of the Florida Museum of Natural History and the University of Florida.
These policies are intended to protect natural and cultural resources for the common good. Of particular importance is the Florida Museum Collection Policy statement on Collections Access.
Under Museum policy, access to the EAP collections is confined to Museum operating hours for legitimate research and study by responsible investigators, subject to procedures necessary to safeguard the objects and to restrictions imposed by limitations of space, facilities, and availability of appropriate curatorial staff. Access to collections is determined by the curator and collection manager. We note that the Museum discourages use of its collections in commercial, non-educational contexts.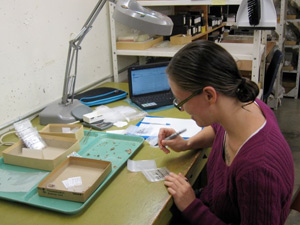 Please read our complete EAP policies if you are interested in using our collections. Please contact the curator or collection manager at least 30 days in advance of your visit to obtain permission and arrange for use of our laboratory's resources. The EAP is located in the Dickinson Hall on Museum Road and Newell Drive: Directions and Hours.
If you have already arranged your visit and are looking for more information, please check out these links about Gainesville: http://www.cityofgainesville.org/ with many great links about transportation, services, and resources around town on their Community page; http://www.visitgainesville.com/ with tourist-oriented information; and our local newspaper, the Gainesville Sun http://www.gainesville.com/, and ApartmentList https://www.apartmentlist.com/fl/gainesville. We have also compiled some information on local housing for short term visits: Guide to Lodging for Visiting Researchers (PDF).