Caribbean Fauna Exploitation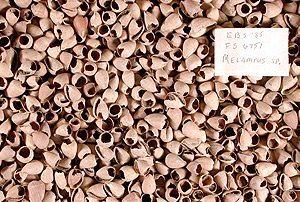 Ongoing excavations at various sites throughout the Caribbean are discovering growing evidence for overexploitation of resources, particularly fish and shellfish. This evidence includes a decrease in the sizes of territorial reef fishes, a decline in the relative abundance of predatory fishes high in the food chain (e.g. grouper and snapper), and a relative increase in the abundance of herbivorous fishes such as parrotfishes and surgeonfishes. Similar changes have been observed in reef fish populations that are intensively fished today. In the face of declining reef fish populations in addition to decreases in the sizes of some marine snails and land crab populations, it appears these early island inhabitants did not intensify the use of captive and domestic animals for food. Rather, people turned to other fishery resources, such as the tuna.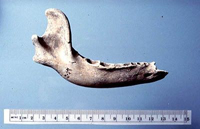 Data revealing evidence of over-exploitation of marine resources comes from a number of diverse archaeological projects, including: the ABC islands off the coast of Venezuela; the Lesser Antilles including Grenada, Barbados, St. Kitts, Nevis, Antigua, St. Eustatius, St. Martin, and Saba; the Greater Antilles including Puerto Rico, Hispaniola, and Jamaica; the Virgin Islands; and the Bahamas including the Turks and Caicos, Samana Cay, Crooked Island, and San Salvador.
References
Wing, Elizabeth S. (2001) Native American use of animals in the Caribbean. Pp. 481-518 in C.A. Wood and F.E. Sergile, eds. Biogeography of the West Indies: Patterns and Perspectives. Boca Raton, Florida: CRC Press.
Wing, Elizabeth S. (2001) The sustainability of resources used by Native Americans on four Caribbean islands. International Journal of Osteoarchaeology 11(1-2): 112-126.
Wing, Elizabeth S. and S.R. Wing (2001) Prehistoric fisheries in the Caribbean. Coral Reefs 20(1): 1-8.
---
Faunal Exploitation and Translocation at Carriacou, Grenadines
NC State News: Archaeologists Find New Evidence Of Animals Being Introduced To Prehistoric Caribbean
References
LeFebvre, M.J. 2007. Zooarchaeological Analysis of Prehistoric Vertebrate Exploitation at the Grand Bay Site, Carriacou, West Indies. Coral Reefs 26(4): 931-944.
Giovas, C.M., LeFebvre, M.J., and S.M. Fitzpatrick 2012. New Records for Prehistoric Introduction of Neotropical Mammals to the West Indies: evidence from Carriacou, West Indies. Journal of Biogeography 39(3):476-487.
---
Life Before Columbus at En Bas Saline, Haiti
Visit the En Bas Saline website to learn more about the project.
References
Deagan, K.D. 2004. Reconsidering Taino Social Dynamics After Spanish Conquest: Gender and Class In Culture Contact Studies. American Antiquity 69(4): 597-626.
Wing, E.S. nd. Report on File Florida Museum of Natural History.
---
Differential Deposits at MC-6 (Middle Caicos)
Recent excavations by Joost Morsink (Courtesy Assistant Scientist, Florida Museum) at MC-6, a prehistoric site on the island of Middle Caicos, produced several vertebrate faunal samples. Zooarchaeological analysis by Michelle LeFebvre has focused on eight vertebrate samples from 2 different contexts: 2 samples recovered from within a stone "structure", Structure IV, and 6 samples from the surrounding midden. Results indicate clear spatial distinctions in vertebrate processing (and presumed consumption) and deposition at the site, and suggest that the habitation of MC-6 may have been influenced in part by the procurement and processing of bonefish (Albula vulpes). (Adapted from LeFebvre, M.J. and J. Morsink 2012. Results of Vertebrate Zooarchaeology from MC-6 , Middle Caicos, Turks and Caicos Islands. Poster exhibit in the Florida Museum of Natural History Fall 2012 Student Research Exhibit.)