Wow! Looking back at 2021 is quite an adventure. This year brought some challenges, but we also saw some pretty exciting things here at the Florida Museum.
We have so much gratitude for our supporters and friends, visitors, staff and online fans for making this year so amazing! Join us in a quick look back at some of our favorite moments and most memorable adventures.
Excited About Exhibits
We started the year with Flash the Sloth and the Survival of the Slowest exhibit which featured live animals whose slow, small or weak traits helped them thrive. In September, we were excited to welcome our new special exhibit, Tiny Titans: Dinosaur Eggs and Babies, that looks at the lives of dinosaurs through their eggs, nests and embryos.
Our changing gallery exhibits were also popular this year. Invisible Insects featured fantastic photos and bug specimens under magnifiers to talk about Florida's declining insect populations. Don't miss the current West Gallery exhibit, Inner Beauty, which offers a gorgeous look at our Fish Collection revealed by CT scanning or clearing and staining specimens.
New Ways to Museum
For our friends who weren't able to visit the Museum in person, we unveiled several new online exhibits. Fort Mose: Colonial America's Black Fortress of Freedom is a history of the first legally sanctioned free Black town in what is now the United States, located outside of St. Augustine, Florida. Other new online exhibits took a look at biodiversity, human impact and Florida's habitats like Endangered Butterflies in a Changing Climate and Gorillas in the Mist.
Our team rolled with the many changes brought on by the pandemic, hosting online events that you can now enjoy recordings of year-round like Virtual Collectors Day, Earth Day, Every Day and the NEA Big Read which included the popular Girls Do Science event that featured videos with scientists and activities you can do at home any time. They brought the world of the Museum outdoors with more events in the Museum in the Parks program, and our popular Tot Trots Nature Walks program resumed for our smallest visitors to learn about water, bugs and trees!
Check out our calendar so you don't miss any of our upcoming events.
Speaking of Scientists
With opportunity to reach more people online, our scientists hosted webinars such as Mushrooms with the Museum and joined powerful panel discussions like Washing Away History about the past and future of Fort Mose, a significant archaeological site for Black American history.
Mammals collection manager Verity Mathis was a guest on the From Florida podcast to talk about bats (available on Apple podcasts or Spotify) and moth specialist Akito Kawahara talked to The Public's Radio podcast about insect declines. Herbarium curator Lucas Majure was featured on a charming Ted-Ed video about cactus adaptations while Invertebrate Zoology collection manager John Slapcinsky joined a Collections Battle series to take viewers behind the scenes with some of our invertebrate zoology specimens.
Speaking of scientists and research, we were excited to welcome new staff to our team including Alan Franck, collection manager in our herbarium, and Annisa Karim who manages our Randell Research Center in Southwest Florida. Doug and Pam Soltis were recognized in the top 1% of most highly cited scientists, while our student scientists were excited to get back out into the field with the help of needed funds.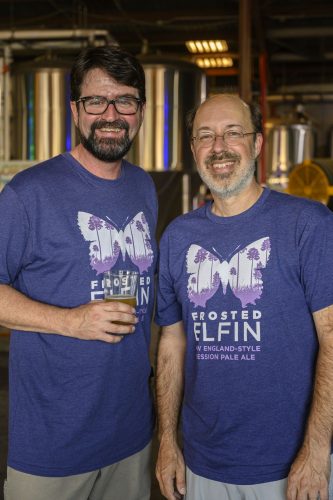 Research and Discovery
While the pandemic paused our in-person events at a local brewery that called attention to butterfly species on the brink, biologist Jaret Daniels got to work on a more ambitious project to collaborate with breweries around the country and help save valuable habitats that the monarch butterflies rely on.
The race to save species from extinction also means being able to find them. Akito Kawahara was surprised to encounter a tiny moth species in Hawaii that was assumed to have gone extinct, while our entomologists locally asked for citizen scientist to help document the range and habitat for the blue calamintha bee here in Florida before it disappears.
Surprising discoveries often begin in museum collections and ripple outward into our natural spaces, like a recent discovery of a rare green lichen native to Florida that hasn't been seen in the wild since 1985. Researchers examining specimens in museum collections also discovered a connection between bird eye size and their behavior and environment, while biologists working with sea anemones were surprised to find they were somehow eating ants from the shoreline. A deep dive into marine predators and evolution using paleontological database information to model 500 million years of marine life revealed a few new twists hidden in the fossil record.
Because museum collections are important libraries of life, National Science Foundation has awarded iDigBio nearly $20 million to continue its mission of digitizing natural history collections nationwide, making them available online to researchers, educators and community scientists around the world.
As the year spins to an end, our scientists and student researchers are sliding into home base with more cool science news because their curiosity about the natural world, and their commitment to inform meaningful decisions for our future, never really pause for a break.
It Takes a Community
We couldn't do all that we do here at the Museum without a loyal cadre of volunteers, who have brought us both sad news and wonderful hope. Our hearts go out to the family and friends of Carol Sewell, an enthusiastic volunteer with our Montbrook fossil site team who passed away recently. Diligent volunteers braving the wilderness and mosquitoes in Key Largo for years helped document a rise in numbers of the endangered Schaus' swallowtail butterflies at the center of a monitoring and breeding program aimed at saving the species from extinction.
Everyone can support the education and research we do here at the Florida Museum. Whether by becoming a Museum member, participating in community science projects, bringing family and friends to our exhibits, or making a gift, every effort adds up to a brighter future for Florida and our natural world.
Thank you so much for being a part of everything we do!