Annisa Karim has always nurtured a fondness for the natural world. In her hometown of Nairobi, Kenya, Karim's father took her and her sister to nearby national parks almost every weekend, instilling a deep appreciation for nature and laying the foundation for her future career in conservation biology.
After moving to Florida in early childhood, she was confronted with an entirely new array of ecosystems in which to deepen her regard that ultimately led her to obtain two degrees in Wildlife Ecology and Conservation from the University of Florida and sparked a long career in environmental stewardship and science outreach.
In June, Karim pivoted back to UF by accepting the position of operations manager for the Florida Museum of Natural History's Randell Research Center in Lee County. Now celebrating its 25th anniversary, the center was established in 1996 when Donald and Patricia Randell donated a large tract of their Pine Island property to UF upon discovering it contained a significant Indigenous archaeological site. The center encompasses 69 acres of pristine coastal pineland and mangrove swamp at the heart of what was once the second largest town of the Calusa people.
"I'm excited for the opportunity to once again work for the University of Florida and to delve deeply into archaeology and history and ecology at a place where they all meet," Karim said.
What remains of the ancient Calusa town is today maintained as both a museum and an active archaeological dig, with interpretive trails, educational tours and housing for visiting scholars. Karim, who brings more than a decade of academic training and conservation experience to her new role, is perfectly poised to oversee the research center's multiple moving parts.
"Annisa is intimately familiar with the ecology and archaeology of southwest Florida," said Charles Cobb, the Florida Museum of Natural History Lockwood Chair in Historical Archaeology and incoming director of the Randell Research Center. "She'll be able to draw upon that expertise to build on an already rich tradition of historical ecology, archaeology and education outreach at the Randell."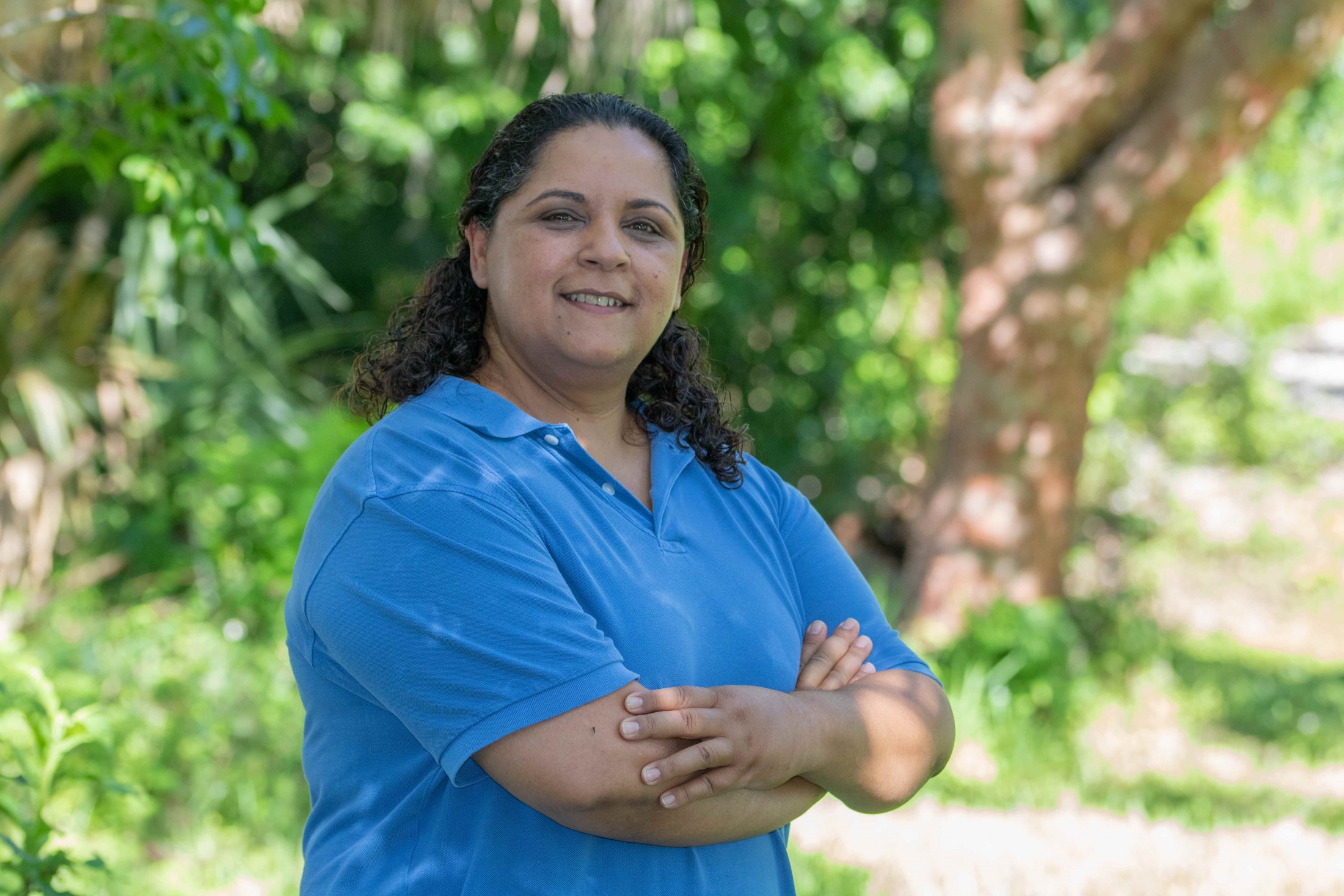 Karim got her first taste of scientific outreach during an internship with the Conservancy of Southwest Florida after finishing her bachelor's degree.
"That was where I discovered my love for environmental education and relaying science to the public in a way that allows them to understand the value of both science and conservation," she said.
At about the same time, UF Wildlife Ecology and Conservation professor Martin Main launched the Florida Master Naturalist program with the goal of enriching an understanding of Florida's ecosystems among residents and visitors to the state. It was the perfect testing ground for Karim's newfound passion. After Karim completed the certification process and finished developing educational curricula on Florida's wetlands, Main encouraged her to further her scientific pursuits by undertaking a master's degree at UF and offered to be her adviser.
Karim spent the next few years mapping the fragmentary remains of tropical hardwood hammocks in the Florida Keys and documenting the birds that lived there. But she wasn't content merely to publish her results.
"We hope that a lot of the science we do will get to the people that are making decisions on preserving habitat, but they often don't have access to scientific data," Karim said. "There's often a disconnect." To ensure her data made it into the right hands, she strategically published her research in government documents and presented her results to conservation officials. "I was trying to make the science of what's left of these amazing forests applicable to land managers on the ground."
When she graduated, Karim choose a career that would enable her to implement substantial conservation in the natural areas where she'd grown up. After a brief stint with Conservation Collier writing land management plans and scouting new properties for potential acquisition, she took a position with the Lee County Department of Parks and Recreation. She worked first as a biologist, then as a manager with the responsibility of overseeing 17,000 acres of land, 45 employees and 48 facilities that included everything from ballfields and tennis courts to natural areas.
In her new role as the operations manager at Randell, Karim will manage the day-to-day operations of the center and develop education and outreach material and activities designed for visitors and students from local schools.
She will be following in the footsteps of Cindy Bear, who, after working at Randell for more than a decade and building the position from the ground up, is transitioning into a well-deserved retirement.
"Cindy is not only a superb scientist and a gifted teacher, she is also marvelous at inspiring others to find a way to contribute and have a fulfilling experience," said Karen Walker, co-founder of the Randell Research Center and outgoing co-director alongside Bear.
Since starting in June, Karim has hit the ground running with a reserve of ideas and a clear vision for the future.
"I'm very excited to talk about things like climate change and how the Calusa dealt with that, what that meant for their civilization and what we should be getting ready for."
---
Source: Annisa Karim, akarim@floridamuseum.ufl.edu, 239-283-2062
Writer: Jerald Pinson, jpinson@floridamuseum.ufl.edu, 352-294-0452