The Florida Museum Fish Collection is second only to the National Museum of Natural History (Smithsonian) in number of specimen records, as reported in the most recent survey of U.S. fish collections. The Florida Museum Fish Collection has added more records to its catalog during the interval between U.S. Fish Collection surveys than any other collection.
Although global in scope, principal strengths of the UF Collection are elasmobranchs (sharks, skates and rays), western Atlantic reef fishes, western and eastern Atlantic shelf and deep water marine fishes, North American freshwater fishes, and freshwater fishes from SE Asia. Also important are large collections of freshwater fishes from Central America, South America, and the West Indies.
Search the Fish Collection
Collection Announcement
The Florida Museum Fish Collection at the University of Florida is moving!
The Fish Collection will relocate to a new purpose-built facility that will house all the Florida Museum's fluid preserved collections and associated laboratories. To accommodate the move, effective Mar 8, 2022, normal Fish Collection operations are suspended.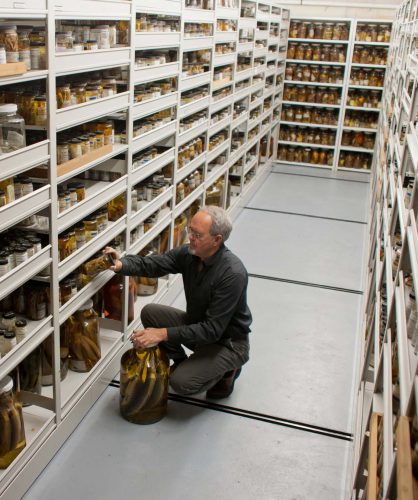 These include:
Visitation
Outgoing loans and incoming loan returns
Cataloging of new materials
Checking determinations/identifications of fish collection specimens
If you have overdue loan materials but can continue to provide proper care for the specimens we ask that you request an extension for your loan(s).
If you cannot continue to provide proper care/are leaving the institution to which your loan is addressed, etc., please reach out to us to make special arrangements to return the UF material you have.
The movement and improvement of the fish collection is expected to take 3 years. Resumption of the above activities should be possible in 12 – 18 months, pending further notice. Please contact us if you have further questions or request.
A better facility that will offer better service to the scientific community and the public lays ahead!
Fish Research at the Florida Museum
---