Friends, beer and . . . butterflies? Is this how we do conservation now? Our scientists have worked hard to identify and study species at risk of extinction for decades, but they know it takes a village to pull them back from the brink. So, they got creative with beer and butterflies.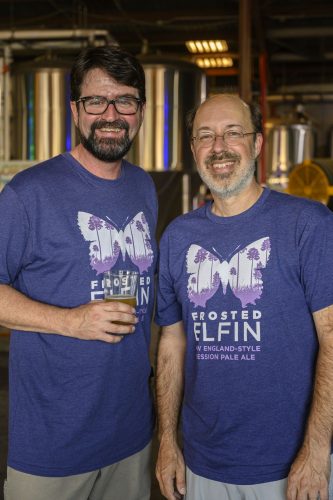 Way back in 2016 (does it feel way back to you, too?) Jaret Daniels of our Daniels Lab talked with brewers at First Magnitude Brewing Co.  to try something new. Could we brand an endangered species to one of their tasty beers, and throw a little party to call attention to an at-risk butterfly? Would anyone show up? Would they talk to us about conservation while sipping a beer?
Spoiler, it went well. People loved the Schaus Stout beer that was served on tap and our scientists and research students had a lot of fun talking to guests about the cool Schaus Swallowtail butterfly that was in danger of going extinct.
Could this work a second time? In the spring of 2017, we collaborated with the brewery again, this time on a Miami Blue Bock to call attention to the tiny, endangered Miami Blue that only lives in a small area at the very southern end of the state.
Not only was there a beer this time, Jaret Daniels and team partnered on a fun surprise. The logo for the beer had a secret. With the Libraries of Life app, people could use their smartphone to conjure a 3D augmented reality Miami blue butterfly on the logo.
That launch party was an even bigger success. Guests sipped beer, played with their augmented butterflies, met real caterpillars with research students and learned about a population of tiny butterflies clinging to a very small habitat right here in Florida.
Since then, we've featured more of Florida's at-risk butterfly species in partnership with some pretty tasty brews with our community of conservationist beer-enthusiasts. The Monarch Milk Stout, celebrating the iconic butterfly, was on tap at Disney's Epcot International Flower & Garden Festival for two years. And even during COVID closures, we were able to partner on Backyard Passion Fruit Sour to encourage everyone isolating at home to go out and explore their own backyard biodiversity.
While our scientists are excessively busy with research partners worldwide, it is especially gratifying to work with local partners on creative projects. Our long friendship with First Magnitude has helped us call attention to more than just at-risk butterflies. It gave us a space to invite our local community in to have casual conversations about big topics like climate change, conservation, and crowd-sourcing biodiversity data.
We enjoy our work and it is exciting to talk to people who are just as excited to learn about what we're discovering and how we're applying our knowledge to affecting change right here in Florida. Whether it's showing cute caterpillars to kids, talking about habitat loss in the Keys, or sipping beer brewed with yeast from a butterfly's fuzzy torso, we always wrap up our parties with a deep gratitude for the support our community shows us.
Wait – the yeast from a butterfly? Yes, scientists did carefully lift wild yeast from frosted elfin butterflies and brewers from First Magnitude used it in the brewing process to make the Frosted Elfin Pale Ale. It's been done with plants before, so our team wondered if butterflies carried enough yeast to make this very unusual beer.
Why do we do this if there are so many types of beer already? We definitely like talking science over a beer at a social event, but the truth is that many of these butterfly species are on the brink due to climate change and habitat loss. And they don't have a lot of time left. We feel the pressure to reverse the decline and we're trying creative ways to bring this to the attention of Floridians, scientists, lawmakers, and activists.
Beer is a very approachable medium that helps us reach audiences that might never have heard about a tiny butterfly that is nearing extinction.
Read articles
A kaleidoscope of monarchs: Marveling at one of nature's greatest journeys
Meet the butterflies breaking into the brewing business
Community science callout: Help locate rare butterfly's host plants in Florida, Georgia
Make a gift
Want to support our butterfly conservation work? Purchasing this beer or our butterfly merchandise will benefit the research and restoration projects, but you can also make a gift right now:
Make a gift
Saving species never tasted so good!
Glasses + T-shirts
You might remember some of these pretty logos for our at-risk butterfly beers. First Magnitude brews them periodically and we still have some of the glasses, t-shirts and other merch available through our Daniels Lab team.
Butterfly Beer Logos
The Museum graphics team worked with the First Magnitude creative team to design attractive logos and merchandise for the butterfly beers. The eye-catching designs bring together the style of beer with the at-risk butterfly to draw attention to each species and its environment.
Beer Launch Events
Links + resources