The first Collectors Day at the Florida Museum of Natural History was part of our International Museum Day celebration on May 18, 1980. It hosted 20 collections and highlighted the importance of them and museums. Our last Collectors Day in 2020 hosted over 110 collections with 2,100 visitors, continuing on the theme that collections are important.
The annual event, the longest running in the Museum's history, was paused in 2021 by the coronavirus pandemic. However, this International Museums Day, we are taking a look back at the beloved event and why we held an event that celebrated personal collections for over 40 years.
Founded more than 100 years ago, the Florida Museum (formerly known as the Florida State Museum) began when a professor of natural science purchased collections of minerals, fossils and human anatomy models. These initial collections grew steadily with donations from other University of Florida professors. Read more: Brief History of the Museum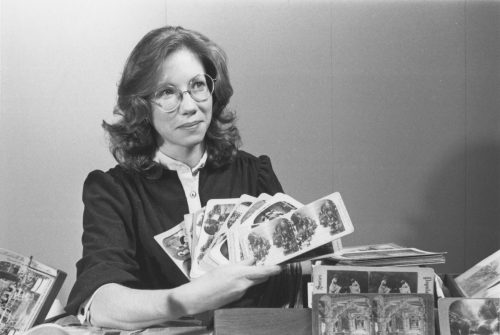 "Collections are important because they tell us things: their relation to a special person, place or time, the memories and history that they evoke, their beauty, and their worth," Elise LeCompte, Museum registrar in the anthropology division, said. "They tell us about peoples' history and the Earth's history. They help us understand the past and present and help us shape a sustainable future."
Collections are the foundations of museums. Anyone of any age and background can be a collector, which is what made the event one of the most diverse and inclusive events at the museum.
"A collection is a cohesive group of items that have special meaning to the person who collected them. It is an accumulation of items gathered for study, comparison, exhibition or as a hobby," Le Compte said. "A collection, as opposed to a random assemblage of items, usually has a unifying theme, such as international stamps, U.S. coins, quilts made by your great-grandmother, fossil animals that lived in the same habitat, or headdresses from native people living in the Amazon."
The Florida Museum is a natural history museum, so our collections reflect the natural world around us and our historic ethnographic and anthropological relationships with nature. Our collections serve as a database of objects and information that tell many stories.
There is a story behind everyone's personal collections, and if you were ever a visitor during one of our bustling Collectors Day events, you were probably as overwhelmed with stories as you were by the collections.
According to museum educator Tiffany Ireland, every year we'd have collectors return from the previous year, with some having displayed their treasures for many years in a row. We'd also see new collectors pop up each year, from people as young as five to even a dog's stick collection!
Thomas Olmstead is one of our collectors that's been a part of nearly every edition of the program. His collections would change from year to year, including one year when he featured photographs of him from each event he participated in.
The Gainesville Sun published a story on Olmstead on January 7, 2021. Read: Gainesville's Godfather of Collecting.
"Since our first Collectors Day, there have been significant changes in our world. Cell phones, cable TV, internet, social media, hybrid cars and so much more," Ireland said. "Collectors Day has shown representations of these changes each year."
Take a look at this collection of images from the event spanning the last four decades. Can you spot some of the changes?
Through the Decades of Collectors Day
1980 – 1989
President: Ronald Regan, 1981 – 1989
Cost of Living: In 1980 a gallon of gas cost an average of $1.19
Popular Culture: Popular toys are Star Wars figures, My Little Pony, Pound Puppies and a Talking Alf doll. In movie theaters are E.T. the Extra-Terrestrial (1982), The Empire Strikes Back (1980), Raiders of the Lost Ark (1981), Return of the Jedi (1983), Ghostbusters (1984), Back to the Future (1985) and Batman (1989).
Science & Technology: The 1980's marked the beginnings of the concern about global warming, the World Wide Web, personal computers and cell phones.
Florida Museum: In 1980, the first Collectors Day is celebrated. In 1988, the Florida State Museum's name is changed to the Florida Museum of Natural History. At this time, the Museum is in Dickinson Hall with research and collections on the lower floors and education and exhibits on the top floor.
1990 – 1999
President: George H. W. Bush, 1989 – 1993, & Bill Clinton, 1993 – 2001
Cost of Living: In 1990 a gallon of gas cost an average of $1.34
Popular Culture: Popular toys are computer games (Nintendo) Tamgotchi, Beanie Babies and talking toys like Furby and Tickle Me Elmo. In movie theaters are Dances with Wolves (1990), Aladdin (1992), Jurassic Park (1993), The Lion King (1994), Forrest Gump (1994), Die Hard with a Vengeance (1995), Independence Day (1996), Titanic (1997), Saving Private Ryan (1998) and Star Wars: Episode I – The Phantom Menace (1999).
Science & Technology: Owning a mobile phone is the norm at the end of the 1990's. Dolly the sheep is cloned. Microsoft is now the operating system on 80% of the computers in the world. The Hubble Space Telescope is launched. Concerns about global warning and climate change result in an Earth Summit.
Florida Museum: In 1995, construction of a new exhibit and public education facility, Powell Hall, begins at the UF Cultural Plaza, joining the Samuel P. Harn Museum of Art and Curtis M. Phillips Center for the Performing Arts. In 1996, The Randell family gifts 53 acres of a 240-acre, internationally significant archaeological site on Pineland in Lee County to UF, which the Florida Museum operates as the Randell Research Center. In 1997, Powell Hall is dedicated. In 1998, after a temporary closing near the end of 1997, the Museum is re-opened to the public in January. All of the exhibits and public education programs have relocated to Powell Hall.
2000 – 2009
President: George W. Bush, 2001 – 2009
Cost of Living: In 2000 a gallon of gas cost an average of $1.26
Popular Culture: Popular toys are Bratz dolls, Baby Alive, computer games with extra accessories like dance mats, and Teenie Beanies. In movie theaters are 6 of the Harry Potter films, 3 Pirates of the Caribbean films, the Lord of the Rings trilogy, Star Wars Episodes 2 & 3, Finding Nemo (2003), The Incredibles (2004), Casino Royale (2006), Iron Man (2008) and Avatar (2009).
Science & Technology: Since November 2000, the International Space Station has remained inhabited. GPS navigation is widely available for cars. Hybrid cars become more popular. Social networking sites rise in popularity. Robots are used increasingly in daily life from surgery to vacuuming.
Florida Museum: In 2000, a multimillion dollar gift from William and Nadine McGuire establishes the McGuire Center for Lepidoptera and Biodiversity. In 2004, the Butterfly Rainforest exhibit opens – featuring a 6,400-square-foot screened, outdoor enclosure of lush tropical trees and plants with hundreds of living butterflies and moths from around the world, waterfalls and a walking trail.
2010 – 2020
President: Barack Obama, 2009 – 2017, & Donald Trump, 2017 – 2021
Cost of Living: In 2010 a gallon of gas cost an average of $2.73
Popular Culture: Popular toys are fidget spinners, Monster and Ever After High dolls, Wonder Looms, and computer games. In movie theaters are The Hobbit trilogy, Frozen 1 & 2, Harry Potter 7 & 8, 4 Avengers films, 4 Star Wars films, and the live action Disney remakes of classic animated films. Also in theaters are Jurassic World (2015), Captain America: Civil War (2016), Finding Dory (2016), Zootopia (2016), Jumanji: Welcome to the Jungle (2017), Black Panther (2018), Incredibles 2 (2018 ), Captain Marvel (2019) and Joker (2019).
Science & Technology: The 2010's saw drones, hybrid cars, 3D printers and virtual assistants like Siri become increasingly popular and available.
Florida Museum: In 2017, the Florida Museum celebrates its 100th anniversary since the signing of the legislative statutes establishing it as the state museum of natural history. Since 1997, over 4 million visitors have come to Powell Hall.