More than 250 years ago, enslaved Africans risked their lives to escape English plantations in the Carolinas and find freedom among the Spanish living at St. Augustine.
In the late 1600s, enslaved Africans began to escape from English plantations in the Carolinas upon hearing that the Spaniards in St. Augustine would grant them freedom if they converted to Catholicism. In 1738, when more than 100 Africans had arrived, the Spanish established the fort and town of Fort Mose (pronounced "Moh-say"), the first legally sanctioned free Black town in what is now the United States. The story of Fort Mose is a tribute to these courageous Africans and their pursuit of freedom. While slavery was certainly the dominant practice at the time, Fort Mose sheds light on the little-known story of free Black people in colonial America.
James Bullock, a re-enactor who brings to life the story of Fort Mose militia captain Francisco Menendez, discusses the fort's role in the defense of Spanish Florida against the English during colonial times.
In the 1980s, Florida Museum archaeologist Kathleen Deagan set out in search of Fort Mose. After 250 years, the only evidence of the fort was buried underground, nearly lost to time. Using historical documents and maps as guides, the search narrowed to a small island in the salt marsh just two miles north of St. Augustine. Excavations revealed evidence of the fort – its moat and some interior structures, and fragments from daily life.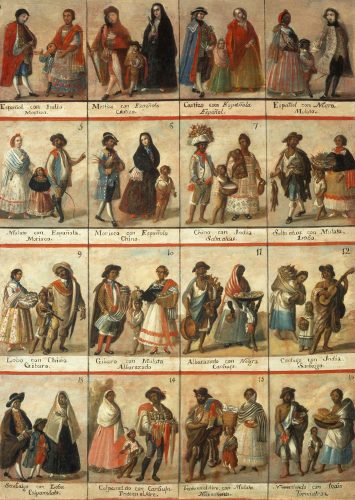 The majority of Africans in Spanish colonies were forced into slavery, but there was a portion of society made up of free Black people. They were craftspeople, laborers, soldiers, artisans and merchants.
Although many people of African descent married other Black people in their communities, cross-cultural marriages were common and legal, which fostered a multi-ethnic society in the Spanish colonies. St. Augustine and Fort Mose were no exception. Evidence supports a rich and complex society that blended African, Spanish and Native American beliefs and traditions.
Most Africans in Spanish Florida lived in St. Augustine, both free and enslaved, and made up about ten percent of the town's population. Many came from regions of West Africa, but also from Cuba, Jamaica, Barbados, Antigua, Venezuela, Colombia and the Canary Islands.
Enslaved people who escaped from the Carolinas and came to live at Fort Mose came from many different cultural groups in West Africa.
Laws governing slavery were much different under British rule than Spanish rule. The Spanish slave code provided certain rights. Enslaved people could buy their freedom, maintain family cohesiveness, and sue their owners for mistreatment. They could also be granted freedom for service to the Crown of Spain.
The policy of giving religious sanctuary was Spanish Florida's solution to a number of local problems. Welcoming the refugees served to strike an economic blow at the English colonies, while adding skilled workers and Catholic converts to the Spanish colonies. And importantly, these newly freed Africans could be formed into a militia to protect St. Augustine from the encroaching British to the north.
Did you know: Enslaved Africans brought with them traditions and technologies for farming, fishing, building construction, metal work, and a variety of other trades and crafts. Many of these have persisted until today as important – but often unrecognized – African contributions to American life.
Fort Mose, positioned just north of the small Spanish town of St. Augustine, would provide a first line of defense against the British invasions from the north. Spanish colonial leaders knew that newly freed people would fight to the death against their enslavers.
Soldiers of African heritage were regularly enlisted in militias throughout the Spanish colonies. Members were often free, well-trained, wore special uniforms and received salaries.
The militia at Fort Mose was a community-based free Black militia. The St. Augustine garrison also had a Black company as early as 1683. Its members came from Latin America and Africa, and included free and enslaved people.
By 1738, more than 100 African refugees had reached St. Augustine. In that year, the Spanish government established the fort and community of Gracia Real de Santa Teresa de Mose about two miles north of the town.
Many of the men joined the militia and formed a free Black company stationed at Fort Mose, a first line of defense from the increasingly frequent raids from the British.
The original fort was small, containing a watchtower, a well and a guardhouse. The fort had earthen walls and a shallow moat, and the layout was similar to other Spanish Florida forts at the time.
The community grew to 38 households of men, women and children and became a beacon of liberty for enslaved Carolinians. The 1739 Stono Rebellion in nearby Charleston was the largest slave revolt in the history of North American colonies, and the authorities blamed the Spanish for helping to incite the uprising.
In 1740, two years after the start of the Mose community, English forces attacked St. Augustine. Fort Mose was captured and the inhabitants fled to the safety of St. Augustine. During the siege, the fort was badly damaged, and the community was abandoned for twelve years.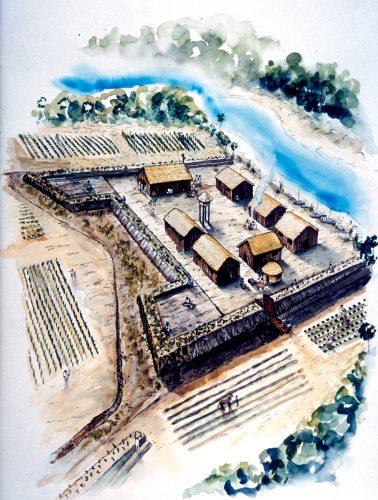 In 1752, the town and fort at Mose were rebuilt at a slightly different location. The former residents, who were by then well settled into town life in St. Augustine, moved reluctantly back to the frontier under pressure from the Spanish authorities who still needed Mose as the colony's first defense against the English.
This new fort was a much larger walled enclosure, surrounded by a moat on three sides and river on the fourth, and contained a number of buildings. The people of Mose farmed the fields around the fort, hunted and fished in the nearby woods and steams, and probably gathered wild plants and fruits. They lived in palm-thatched houses but to date, records and archaeology have not revealed the exact location of the houses. They may have been both inside the fort walls and out on the farms.
Did you know: Archaeological evidence indicates that some of the community buildings were oval in shape and about 12 feet in diameter. They may have been similar to African houses already familiar to the Mose residents, and also to indigenous housing known locally.
The bits and pieces of everyday life recovered by archaeologists at Mose show that life there was filled with attending to the basic necessities: food, shelter, clothing and defense. These artifacts from daily life bring to life this important story for Black American history.
Fort Mose provides important evidence that Black American colonial history was much more than slavery and oppression. The men and women of Mose won their liberty through great daring and effort and made important contributions to Florida's multi-ethnic heritage.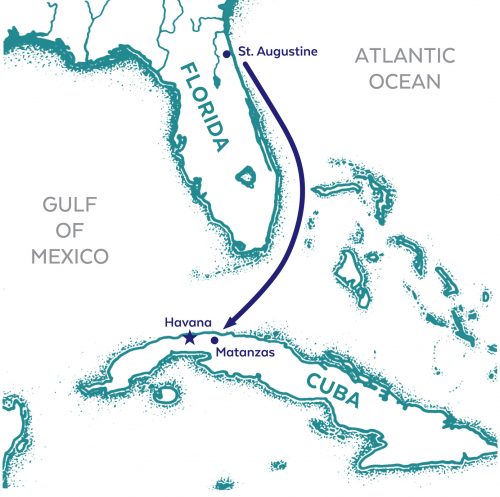 The second Fort Mose was occupied by the Black community for eleven years. In 1763, Florida became an English colony and all of the inhabitants of the Spanish colony sailed to Cuba, including the people of Fort Mose. As Florida changed hands, the fort was occupied by the military, and then finally abandoned in 1812.
It gradually fell into ruin until its rediscovery more than a century later.
From 1986 to 1988, a team of specialists headed by Dr. Kathleen Deagan of the Florida Museum carried out an archaeological and historical investigation at Fort Mose. In the first season's excavation archaeologists uncovered the remains of the fort itself, with its moat, clay-covered earth walls and wooden buildings inside the fort. They also found a wide variety of artifacts; military items such as gunflints, flattened bullets, metal buckles and hardware; household items such as thimbles, nails, ceramics, and glass bottles; and food items such as burned seeds and bone.
By combining all sources of information, from the archives of Spain to the soils of the former fort, researchers are reconstructing a social history of the people who lived at Fort Mose more than 200 years ago.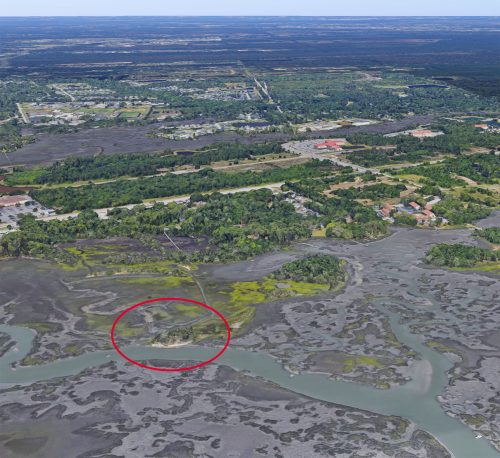 Fort Mose is situated in a salt marsh adjacent to a tidal creek. Since the 1700s, a portion of the fort has eroded into the water due to dredge and fill activities and sea level rise. As climate change accelerates sea level rise and coastal erosion, these impacts worsen. In fact, along Florida's long coastline, more than 4,000 cultural heritage sites are at risk from erosion and a potential 2-meter (6.6 feet) rise in sea level. Scientists estimate that Fort Mose may be under a foot of water by 2100 (or sooner).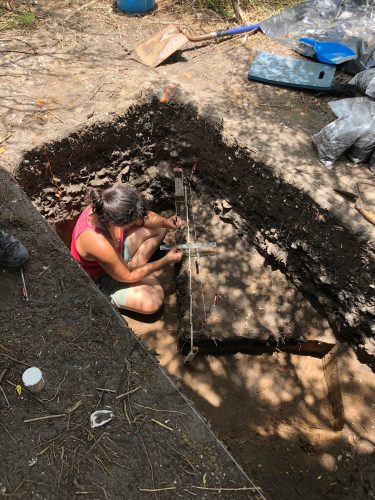 Archaeologists James Davidson (University of Florida) and Lori Lee (Flagler College) teamed up to investigate the impacts from erosion and learn more about life at Fort Mose before its story is lost to the sea. Their excavations continue to reveal the ephemeral remains of architectural structures and artifacts from daily life, from military gear to personal adornment. They look to learn even more about this amazing site and to bring to life the history of the pioneering African Americans who called it home.
Fort Mose Today
Today the site of Fort Mose is a state park and UNESCO Slave Route Project Site of Memory. An engaging visitor center on the mainland interprets its story and showcases many of the artifacts from the museum's excavations. These humble artifacts provide details about daily life at the fort – cooking and eating, house construction, defense, religion and entertainment.
Website: Fort Mose Historical Society
For Educators
Download the Fort Mose Education Packet, adapted from the original exhibit guide specifically for this online exhibit in 2022. This incudes additional reading, classroom activities and teacher guides.
Download PDF
You might also like….