The University of Florida Herbarium welcomed Alan Franck as its new collections manager earlier this month. As part of his duties, Franck will help oversee the herbarium's nearly 500,000 plants, the largest collection of botanical specimens in Florida.
Franck has maintained an avid interest in the natural world most of his life and had his first taste of botany and plant identification when he took a local flora and taxonomy course in college.
"I really enjoyed collecting from the aspect of being able to directly handle the plants," Franck said. "Before that, I had this very idealistic philosophy of not touching nature, but once I got into natural history, I began to see collections as a library of knowledge through which we can understand more about the natural world."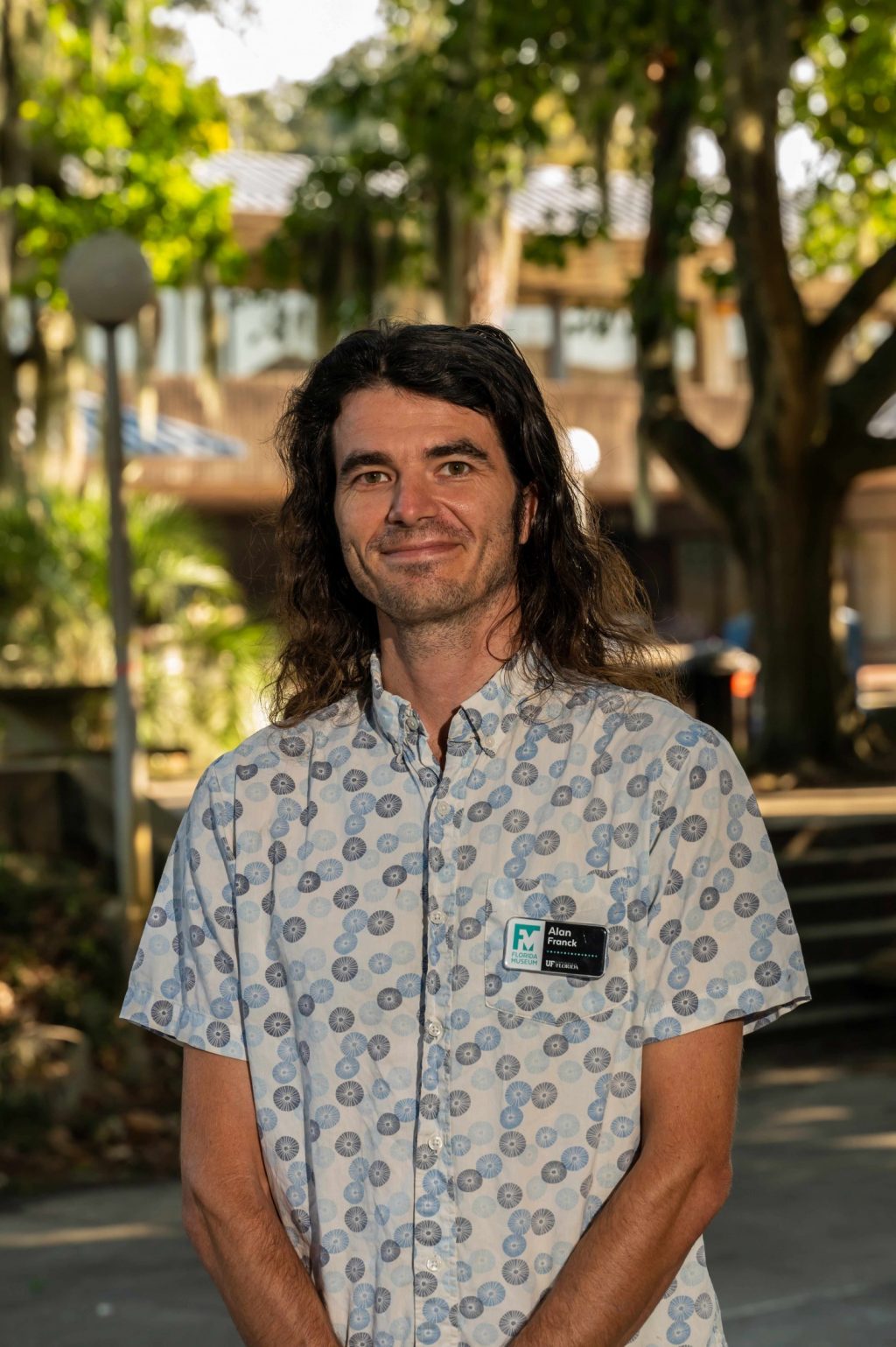 In 2006, Franck took on a Ph.D. position at the University of South Florida and moved from Ohio to Sarasota, where he encountered entirely new ecosystems filled with a diverse and unfamiliar flora. With no shortage of species to study, he winnowed down his options by focusing solely on rare Florida plants threatened by development and habitat destruction.
Franck has since taken a dual approach to his research, shining a spotlight on little-known or overlooked species as well as taking a bird's-eye view of plant biodiversity across Florida and the Caribbean. He has spent long nights combing through coastal sand dune habitats to catch a glimpse of the elusive flowers of prickly apple cacti, an endangered species with nocturnal blooms that last only a few short hours before wilting with the sunrise. He has also trekked through the Everglades and the Keys to study and catalog South Florida's tropical plants, many of which are incredibly rare in the U.S., such as the stalky joewood bush, Jacquinia keyensis.
He stayed on at USF as curator and director of the university's herbarium after completing his doctoral degree. There, he not only took on the leviathan task of managing an active research facility, but he also conducted his own research, trained students and co-authored four volumes of the "Flora of Florida," the definitive guide to Florida's 4,400 native and nonnative plant species.
Franck discovered an enduring love of history while managing the plant collections, an interest he fostered by combing through the herbarium archives and publishing a detailed account of its founding and the researchers who worked there.
"I like finding the human connection," he said. "It's really easy to only know your world from the time you were born, so I really appreciate trying to see things from different perspectives and situations and trying to imagine what life was like in the past."
Before joining the Florida Museum of Natural History, Franck worked as the curator of living specimens at Florida International University's Wertheim Conservatory, a lush glasshouse rainforest in the heart of Miami. Initially established as a resource for plant research and a tranquil escape for students and visitors, the conservatory boasts an unparalleled variety of uncommon plants assembled from ecosystems around the world. But despite the allure of a living collection, Franck is happy to be returning to the low-pitched but active hum of an herbarium.
"I really like the experience of collecting and just opening herbarium cabinets and leafing through the specimens," Franck said. "I could spend my whole career doing just that."
Franck succeeds Kent Perkins in the role of collections manager, who retired at the end of September after working in the herbarium for 46 years.
Perkins was offered the position after he graduated with a bachelor's degree from UF and immediately found his stride, not once looking back. He oversaw the collections at a pivotal time in the museum's history, ensuring that the herbarium's growing specimen collection was brought into the digital age and made available to researchers around the world.
"The amount of care, organization and attention to detail that Kent put into the herbarium is really unparalleled in collections of our size," said Lucas Majure, assistant curator at the Florida Museum and keeper of the UF Herbarium. "We are excited to continue that positive movement forward with Alan's help."
---
Sources: Alan Franck, francka@flmnh.ufl.edu;
Lucas Majure, lmajure@flmnh.ufl.edu
Writer: Jerald Pinson, jpinson@flmnh.ufl.edu, 352-294-0452