Tiger Shark
Galeocerdo cuvier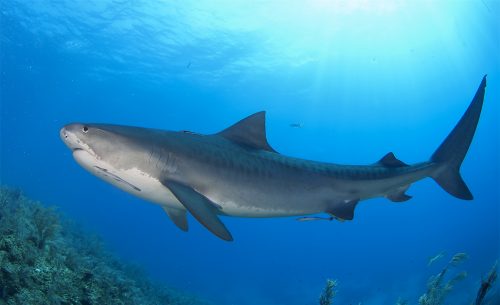 Tiger sharks are named for their distinctive color pattern. The body is gray with dark gray vertical bars or spots on the flanks with a pale or white underside. The markings are especially distinctive in juveniles but diminish with age. Tiger sharks are among the largest of the sharks and are recorded up to 550 cm (18 ft) long. They are known to eat most marine animals, sea birds, the occasional terrestrial animal and even garbage encountered floating at sea. Despite being a large slow-moving shark, it is a highly effective ambush predator that deploys short bursts of speed to secure its prey (Simpfendorfer 2009).
Fun Fact: Tiger sharks, bull sharks, and white sharks are commonly referred to as "The Big Three" for their involvement in shark attacks. These species are readily identified by the victims and witnesses. In cases involving smaller requiem sharks, the species involved are seldom identified as they are harder to tell apart.
Order – Carcharhiniformes
Family – Carcharhinidae
Genus – Galeocerdo
Species – cuvier
Common Names
Africaans: Tierhaai
Arabic: Jarjur, Jarjur knaza
Creole: Requin tigre
Dutch: Tijgerhaai
English: Tiger shark, leopard shark, maneater shark, and spotted shark
Fijian: Qio saga
Finnish: Tiikerihai
French: Mangeur d'hommes, Requin demoiselle, Requin tigre commun, Requin-tigre
German: Tigerhai
Gujarati: Bhoavar
Greek: Carcharias
Hawaiian: Mano pa'ele
Icelandic: Tígrisháfur
Italian: Squalo tigre
Japanese: Itachizame
Kannada: Pilithatte
Kiribati: Te babatababa
Malay: Cucut macan
Malayalam: Pulli sravu
Maori: Mgutukao
Polish: Zarlacz tygrysi
Portuguese: Cação cabeça-chata, Jaguara, Marracho tigre, Tigre, Tintureira
Rapa: Ma`o patapata
Samoan: Naiufi
Spanish: Alecrin, Amarillo, Cabron, Tiburón tigre, Tintorera
Swahili: Amzani
Tagalog: Pating
Tamil: Wulluven sorrah
Tahitian: Ma'o tore tore
Telugu: Kethulam
Importance to Humans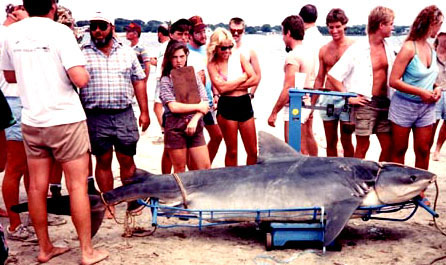 Tiger sharks are targeted directly for their fins, flesh, and oil and indirectly as bycatch in commercial and recreational fisheries worldwide. Shark fishery catches of tiger sharks are documented from the western Atlantic, Australia, India, Papua New Guinea, Brazil, and Taiwan. In the United States, tiger sharks are the third most common of the large, coastal sharks caught. Historically, tiger shark liver was used to produce oil rich in vitamin A while its thick, tough skin was used for quality leather. Tiger shark leather has long been used to make traditional Hawaiian drums. Besides its significance to the fishing industry, the tiger shark remains a highly sought-after big game fish in worldwide recreational fisheries (Simpfendorfer 2009).
Danger to Humans
The tiger shark is a formidable predator and second only to the white shark (Carcharodon carcharias) in terms of the number of reported attacks on humans. Tiger sharks are often curious and unaggressive when encountered (Compagno et al. 2005) yet are one of the three species most commonly implicated in shark attacks and fatalities and show should be treated with extreme caution and a great deal of respect (ISAF 2018).
View shark attacks by species on a world map
Conservation
IUCN Red List Status: Near Threatened
Both commercial and recreational fishing catch rates for this species in the mid-Atlantic region have declined since the mid-1980's. Data taken by observers on commercial fishing boats indicate that fishing pressure, particularly on juveniles has adversely affected the size of the population. The World Conservation Union (IUCN) lists the tiger shark as "Near Threatened" throughout its range. However, they do not face a high risk of extinction at the present time.
> Check the status of the tiger shark at the IUCN website.
The IUCN is a global union of states, governmental agencies, and non-governmental organizations in a partnership that assesses the conservation status of species.
Geographical Distribution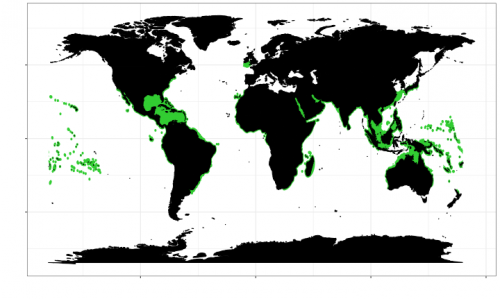 The tiger shark is found throughout the world's temperate and tropical waters, with the exception of the Mediterranean Sea. It is a wide-ranging species that is at home both in the open ocean as well as shallow coastal waters. Reports of individuals from as far north as Iceland and the United Kingdom have been confirmed, but these instances are likely the result of roaming sharks following the warmer Gulf Stream north across the Atlantic (Simpfendorfer 2009).
Habitat
This shark has a notable tolerance for many different kinds of marine habitats but generally prefers murky waters in coastal areas. It is commonly found in river estuaries, harbors, and other inlets where runoff from the land provides suitable habitat for a variety of prey items. Tiger sharks also occur in shallow areas around large island chains, including the lagoons and coral atolls found on the coasts of oceanic islands (Compagno et al. 2005). It is often seen at the surface but has been reported at depths of 350 m (1085 ft) (Simpfendorfer 2009).
Tiger sharks undergo seasonal migrations. They move into temperate waters from the tropics in warmer months and return to the tropics during the winter. They also make long oceanic migrations between islands and are capable of traveling long distances in a short amount of time (Simpfendorfer 2009).
Distinguishing Characteristics

1. Dorsal surface of juveniles have blotched coloration that fuse together to form tiger-like stripes as the shark grows. (This coloration fades and the stripes become less distinct in mature adults)
2. Snout is blunt and wide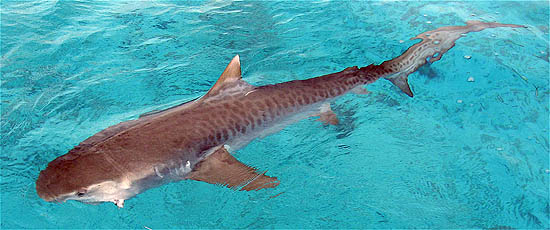 Biology
Distinctive Features
Probably the most easy to recognize of the requiem sharks, the tiger gets its name from dark spots and vertical bars that run the length of the body. The anterior portion of the body is stout but becomes increasingly slender posterior to the abdomen. The tiger shark has a robust head with large eyes and a conspicuously blunt snout. The mouth is large with long labial furrows at the corners of the jaw. The broad first dorsal fin originates posterior to the pectoral axil. The much smaller second dorsal fin initiates anterior to the origin of the strongly recurved anal fin. A ridge is present along the back between the two dorsal fins. A low longitudinal keel is present on the caudal peduncle and the upper lobe of the caudal fin is long and thin with a subterminal notch (Compagno et al. 2005).
Coloration
Dark gray or black dorsal surface with a pale stark white underbelly. The characteristic dark spots and stripes are most prominent in young sharks and fade as the shark matures.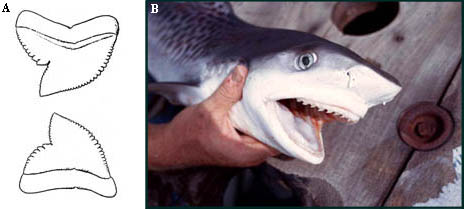 Dentition
The tiger shark has very distinct dentition. The jaws house large teeth with curved cusps and finely serrated edges. Each tooth has a deep notch on the outer margin lined with numerous cusplets. Teeth are similarly shaped in both upper and lower jaws decreasing in size toward the back of the jaw, toward the corner of the mouth as is the case for most sharks.
Size, Age, and Growth
One of the largest sharks, the tiger shark commonly reaches a length of 325-425 cm (10-14 ft) and weighs over 385-635 kg (850-1400 lbs). Length at birth varies from 51-76 cm (1-1.5 ft). Males reach sexual maturity at 226-290 cm (7-9 ft), while females become mature at 250-325 cm (8-10 ft) (Compagno et al. 2005). The largest specimens attain lengths of over 5.5 m (18 ft) and are estimated to weigh over 900 kg (2000 lbs).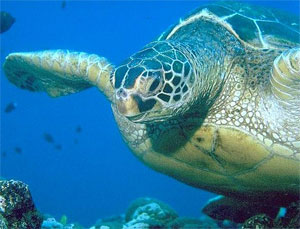 Food Habits
Undoubtedly the least discriminative all species, the tiger shark has a reputation as an animal that will eat almost anything (Compagno et al. 2005). Preferred prey varies depending upon geographical region but commonly includes sea turtles, rays, other sharks, bony fishes, sea birds, dolphins, squid, various crustaceans and carrion. The tiger shark's highly serrated teeth combined with the saw-like action from shaking the head back and forth allows it to tear chunks from much larger marine animals. Interestingly, it is not uncommon to find objects of human origin in this animal's stomach. One large female caught off the north end of the Gulf of Aqaba in the Red Sea contained two empty cans, a plastic bottle, two burlap sacks, a squid, and a 20 cm (8 in) fish. Garbage and refuse is often recovered from the stomachs of sharks caught in harbors and river inlets, where it is commonly dumped into the water. Although far from a natural food item, human remains sometime end up in the guts of these scavenging sharks. Tiger sharks are solitary hunters that feed primarily at night as the shark moves further inshore and closer to the surface. They are sometimes seen in groups, but this is probably driven by food availability rather than social behavior.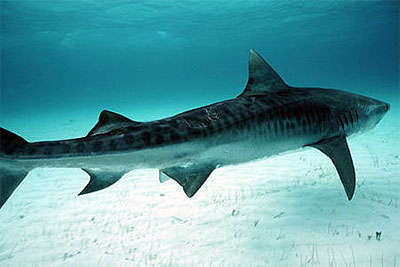 Reproduction
The tiger shark employs a highly unusual reproductive strategy. It gives birth to live young as do its close relatives the hammerheads and the requiem sharks, but unlike these species it, does not use a placenta to nourish the developing embryos. Instead tiger shark embryos develop from relatively large eggs in the initial stages of development. When the yolk supply is used up the developing embryo switches over to drinking uterine fluid as a source of nutrition, through a process termed "embryotrophy", during the later stages of development. (Castro et al. 2015) This mode of reproduction, in which animals are born alive but are not nourished through a placenta is broadly referred to as ovoviviparity. The gestation period ranges from 13-16 months, at which time a female can give birth to anywhere from 10 to 82 pups. In the Northern Hemisphere, mating takes place between March and May and the young are born between April and June of the following year. In the Southern Hemisphere, it is believed that pupping occurs in November to January (Simfendorfer 2009).
Taxonomy
First described by Peron and Lessueur in Lessueur (1822), the tiger shark was given the name Squalus cuvier. Later, Muller and Henle (1837) designated Squalus arcticus (Faber, 1829) as the type species and suggested the name Galeocerdo tigrinus. Various synonyms have been used since including: Galeus cepedianus Agassiz 1838, Galeus maculatus Ranzani 1840, Carcharias fasciatus Bleeker 1852, Galeocerdo rayneri McDonald & Barron 1868, Galeocerdo obtusus Klunzinger 1871, and Carcharias hemprichii Klunzinger 1871. The genus name Galeocerdo is derived from the ancient Greek, "γαλεος" (galeos) = Aristotle's shark and "κερδω" (kerdo) = the fox.
References
Castro, J.I., Sato, K., & Bodine, A.B. (2016) A novel mode of embryonic nutrition in the tiger shark, Galeocerdo cuvier, Marine Biology Research, 12:2, 200-205, DOI: 10.1080/17451000.2015.1099677
Compagno, L., Dando, M., & Fowler, S. (2005) A Field Guide to the Sharks of the World. London: Harper Collins Publishers Ltd.
Simpfendorfer, C. 2009. Galeocerdo cuvier. The IUCN Red List of Threatened Species 2009: e.T39378A10220026. http://dx.doi.org/10.2305/IUCN.UK.2009-2.RLTS.T39378A10220026.en
Original preparation by Craig Knickle
Revised by Lindsay French and Gavin Naylor 2018