We have a wealth of information on sharks and shark bites here at the Museum, but here are some of the most common topics that we've been asked.
Of the over 500 different species of sharks found in the world's oceans, only about 30 have been reported to ever bite a human.
Of these, only about a dozen should be considered particularly dangerous when encountered. The shark species responsible for most unprovoked bites on humans are the white (Carcharodon carcharias), tiger (Galeocerdo cuvier), and bull (Carcharhinus leucas). All sharks, large and small, are however predators and could be capable of inflicting wounds if provoked. They should all be treated with respect when encountered.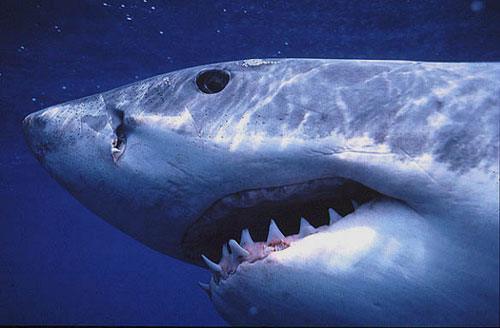 Humans have a fear for sharks that may be in part innately rooted in our past when we did need to be on constant alert for large predators.
More importantly, in today's world we constantly are subjected to the media's stereotypic characterizations of sharks, which are rife with misinformation and actively promote fear and loathing.
Finally, we as humans are used to controlling the world around us – damming rivers, flattening mountains, shooting a charging elephant – but sharks, like typhoons, lightning and tornados, are something we cannot control, hence our great interest in them.
The chances of being bitten by a shark are very small compared to other animal encounters, natural disasters, and ocean-side dangers. Many more people drown in the ocean every year than are bitten by sharks. The few bites that occur every year are an excellent indication that sharks do not feed on humans and that most bites are simply due to mistaken identity.
The Relative Risk of Shark Attacks to Humans
Worldwide there is an average of 80 unprovoked shark bites every year.
The number of bites has been increasing over the decades as a result of increased human populations and the use of the oceans for recreational activity. As long as humans continue to enter the sharks' environment, there will be shark bites. However, during the last decade bites have been decreasing, likely due to increased beach safety and public awareness.
International Shark Attack File (ISAF)
Provoked bites are caused by humans touching sharks. Often this involves unhooking sharks or removing them from fishing nets. However, recently there have been a number of incidents involving divers who were bitten after grabbing or feeding a shark while underwater.
Unprovoked bites happen when sharks make the first contact. This can take three forms:
Hit-and-Run bites happen near beaches, where sharks try to make a living capturing fish. In pounding surf, strong currents, and murky water, a shark may mistake the movements of humans, usually at the surface, for those of their normal food, fish. The shark makes one grab, lets go, and immediately leaves the area. Legs or feet are often bitten; injuries usually are minor and deaths rarely occur.
Sneak bites take place in deeper waters. The victim doesn't see the shark before the interaction. The result can be serious injury or death.
Bump-and-Bites happen when the shark circles and actually bumps the victim with its head or body before biting. As in the sneak bites, the shark may bite repeatedly and cause serious injury or death.
Although the relative risk of a shark bite is very small, risks should always be minimized whenever possible in any activity. The chances of having an interaction with a shark can be reduced if one heeds the following advice:
Always stay in groups since sharks are more likely to approach a solitary individual.
Do not wander too far from shore — this isolates an individual and additionally places one far away from assistance.
Avoid being in the water during darkness or twilight hours when sharks are most active and have a competitive sensory advantage.
Do not enter the water if bleeding from an open wound — a shark's olfactory ability is acute. See Menstruation and Sharks
Wearing shiny jewelry is discouraged because the reflected light resembles the sheen of fish scales.
Avoid waters with known effluents or sewage and those being used by sport or commercial anglers, especially if there are signs of bait fishes or feeding activity. Diving seabirds are good indicators of such action.
Sightings of porpoises do not indicate the absence of sharks — both often eat the same food items.
Use extra caution when waters are murky and avoid uneven tanning and bright colored clothing — sharks see contrast particularly well.
Refrain from excess splashing and do not allow pets in the water because of their erratic movements.
Exercise caution when occupying the area between sandbars or near steep dropoffs — these are favorite hangouts for sharks.
Do not enter the water if sharks are known to be present and evacuate the water if sharks are seen while there. And, of course, do not harass a shark if you see one!
If one deems that 100 percent safety from sharks is necessary (and we can't guarantee that for other causes of aquatic recreational injury/death, such as drowning), then shark exclusion nets, which form a barrier between sharks and humans with minimal damage to the environment) are the way to go. However, these nets are very expensive to operate and work only in low energy (non-surf) situations.
Individuals and organizations are working with new technology, such as drones or sensor buoys, to address shark and human interaction space.
People often assume that if someone was bitten in the ocean a shark was the only possible culprit. ISAF does thorough investigations of each case to understand the circumstances involved. Many times we find that other marine creatures were the culprit. Common perpetrators include stingrays (AKA flat sharks), moray eels (Muraenidae), bluefish (Pomatomus saltatrix), and barracuda (Sphyraena spp.).
To date, there is no scientific evidence that sharks are affected in any way by sunscreens. There is ongoing research on whether sunscreen chemicals can damage corals. Additionally, some sunscreen actually uses shark liver oil as an ingredient.
Killer whales or orcas (Orcinus orca) have been documented to kill white sharks (Carcharodon carcharias) and only eat their livers. However, cetaceans (whales and dolphins) and sharks often hunt side by side without conflict. So all because dolphins are jumping off the beach does not mean sharks are not present. Check out this video from the BBC about ocean predators, large and small, feeding on sardines HERE.
Tips to help keep you and your family safe this summer:
Swim with a buddy
Stay close to shore
Don't swim at dawn or dusk
Don't swim around schools of fish or where people are fishing
Avoid wearing jewelry
Avoid excess splashing
Five ways to minimize the chance of being bitten by a shark
Gavin Naylor, director of the Florida Program for Shark Research at the Florida Museum of Natural History, provides five tips to avoid the chance of being bitten by a shark.
How to avoid shark attacks
While the chance that you will be bitten by a shark is very small, you can take steps to minimize your risk. Ten-year-olds Luke and Sophia created this video to help you stay safe in the water.