A Fish Tale: Sawfish Fact and Fiction Through History
By Carmen Elenberger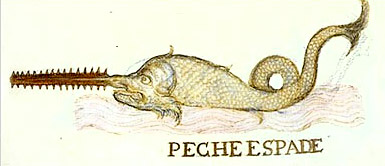 For years sawfish carried a reputation as a formidable denizen of the deep. Their reputation was spread by writers such as Jules Verne, whose famous Captain Nemo instructed his sailors in Twenty Thousand Leagues Under The Sea to "leave the unfortunate cetacea alone. They have plenty of natural enemies- cachalots, swordfish, and sawfish- without your troubling them."
Despite the advice, sawfish neither consume marine mammals nor pose a significant threat to them. Their dangerous nature depends upon perspective and who's telling the tale. Throughout history, sawfish portrayals have been less than true to the facts, whether the misinformed party is the media, historians, or the fishermen who encounter these ancient fish. Even scientists held a less than complete picture- but now, in 2011, with a decade's research on the part of the International Sawfish Encounter Database (ISED) the facts are becoming clearer.
The database strives to compile a complete record of every known sawfish encounter, both smalltooth (Pristis pectinata) and largetooth (Pristis perotteti). As of 2011 the collection contained nearly 6,000 archived reports, from historic accounts on microfilm, new articles, and recent eye- witness accounts collected since the project began. With such an expanded picture, scientists can track the growth and range of the sawfish population and shed further light on the real truth about sawfish.
Below are some commonly held misconceptions or popular tales about sawfish illuminated and refuted by scientific research.
Sawfish Myths:
By M. Burger
Contrary to literature, folklore and nautical paintings, there are no credible accounts of sawfish-induced lacerations causing ships-of-old or schooners to capsize. Despite illustrations of sawfish lurking just under the water's surface or waiting to strike the hull of an unsuspecting ship; sawfish are actually benthic elasmobranchs, or "bottom dwellers". They spend a considerable amount of time as juveniles in shallow mangrove nurseries in water that can be only several feet deep. Sawfish are thought to inhabit deeper waters more commonly as their size increases.
Apart from a suspicious account of a man being sawn in half by a sawfish in eighteenth century India (The Field Book of Giant Fishes by J. R. Norman and F. C. Fraser), there are no known cases of sawfish actually killing humans. When sawfish injuries do occur, they are usually minor and normally a result of provoked incidents-for example, when trying to remove a hooked sawfish from a line.
The diet of sawfish does not include whales, dolphins, or any other variety of marine mammals. Instead, it is comprised primarily of schools of teleost fish, crustaceans, and cephalopods. Adult and large juveniles may also feed on small elasmobranchs including sharks and rays.
However, whales face little threat of being impaled by a sawfish, since they are not natural enemies of the species.
By M. Burger
Smalltooth sawfish rostra (and all sawfish parts including fins and meat) are illegal to sell or trade in the United States as of May 2003, when the species gained federal protection in the U.S. through listing under the Endangered Species Act of 1973. In addition, it is illegal to internationally sell, trade or transfer sawfish rostra across U.S. boundaries and internally across state lines and within states. The only exception to trade or sale being illegal in the United States is if documentation exists that proves the rostrum was harvested before protections were enacted. This documentation can be acquired through the U.S. Fish and Wildlife Service.
While it isn't unusual to see sawfish rostra hanging on the walls of Florida bars, the ISED strongly encourages anyone in possession of a sawfish rostrum to consider donation of the specimen to a museum or university for research purposes, including genetic analysis, age, and growth estimates. However, the endangered status of the species makes it illegal to harm, harass, or handle them in any way-so going out fishing with the intent to land a sawfish to display over the mantle is not permitted, and violating the law can land you with a $10,000 fine for every specimen recovered.
In many countries, sawfish are culturally significant. For example, aboriginal societies in Australia believe that sawfish-like ancestors came from the sea and used their rostra to shape the land and gouge rivers. According to the Kuna population of the Caribbean, sawfish protect mankind from sea monsters and will even save people from drowning.
Sawfish have also been symbols of prosperity and warfare, and they are believed to possess supernatural powers by some societies. People have nailed rostrums over doors to dissuade ghosts from entering and hung them above cradles to keep babies from crying. In World War II, pictures of sawfish hung on the walls of some German U-boats and American submarines, and in New Guinea sawfish are believed to cause flooding if people break traditional fishing taboos.
By M. Burger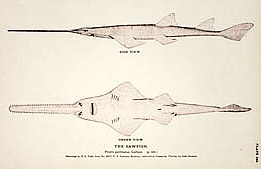 False. Throughout millions of years, elongated rostra with lateral teeth evolved independently at least three times. Sclerorhynchids, an extinct family of sawfish, first evolved in the Cretaceous period. Existing sawfish species belong to the Pristidae family, and are a type of ray. Pristiophorids, or sawsharks, are a distantly related shark species that also wield a toothed-rostrum.
Coevolution of rostra is believed to have occurred because the adaptation is advantageous for feeding. Sawfish have canals that run the length of their rostra that make up what is known as the lateral line system. This is a sensory system that only functions in aquatic environments and serves to detect currents and waves produced from nearby objects or animals. Ampullae of Lorenzini-pores concentrated along the length of the rostrum- function to detect electrical fields emitted by prey. So, the rostrum can act like a metal detector to seek out food items above or below the snout. Within the seven extant species of sawfish, P. microdon is the only species believed to use their rostrum to dig in muddy or sandy substrate for prey. This is hypothesized because they have non-pored lateral line canals (versus pored canals in the other six species), which would prevent substrate particles from intruding.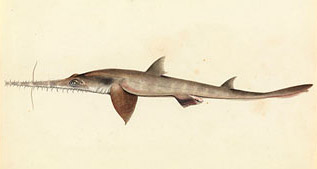 Another difference in saw morphology between sawfish and sawsharks is that sawsharks have teeth that are replaced in a conveyor belt-like fashion if lost. Sawfish instead have lateral teeth that continually grow from a root. If the tooth breaks at the pulp, it may no longer maintain the ability to re-grow.
By M. Burger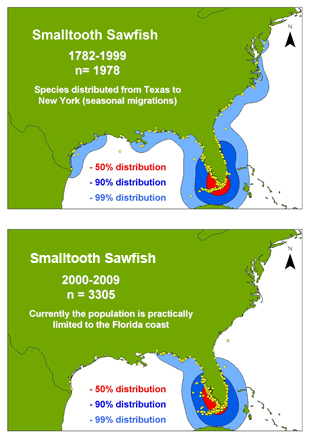 Not true-smalltooth sawfish populations have been decimated to 95 percent of the abundance they previously sustained in the past century. Their distribution is described as circumtropical, and their range in the Northwestern Atlantic once included territory from Texas northward as far as New York. Their environmental constraints include water temperatures of at least 16-18 degrees Celsius and availability of coastal areas with suitable nursery habitat, so encounters north of Florida are thought to be a result of seasonal migrations of larger individuals in the population. Northern sightings are now rare, and the last stronghold for smalltooth sawfish is in marine and estuarine waters off of southwestern Florida.
The sawfish was at one time thought to be a common nuisance because its rostrum would get easily entangled in nets, and anglers believed its numbers couldn't possibly diminish. In 1884, sawfish were described as being very common in the Indian River Lagoon (IRL) and its tributaries, and one fisherman reported catching 300 of them in one fishing season (Everman and Bean 1898). In fact, sawfish used to be so prevalent there that old newspaper reports claimed that you could "walk across their backs". Reports of fishermen harpooning sawfish, throwing them back without their rostra (which were kept as trophies), and even bludgeoning them to death exist.
The abundance of sawfish was not infinite though. In a study spanning several years in the 1980's, researchers didn't catch any sawfish within the IRL system. Subsequent research by the Florida Program for Shark Research (FPSR) from 2007-2010 also failed to document sawfish within the lagoon. Scientists have attributed the decline to excessive accidental captures by commercial fishermen and to habitat loss from anthropogenic activities.
Today, this area is mentioned specifically in the species recovery plan as an area where sawfish numbers have been decimated and a critical habitat that scientists hope sawfish will again be observed in.
By M. Burger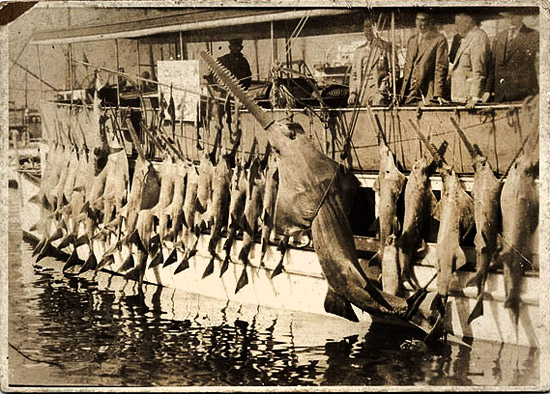 The National Sawfish Recovery Implementation Team published a recovery plan for the species in 2003 that projects that the species can make a recovery over a 100-year time frame (four generations) with effective action, research, and help from the public. But, adopting an "us-versus-them" mindset is counterproductive towards the livelihood of the species and the role they play as a top predator in ocean ecosystems.
Sawfish are what is known as a k-selected species. This means that they are best able to maintain a small, persistent population size in a stable environment. Characteristics of k-selected animals include late maturation, a long lifespan, and few young. Since these species don't adapt well to environmental variables, decimated populations can take years to recover despite conservation efforts.
As previously mentioned, sawfish are not responsible for capsizing boats or killing humans, but humans have and still do engage in activities that are harmful for their species recovery. For example, some anglers remove the rostra from sawfish before throwing them back, either to keep as a trophy for landing a "mud marlin" or "sea monster" or to make removal from a net easier. Since 2003, there have been 35 encounters of sawfish lacking a rostrum reported to the ISED. It is currently unknown how such animals fare in the wild without their saw.
Other factors that harm sawfish include habitat loss and pollution. When sawfish are released, there is often a considerable amount of line left on the animal. In some cases, monofilament fishing line has become wrapped around individuals and caused limited respiratory function and death. Dredging in shallow waters around red mangrove forests also compromises the species' recovery by destroying critical habitat for juveniles.
Scientists at the FPSR depend on members of the public to submit their sawfish encounters (worldwide, historic or recent) to us in order to continue monitoring the livelihood of the species and increasing conservation efforts. Visit our sawfish encounter page for info and to report a sighting, browse updates of ongoing sawfish research and learn more about the first marine fish to be listed as endangered under the US Endangered Species Act (ESA).