Sawfish are listed as endangered under the Endangered Species Act. Populations of this species are in decline, which makes all information about this species invaluable.
Therefore, sawfish sighting reports are a very important tool for monitoring their population. They assist in the evaluation of the species abundance and habitat range, helping us not only to estimate the population size but also to identify their habitat preferences. As a result, the sawfish sighting reports are vital for the success of the Smalltooth Sawfish Recovery Plan.
Reporting Procedures
Your report can greatly help conservation efforts by providing the following information:
Your name, phone number, and e-mail address.
Date, time and location of the encounter.
Number, size and behavior of the sawfish.
Your activity at time of encounter (fishing, boating, diving, shore walking, etc…).
Information on any tags, scars, or distinguishing marks.
Since no records are too old, historic information is also useful. Historical pictures, newspapers, magazines, books or reports are welcome!
The International Sawfish Encounter Database is located at the Florida Museum of Natural History, University of Florida.
You can report your sawfish information in four different ways:
By phone: (352) 392-2360
By e-mail: download our Sawfish Encounter Reporting Form, fill in the form and send it to sawfish@flmnh.ufl.edu
By post-mail: download our Sawfish Encounter Reporting Form, fill in the form and send it to:
International Sawfish Encounter Database
Florida Program for Shark Research
Florida Museum of Natural History
Dickinson Hall Museum Road
PO Box 117800
Gainesville FL 32611-7800
Thank you for your contribution!

Sawfish Safe Release Guidelines
As sawfish currently hold an Endangered listing under the Endangered Species Act, it is illegal to harm, harass, hook, or net sawfish in any way, except with a permit or in a permitted fishery.
However, accidental captures do occur while fishing for other species. For your safety and the safety of the sawfish, use caution should you hook or net a sawfish, as they are substantially large and powerful fish capable of causing you or themselves injury. Below are some tips for safely handling and releasing an accidentally caught sawfish.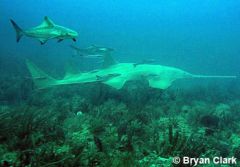 If hooked:
Keep sawfish in the water at all times.
If it can be done safely, untangle the line if it is wrapped around the saw and remove as much of the line as possible.
Cut line as close to the hook as possible.
Do not handle the animal or attempt to remove any hooks on the saw unless you have a long-handled dehooker.
If tangled in a net:
Make every effort to free the animal from the net with minimal additional stress or injury.
Keep sawfish, especially the gills, in the water as much as possible.
Try to remove all netting and release the animal quickly.
DO NOT REMOVE THE SAW!
Penalties
Unauthorized handling of a species protected under the Endangered Species Act may cost the offender anywhere from $500 to $10,000 or more, with fines increasing with the number of violations. Simply harassing a sawfish can cost anywhere from $1000-$10,000 for a first violation; capturing it holds a penalty of $2,000 or higher.
Ecological Advice
Here are some guidelines that can make a huge difference for the sawfish conservation and other sea animals as well:
Never throw fishing lines into the ocean. They can get entangled in the sawfish rostrum, sea turtles, etc… causing a great impact in the animal's life leading even to its death.
Choose circle hooks over j-hooks. Circle hooks minimize internal injuries during the catch process and, as a result, greatly enhance post-release survival rate.