As the number of soldiers sent to St. Augustine's garrison increased, the demand for housing also grew. The area between the plaza and the Castillo was settled mostly during the time after 1670.
It seems that much of the property in St. Augustine was held and passed through women, since by the eighteenth century, virtually all of the full-time resident women in St. Augustine were criollas. Most of the men, however, were transient soldiers, often from Spain.
Houses were part of the criolla dowry, helping young women to make an advantageous marriage—ideally with a military man from Spain—and at the same time providing a place for the incoming men to live. Many of these men stayed in St. Augustine to raise families and form business ventures with other peninsulare men.
After the destruction of the town by James Moore (and again after the destruction of most of the town by a hurricane in 1707), many of the properties owned by criollo families were gradually rebuilt of masonry—coquina, a shellstone quarried on Anastasia Island, or tabby—a cement-like mixture made with shells. St. Augustine had entered the "stone age."
Life in these houses—whether rich or poor—featured a mixture of Indian, African and European and non-European traits in areas of female domestic activity (an adaptation to Florida by the resident criollas, mestizas and mulattas) but a strong adherence to European items in male activities, and matters of public display. St. Augustine was Spanish on the outside, but multicultural on the inside.
In 1711, a St. Augustine criolla girl named Francesca María García de Acevedo de Peñalosa married Victoriano de Avero, a peninsulare soldier from Tenerife in the Canary Islands. Francesca and Victoriano had five daughters, Ildefonsa, born in 1713, Juana, born in 1715, Antonia, born in 1717, Manuela, born in 1719 and Ursula, born in 1723. They also had one son named Francisco who was born in 1721 and died (as so many St. Augustine children did) in infancy. Five of the girls married newly-arrived soldiers; Ildefonsa and Juana to men from the Canary Islands, who both died before their wives did. Both women remarried local criollo men—Juana to Private Gerónimo de Hita y Salazar. Antonia married an officer, Captain Joseph Guillén from eastern Spain, who was also a shrewd merchant. She, too became a widow after eight years of marriage, and remarried in 1753 to the socially prominent Joaquín Blanco, the Keeper of the Royal Storehouse. Ursula married a Spanish-Italian Cavalry lieutenant from Sicily, who died in 1746, and she subsequently remarried to another peninsulare officer, Raymundo de Arrivas. Manuela was the only one of the girls to marry a local criollo man from St. Augustine.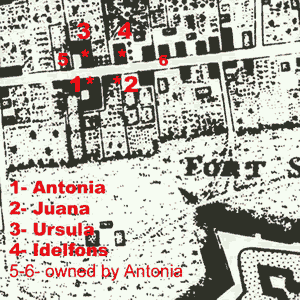 When St. Augustine was evacuated by the Spaniards in 1763, the map of properties made by Elixio de la Puente showed a cluster of homes on north St. George Street that were occupied by the Avero girls and their families, an example of the tradition of passing property through criolla women, and the acquisition of property through advantageous marriages.
The experiences of Ildefonsa, Juana, Antonio, and Ursula—as well as that of their mother—was typical for criolla women in colonial St. Augustine. They all married at between ages 15 and 17, ideally to peninsulare soldiers. They were all widowed, they all remarried, and they all had many children—usually one every other year. Ildefonsa and Juana each bore seven children, Antonia had at least six, and Ursula had eleven children. Their mother Francisca, who also remarried after the girls' father died, gave birth to more than ten children in her lifetime. The St. George street blocks of the Avero girls enclave on St. George Street must have been a lively place indeed as their children grew up with their siblings and cousins.
Artifacts
Images