Archaeology: Protecting the Past for the Future!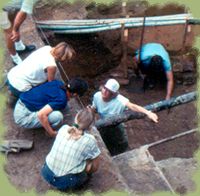 The objects that tell the stories of the majority of our colonial forbearers most often come from archaeological sites as "words from the earth". By carefully documenting the precise location of each object in the ground, and recording the relative associations of each object to all others at the site, archaeologists can learn when objects were used and discarded, what the things were used for, and who may have used them. These relative positions and associations of objects in the earth are equally as important as the objects themselves in reconstructing the past through archaeology
Unfortunately, St. Augustine's archaeological sites – like those all over the country- are being destroyed at an alarming rate as buildings, roads and public utilities are constructed. Archaeologists are struggling to keep up with the destruction and save as many sites as possible, but they can't all be saved. The best thing the rest of us can do is to carefully protect our remaining sites from unnecessary digging and disturbances that would obliterate the fragile soil associations among artifacts that are so critical for knowing abut the past!
Carl Halbirt: City archaeologist
Carl Halbirt became the City Archaeologist of St. Augustine in 1988. He is responsible for salvaging what can be saved of sites in St. Augustine that are undergoing private or public development. His digs are constrained by budget limits and construction schedules, but as St. Augustine's tourism industry expands ever-more rapidly, he usually has three or four going on at the same time. He often finds himself digging in the middle of a street, or inside a building
Carl is assisted by a staff of one, and for all other help—digging, washing, analyzing, illustrating objects and report writing—he relies on volunteers of the St. Augustine Archaeological Association, archaeology students, and other concerned citizens. Overt the past twelve years Carl has saved parts of more than 100 colonial sites in downtown St. Augustine.
Kathy Deagan: University professor and Museum curator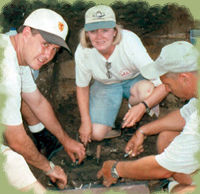 The University of Florida has maintained a program of research and field school training in St. Augustine since 1972, under the direction of Dr. Kathleen Deagan. This program has been designed to learn about Spanish adaptations and the development of a criollo culture in America, while at the same time providing field training for archaeology students. The field school program works closely with the City Archaeologist, Carl Halbirt, and the City of St. Augustine to provide input for their Living History Museum depicting life in Spanish St. Augustine. As a museum curator, Kathleen also directs the Florida Museum of Natural History's program in Historical Archaeology, which is based on building and maintaining archaeological collections from historic sites, and developing research and exhibits projects related to the collections.
For more information, visit the historical archaeology program.