Introduction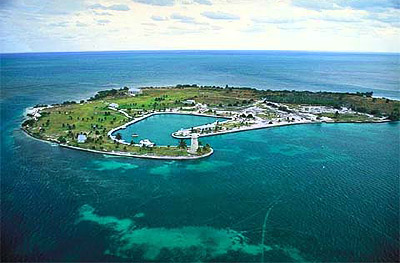 Florida Keys extend southwest off the southern tip of Florida
This area includes the only coral reef system off North America
The Florida Reef Tract is the third largest in the world
The Florida Keys are a chain of 1,700 islands extending southwest from the southern tip of the Florida peninsula, with the Atlantic Ocean to the south and the Florida Bay and Gulf of Mexico to the north. This island chain is 202 miles (325 km) in length, stretching to within 90 miles (145 km) of Cuba. As the only coral reef system off the North American continent and the third largest barrier reef in the world (behind Australia and Belize), the Florida Reef Tract is located on the Atlantic side of the Florida Keys.
Habitats
Coral Reef
Seagrass
Mangroves
Although this area is world renown for this reef system, other productive marine communities including seagrass meadows and mangrove forests occur within the waters of the Florida Keys. Seagrass meadows are the most abundant habitat within the Keys and when combined with those to the north in the Florida Bay, create the most extensive seagrass bed in the world. These communities form the marine ecosystem upon which the fishery and tourism industries of south Florida are dependent upon.
---
Glossary terms on page
Florida Reef Tract: the third largest barrier reef in the world, running from the Miami area southwest to the Dry Tortugas.
ecosystem: a community, including all the component organisms, along with the environment, forming an interactive system.