The subcanopy of the pinelands consists of fire-resistant species such as the saw palmetto and cabbage palm.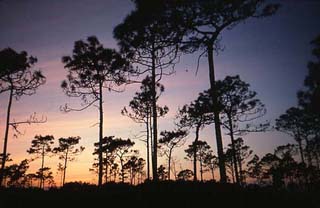 Florida slash pines (Pinus elliotii) occur in a range of elevations, taking root among limestone outcroppings and solution holes containing peat and marl. Surrounded by wet prairies and mangroves, pinelands experience flooding during the summer rainy season for extended periods of time.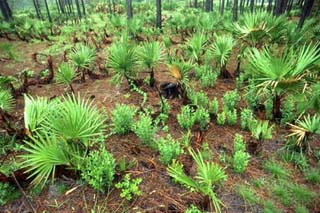 Only occurring after the extended absence of fire, the subcanopy includes hardwood shrubs and small trees from adjacent hammock habitats. Saw palmetto (Serenoa palmetto), a low growing species of palm, commonly occurs within pinelands. Growing up to six feet (2 m) in height, the saw palmetto is easily recognized with its sharp, pointed leaves.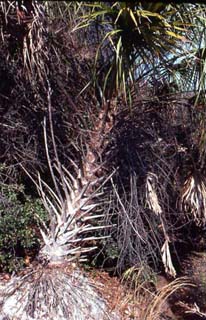 Another common plant is the cabbage palm (Sabal palmetto) which thrives in the poor soil conditions of the pinelands. Both the cabbage palm and the saw palmetto are extremely fire-tolerant.
Shrubs occurring within the pinelands include:
pond cypress (Taxodium ascedens), not shown
buckthorn (Bumelia reclinata), not shown
dwarf live oak (Quercus minima), not shown
Native Fauna
Rocky pinelands provide habitat for many species of wildlife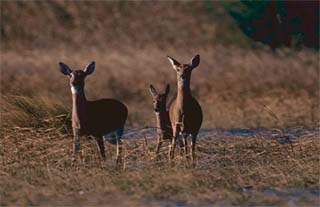 Many mammals inhabit the unique rocky pineland habitats of south Florida including:
cotton mouse (Peromyscus gossypinus), not shown
mangrove fox squirrel (Sciurus niger avicennia), not shown
Birds that frequent these areas include:
Reptiles and amphibians include:
reef gecko (Sphaerodactylus notatus), not shown
---
Glossary terms on page:
marl: earthy, loose deposit consisting mainly of calcium carbonate mixed with clay.
solution hole: depression in the Earth's surface caused by dissolving of substrate composed primarily of calcium carbonate.
peat: partially decayed plant matter formed on the surface of water-logged soils, used as a fertilizer, fuel, or in the production of charcoal.
hammock: area that is often higher than the surrounding land with humus rich soil and hardwood trees including oaks, sweetgums, hickories, and palms.