Alligator holes are found in marshes throughout the Everglades.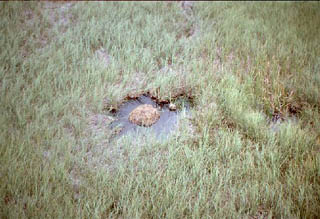 Alligators form holes by clearing muck from depressions in the limestone bedrock
Alligator holes remain filled with water during the dry season
Located in marshes with long hydroperiods throughout the Everglades, alligator holes result either from fire burning an area of rich peat soil or from alligator activity. Alligators form holes by using their feet and snouts to clear muck from holes in the limestone bedrock.
Water remains in these holes throughout the year except during severe drought conditions. As the dry season approaches and water dries up from other areas within the Everglades, alligator holes retain water and become refuges to a variety of wildlife. Alligators prey on the animals that frequent gator holes in search of refuge, food, and water.
---
Glossary terms on page:
hydroperiod: the period of time during which a wetland is covered by water.
peat: partially decayed plant matter formed on the surface of water-logged soils, used as a fertilizer, fuel, or in the production of charcoal.