A recent decrease in seagrass habitat has been documented through the use of aerial photography and geographical information systems (GIS) as the Florida coast becomes more densely populated by people.
In response, many efforts are working to protect and manage these areas including water quality improvement, boating restrictions, legislation, and education.

Water Quality
Governmental agencies are setting higher standards for acceptable water quality.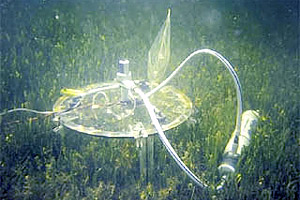 Governmental agencies at both the state and federal levels are dealing with water quality issues through regulations. As a result, industries are required to follow regulations on discharges and storm water runoff to meet acceptable water quality conditions. Improvements of sewage treatment plants and septic systems have resulted in the reduction of pollutants entering coastal waters. This has improved water quality conditions and seagrass survival.
Boating Restriction Zones
Boating restrictions are useful in the protection of seagrass.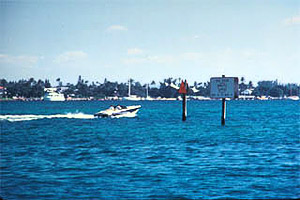 Boating restriction zones have been created to protect seagrass habitat as well as the manatee populations residing in these areas. Lee County first legislated regulations limiting motor-powered vehicle access from certain local areas in 1990. Since then, many other counties throughout Florida have established regulated zones, including Pinellas, Hillsborough, Sarasota, Monroe, Dade, and Brevard.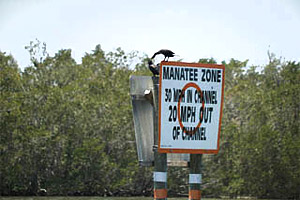 Legislation
Although legislation has been enacted to protect marine habitats, it is difficult to enforce compliance.
Legislation has been enacted to protect marine resources, including seagrass habitats, by the State of Florida. This has resulted in a variety of environmental regulations including the control of dredge and fill activities as well as the establishment of aquatic preserves protected from extensive coastal development. Although legislation exists, it is often difficult to enforce and voluntary compliance has proven ineffective.
Education
Education is important to increase awareness of seagrass conservation.
Education is key to boaters, tourists, and residents in their awareness and appreciation of all marine habitats including seagrasses. Posters, brochures, maps, signs and classes are all useful in communicating the importance of seagrass habitat to the public.