Introduction
The Everglades is a wide expanse of freshwater marshes
It once covered 4,000 square miles and is now less than half that size
This region is unique, relying on sheet flow of water
The Everglades is a large region of freshwater marsh land that originally extended from Lake Okeechobee south to the tip of peninsular Florida. Once covering an area of 4,000 square miles (10,360 square km), the Everglades has been significantly reduced to less than half that size. The "sheet flow" of water across the land makes this area unique in contrast to other wetlands that typically rely on waters originating from rivers and streams.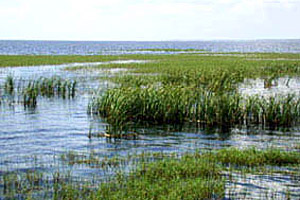 During the summer rainy season, water overflows from Lake Okeechobee along its southern shoreline, moving southward across sawgrass marshes and other wetland areas. This sheet flow of water is due to the gradual slope of the land of less than two inches per mile (3 cm per km). Marsh vegetation further reduces the flow from near zero to two feet per minute (0.4 m per minute). This flow continues for approximately 100 miles (161 km) until reaching the waters of Florida Bay or the Gulf of Mexico.
Habitats
There are many habitat types within the Everglades due to changes in land elevation.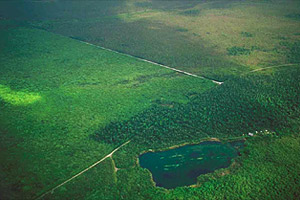 Small changes in land elevation are responsible for the varied habitats with the Everglades ecosystem. These habitats include: