The Ximenez-Fatio site is probably the most-excavated site in St. Augustine.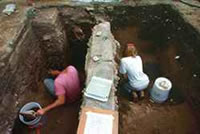 Located on Aviles Street in the heart of historic downtown St. Augustine, it is best-known for the eighteenth century house that stands on the property, built around 1798, and serving as one of Florida's first tourist hotels in the nineteenth century. It has been meticulously studied by historians, architects and archaeologists, and has been lovingly restored as a Historic House Museum by the Colonial Dames of America Florida Chapter.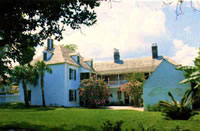 The site on which the house stands has been occupied since ca. 1572, and its soil strata contain at least six archaeological occupation components. The first houses on the site were wattle and daub, replaced in the early 17th century by post and thatch.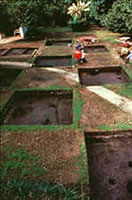 During the eighteenth century more substantial homes were built of a cement like mixture of shells, sand and lime known as "tabby", and the final house to be built in 1798 was made of the local sedimentary shellstone known as "coquina." The residents of the Ximenez-Fatio site were well-to do throughout its history, and the wealth of materials excavated from the site include pottery, food remains, kitchen utensils, buttons, beads and buckles, toys, perfume bottles and many other remnants of daily life over three centuries.University of Florida and Florida State University archaeological Field Schools have taken place there in 1973, 1979, 1980, 1981, 1985 and 1990, and the site has provided the basis for four Masters theses and one Ph.D. dissertation, as well as a number of other student publications (see Readings below)
View artifacts from the Ximenez-Fatio site
Beidelman, Katherine
1976 Ceramic means as indicators of socio-economic status in colonial St. Augustine.Unpublished MA Thesis, University of Florida, Gainesville
Clauser, John
1974 Excavations at the Ximenez-Fatio house: Backyard archaeology in St.Augustine. MA thesis, University of Florida, Gainesville.
Ewen, Charles
1985 The Ximenex-Fatio House: A view from the backyard. In Indians, Slaves and Colonists, edited by K. Johnson, et al., Florida Journal of Anthropology Special Publication. University of Florida Anthropology Department, Gainesville, pp. 57-69.
Gaske, Fred
1982 The Archaeology of a Territorial Period Boarding house in St. Augustine. MA thesis, Florida State University, Tallahassee
MacMurrary, Carl
1972 Excavations at the Ximenez-Fatio House, St. Augustine Florida. Historical Archeology 6:57-64.
Reitz, Elizabeth J., and C. Margaret Scarry
1985 Reconstructing historic subsistence with an example from sixteenth century Spanish Florida. The Society for Historical Archaeology Special Publication No. 3.
Scarry, C. Margaret
1985 The use of plant foods in sixteenth century St. Augustine. Florida Anthropologist 38(1-2):70-80.