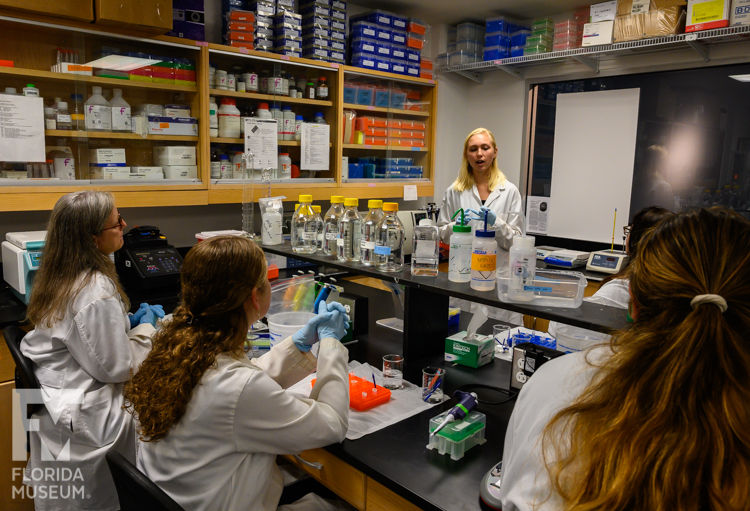 The Thompson Earth Systems Institute (TESI) was established in October 2018, and awarded funding in 2019 for the moonshot initiative: Scientist in Every Florida School (SEFS).
SEFS is one of just eight projects awarded funding through a $17 million University of Florida moonshot initiative, aimed at tackling some of society's most urgent issues. Scientist in Every Florida School has the potential to impact nearly 2.3 million K-12 students and 1000s of teachers statewide. As the name implies, the project mission is to connect all Florida schools with scientists yearly through a variety of platforms. 
Participating scientists must have a research focus related to Earth systems—air, water, land and life — which is in line with TESI's mission to advance public understanding of environmental issues.
Pilot program:
In its first three years, the program aims to connect scientists with every K-12 public school in five target counties:
Alachua
Escambia
Lee
Palm Beach
Seminole
Program components
Scientist classroom visits (in-person & virtual)
Facilitating teacher-scientist relationships
K-12 Professional Development & Resources
As part of this program, the Thompson Earth Systems Institute hosts a series of teacher professional development workshops. During these workshops, teachers work alongside scientists to learn the latest research trends and develop hands-on lesson plans. To learn more about upcoming professional development opportunities and to access resources developed during past PD, visit our K-12 Professional Development & Resources page.
Interested in participating?
Teachers:
Teachers, schools and districts in Florida interested in participating in the project should reach out to the project outreach coordinators. If you are a teacher in one of our five pilot counties, you can and fill out our "Request a Scientist" form​. Teachers from outlying counties can fill out the "Outlying County Teacher Form".  For recent and upcoming K-12 professional development opportunities, be sure to check our Upcoming Professional Development Calendar and join our teacher-scientist Facebook Group.
If you have already participated in a scientist visit, please leave your feedback by filling out our "Post Scientist Visit Evaluation" form. 
Scientists:
Are you a scientist or graduate student interested in visiting a Florida classroom? Does your research focus on air, water, land or life? We would love to help connect you to a classroom. Please fill out the "Scientist Participation" form and we will contact you shortly.
Contact
Brian Abramowitz
K-12 Education & Outreach Coordinator
Phone: 516-225-9390
Email: babramowitz@floridamuseum.ufl.edu
Stephanie Killingsworth
K-12 Education & Outreach Coordinator
Phone: 561-644-2397
Email: skillingsworth@floridamuseum.ufl.edu
Scientist in Every Florida School News