Partnering with TESI on Broader Impacts
Are you a researcher studying air, water, land or life in Florida, and beyond? Consider partnering with TESI for your Broader Impacts activities in your next National Science Foundation grant!
Our team of experienced educators, communicators and evaluators can work with you to develop impactful activities alongside your research project to help advance public understanding of your topic.
NSF Broader Impacts criterion questions
How well does the activity advance discovery and understanding while promoting teaching, training and learning?

 

How well does the proposed activity broaden the participation of underrepresented groups (e.g., gender, ethnicity, disability, geographic, etc.)?

 

To what extent will it enhance the infrastructure for research and education, such as facilities, instrumentation, networks and partnerships?

 

Will the results be disseminated broadly to enhance scientific and technological understanding?

 

What may be the benefits of the proposed activity to society? 

 
What we offer
TESI's mission is to advance communication and education of Earth systems science in a way that inspires Floridians to be effective stewards of our planet. Effective Broader Impacts activities are simply part of our mission.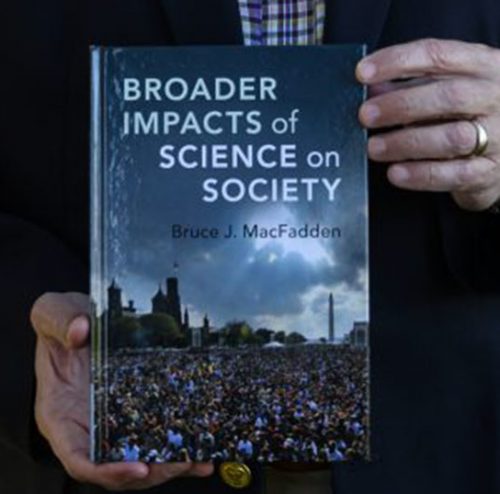 Additionally, TESI Director Bruce MacFadden has served as a Program Officer at the National Science Foundation, has written a book about Broader Impacts titled "Broader Impacts of Science on Society," (Cambridge, 2019), teaches a graduate-level course on the subject, and conducts faculty training on this subject. Helping scientists with Broader Impacts is one of our Institute's top priorities.
We are therefore ready to collaborate with you and can assist in the following Broader Impacts activities.
K-12 teacher and student education 
Through our Scientist in Every Florida School Program, we build long-term collaborative relationships between teachers and scientists, better integrate current scientific research and big data into classroom lessons that adhere to Florida Sunshine State Standards and aim to connect a scientist with every school in the state. 
By partnering with Scientist in Every Florida School for your Broader Impacts, you will gain access to a network of K-12 schools, teachers and district leaders who have come to trust the work we do. 
Our team is comprised of former K-12 educators who understand the unique and specific needs of classrooms and are well-versed in state learning standards. When you partner with SEFS, we will not only help match you with K-12 audiences, we will also help you craft your science content in a way that is understandable, engaging and fits into existing curricula.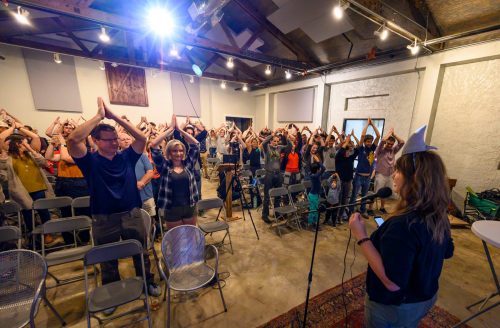 Innovative public programming & digital outreach
Our team of trained science communicators and environmental educators can work with you to share your science in creative ways that reach your target audience.   
Examples include:  
Public events: We have experience organizing well-attended and interactive public events in informal settings

, like breweries and libraries

. 

See some of the series we've hosted on our 

Public Programming

 page

. In addition to designing and promoting an event, we also help with audience engagement through science communication best pr

actices. 

 

Live virtual events: Not all virtual events need to be a one-sided 

conversation. We can help you design engaging virtual events in a way that fosters active learning. 

 
Education and communication campaigns: Using a variety of methods, we can work with you to design and implement an 

awareness

 campaign on a focused topic

 using a combination of digital and in-person outreach

. We work with you to define clear goals and objectives, 

decide on campaign deliverable

s

 and key messages

 and 

develop 

evaluation methods. 

 
Science communication professional development
If your Broader Impacts activity focuses on furthering improving science communication in your field, we're here to help. Through our education and outreach grants program, science communication training seminars and K-12 teacher professional development workshops, we help scientists hone their communication skills and disseminate their research to broader audiences. Learn more about our efforts on our Science Communication Professional Development page.  
We can help you develop science communication training workshops in the areas of: environmental education, working with the media, developing a digital communications plan, Broader Impacts, working with K-12 students and teachers, advocating for your science, using storytelling to deliver science, the 5E learning cycle, and much more.  
How and when to get started with us
TESI's Broader Impact services can range from as simple as a few limited activities to larger projects in which we can partner with you in a sustained way throughout your grant. Our budget requirements for these partnerships are therefore flexible and depend upon the scope of support required to effectively develop and implement your activities and programs. We are also available to help you customize the Broader Impacts narrative in your proposal. 
Many researchers wait until close to the NSF deadline to develop their Broader Impacts plan. We do not recommend this because many of these activities take time to develop. Optimally you should contact us no less than two months before the NSF deadline. In most cases because of budget development, we typically do not have the capacity to assist, or partner with you if less than one month remains before the deadline. 
We are ready to chat more with you about your ideas and how we can help. If you are interested in partnering with us on your next National Science Foundation Proposal, email Sadie Mills (smills@floridamuseum.ufl.edu) with the subject line, Broader Impacts collaboration.