Partnering with TESI on Broader Impacts
Are you a researcher studying air, water, land or life in Florida, and beyond? Consider partnering with TESI for your Broader Impacts activities in your next National Science Foundation grant!
Our team of experienced educators, communicators and evaluators can work with you to develop impactful activities alongside your research project to help advance public understanding of your topic.
NSF's Broader Impacts criterion questions
How well does the activity advance discovery and understanding while promoting teaching, training and learning?

 

How well does the proposed activity broaden the participation of underrepresented groups (e.g., gender, ethnicity, disability, geographic, etc.)?

 

To what extent will it enhance the infrastructure for research and education, such as facilities, instrumentation, networks and partnerships?

 

Will the results be disseminated broadly to enhance scientific and technological understanding?

 

What may be the benefits of the proposed activity to society? 

 
What we offer
TESI's mission is to advance communication and education of Earth systems science in a way that inspires Floridians to be effective stewards of our planet. Effective Broader Impacts activities are simply part of our mission.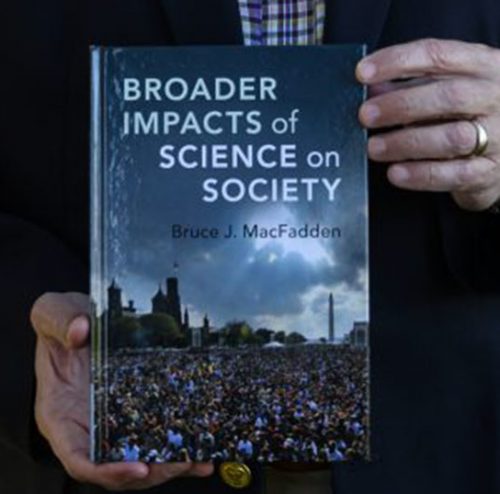 Additionally, TESI's founding director Bruce MacFadden served as a Program Officer at the National Science Foundation, wrote a book about Broader Impacts titled "Broader Impacts of Science on Society," (Cambridge, 2019), and teaches a graduate-level and faculty courses on the subject. Helping scientists with Broader Impacts is one of our Institute's top priorities.
We are therefore ready to collaborate with you! 
Activities by Audience
Our team of trained science communicators and environmental educators can work with you to share your science in creative ways that reach your target audience.   
K-12 Teachers and Students
Through our Scientist in Every Florida School Program, we build long-term collaborative relationships between teachers and scientists, better integrate current scientific research and big data into classroom lessons that adhere to Florida Sunshine State Standards, and aim to connect a scientist with every school in the state. 
By partnering with Scientist in Every Florida School for your Broader Impacts, you will gain access to a network of K-12 schools, teachers, and district leaders who have come to trust the work we do. 
Our team is comprised of former K-12 educators who understand the unique and specific needs of classrooms and are well-versed in state learning standards. When you partner with SEFS, we will not only help match you with K-12 audiences, but we will also help you craft your science content in a way that is understandable, engaging, and fits into existing curricula. 
Teacher Professional Development Workshops or Research Experiences for Teachers: The SEFS team is a well-oiled machine when it comes to organizing and hosting teacher professional development workshops and research experiences. You bring your content expertise and our team will help promote the program and recruit teachers, assist with developing an interactive and engaging agenda, coordinate all logistics, and provide program evaluation. See some examples of workshops we've hosted on our K-12 Professional Development page.
Outreach with Accessible Hands-on Projects for K-12 Classrooms: Interested in working with education professionals to design lessons or activities for K-12 classrooms? As former science teachers, our SEFS team members have plenty of background in education and pedagogy. Let the SEFS team help you develop an engaging lesson, and tap into our established network of teachers and classrooms to teach it.
Live stream or virtual lab tours: To reach broad student groups statewide, consider live stream programs with SEFS. We have a proven track record for designing interactive virtual programs that have taken a variety of formats. We are happy to help refine ideas, as well as promote and implement your envisioned program. All previous live streams can be found on our YouTube channel, making your outreach efforts even more robust with continued views well past the air date.
Field trips with classrooms: Although onsite field trips to various locations around the state have hurdles when it comes to school-aged children, this type of outreach can be truly rewarding. SEFS is happy to help coordinate opportunities for you and students/families to connect in the field.
Fellowships Opportunities for Undergraduate/Graduate Students: Consider giving your undergraduate and graduate students experience in science communication and outreach through fellowships with SEFS. Individuals can be assigned districts or content areas to push into classrooms, after-school programs, and more.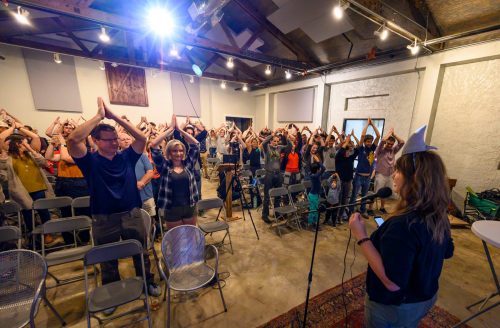 Lifelong Learners
Lifelong learners include adults and families learning outside a formal classroom setting. TESI engages lifelong learners through public events and digital outreach.
Public Events: We have experience organizing well-attended and interactive public events in informal settings

, like breweries and libraries, as well as virtually on Zoom

. 

See some of the events we've hosted on our

Public Programming

 page

. TESI can provide c

oordination and planning support, e

valuation support, s

cience communication/presentation training and

 promotion

for your event.

Digital Science Outreach: Using a variety of methods, we can work with you to design and implement an 

awareness

campaign or story on a focused topic

. We work with you to define clear goals and objectives, 

decide on campaign deliverable

s

and key messages,

 and 

develop 

evaluation methods. For example, we have worked with scientists to develop interactive StoryMaps on manatee declines and climate change research in Florida. We have also teamed up with entomologists to spread awareness about global insect decline through our Insect Effect campaign.
Researchers
If your Broader Impacts activity focuses on improving science communication in your field, we're here to help. Through our education and outreach grants program, science communication training seminars, and K-12 teacher professional development workshops, we help scientists hone their communication skills and disseminate their research to broader audiences. Learn more about our efforts on our Science Communication Professional Development page. 
We can help you develop science communication training workshops in the areas of environmental education, working with the media, developing a digital communications plan, Broader Impacts, working with K-12 students and teachers, advocating for your science, using storytelling to deliver science, the 5E learning cycle, and much more. 
UF Undergraduate Students
Our Environmental Leaders programs aim to connect UF students to environmental research, education & outreach, and civic engagement opportunities.
UF TESI Environmental Leaders Fellowship: This academic yearlong Fellowship brings together students from diverse majors and backgrounds and provides them with the opportunity to gain experience in environmental research, education & outreach, and civic engagement. Sponsor a Fellow in the next cohort and help provide them with the knowledge, skills, confidence, and network to advocate for the planet as they take on leadership roles in their respective careers. In this type of collaboration, you financially sponsor an undergraduate to take part in your research or another project while providing guidance and mentorship along the way. In turn, TESI manages the recruitment and placement of students; hosts a Fellowship orientation; provides monthly meetings for student socialization, networking, and experiences; coordinates the spring break field experience; hosts an end-of-year symposium; and provides evaluation services and results.
UF TESI Environmental Leaders Network: Through this network, we seek to empower students interested in the environment through opportunities, seminars, workshops, networking, and more. The EL Network hosts a database of environmentally focused jobs, internships, volunteer opportunities, workshops, seminars, and more. Consider hosting a seminar, workshop, or field activity for network members. Examples might include a scientific illustration workshop or a panel about graduate school or career pathways.
Evaluation Services
Our team can also help you plan how you will measure the success of your project. We will work with you to develop a tailored approach to ensure you get the data you need for reporting on your project.
How and when to get started with us
TESI's Broader Impact services can range from as simple as a few limited activities to larger projects in which we can partner with you in a sustained way throughout your grant. Our budget requirements for these partnerships are flexible and depend upon the scope of support required to effectively develop and implement your activities and programs. We are also available to help you customize the Broader Impacts narrative in your proposal. 
Logistics
We recommend dedicating around 5% to 10% of direct costs to Broader Impacts activities. 
Please contact us no less than two months before the NSF deadline. In most cases because of budget development, we typically do not have the capacity to assist, or partner with you if less than six weeks remain before the deadline. 
A letter of collaboration from one of our team members is required for our participation. 
We are ready to chat more with you about your ideas and how we can help. If you are interested in partnering with us on your next National Science Foundation proposal, email Rebecca Burton (rlburton@floridamuseum.ufl.edu) with the subject line, Broader Impacts collaboration.
Current Collaborations
Dr. Andrea Lucky
Project name:ARTS: Integrating phylogenomics and taxonomic training to overcome the taxonomic impediment in the genus Nylanderia
TESI contribution: Develop a grade-specific K-12 curriculum as part of a museum exhibit about invasive plants and disseminate it through the Scientist in Every Florida School Program. TESI will also provide science communication training and education and outreach opportunities for postdocs, graduate students, and principal investigators.
Dr. Wen-Yuan Song
Project name: Intramembrane Proteolysis in Regulation of the Rice Receptor Kinase XA21
TESI contribution: Through the Scientist in Every Florida School Program, host a series of four annual professional development workshops for Florida public high school teachers. During the workshops, the teachers will work with Dr. Song's lab to develop lesson plans based on this funded research.
Dr. Bruce MacFadden, Pasha Antonenko, Dr. Jeremy Waisome, Dr. Victor Perez
Project name: K-12 Shark AI
TESI contribution: Through the Scientist in Every Florida School Program, host a series of three annual professional development workshops for Florida public middle school teachers. During the workshops, the teachers will work with scientists to develop lesson plans surrounding fossil sharks and artificial intelligence.
Alberto Lopez
Project name: Museum in the Parks
TESI contribution: TESI will provide evaluation services to help measure the effectiveness and impact of the educational program.
TESI, The Paleontological Society, Alachua County Public Schools
Project name: Chewing on Change: Using Fossil Horses to Teach About Macroevolution
TESI contribution: Through the Scientist in Every Florida School Program, host a professional development program for Alachua County public middle and high school teachers. During the workshops, the teachers will work with scientists to develop lesson plans.
Dr. Larry Page
Project name: Moving and Improving the Florida Museum of Natural History Fish Collection
TESI contribution: Through the Scientist in Every Florida School Program, host a professional development program for Florida teachers. During the workshops, the teachers will work with scientists to develop lesson plans.TESI will also provide evaluation services to help measure the effectiveness and impact of the educational program.
| | |
| --- | --- |
|   | |