Each month, a student-led team at the UF Thompson Earth Systems Institute curates the state's environmental news and explains what's going on, why it matters and what we can do about it.
Subscribe today and get it delivered right to your inbox each month.
View current issue: Volume 4, Issue 8
View last issue: Volume 4, Issue 7
View past issues.
View all Earth to Florida posts or browse by categories below.
Feature Story
Saving Seagrass from Scarring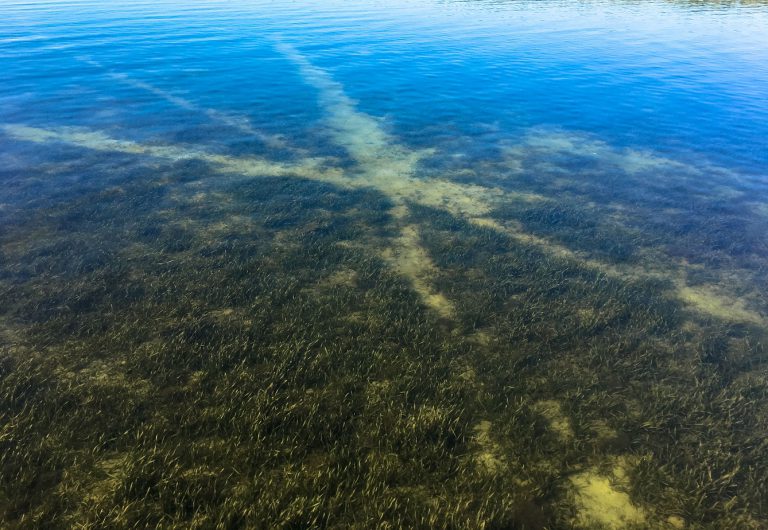 Vital to marine ecosystems, seagrasses provide food, habitat, shelter, and numerous other services for humans and aquatic organisms. These include the fish, crustaceans, and shellfish essential for Florida's recreational and commercial fishing industries.
Read this feature story by Jessie Moses, published in collaboration with the UF/IFAS Nature Coast Biological Station, to learn how boaters can play a part in conserving seagrass communities.
More Feature Stories
Featured Video
Red tide often affects the Gulf Coast of Florida during certain times of the year, like late summer. Not sure what that means for you, your family, and your pets?
This video by the Florida Fish and Wildlife Conservation Commission will teach you everything you need to know: what red tide is, red tide's effects on health, and how scientists track and monitor red tide. Visit the following website for more information about red tide, including a daily sample map: FWC Red Tide
Learn more about Earth systems-related topics through our other student-produced educational videos!
Stories to Watch
To pair with the rest of our educational content in each Earth to Florida newsletter, we bring you monthly updates on statewide environmental news.
Action of the Week
What We're Reading
Environmental protection and social justice are deeply intertwined, and we cannot accurately communicate the environmental issues facing our state without acknowledging this relationship. In this monthly Earth to Florida segment, we will share articles and videos that help explain these connections.
Tell Me About
Explore the posts below to learn about various environmental issues in Florida! Be sure to follow us on Instagram (@UFEarthSystems) for more!
What's the Word?
View Earth to Florida Posts by Category
View all Earth to Florida posts