Each month, a student-led team at the UF Thompson Earth Systems Institute curates the state's environmental news and explains what's going on, why it matters, and what we can do about it.
Subscribe today and get it delivered right to your inbox each month.
View current issue: Volume 5, Issue 1
View last issue:Volume 4, Issue 12
View past issues.
View all Earth to Florida posts or browse by categories below.
Feature Story
Arctic Exposed: What Greenland Can Tell Us About Water's Future in a Changing World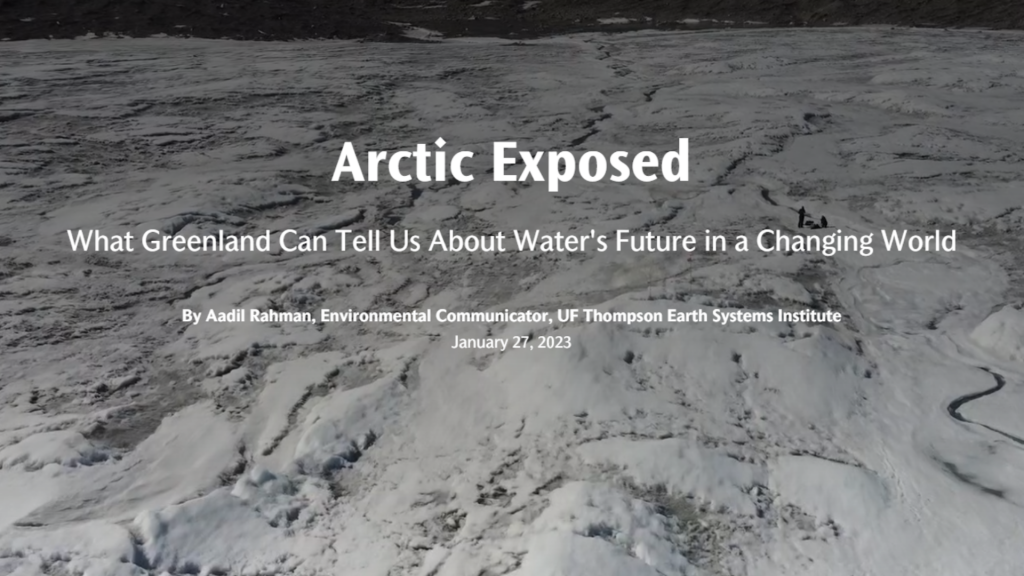 Warming temperatures are melting Greenland's ice at an increasing rate, causing it to transform into liquid and slide into the sea. This transformation leaves previously ice-covered landscapes exposed, making way for new ecosystems to flourish.
Last summer a University of Florida research team, supported by both the UF Water Institute Graduate Fellows Program and the National Science Foundation, traveled to Greenland to study how climate change is transforming arctic watersheds, and what that will mean for the rest of our planet.
The team brings researchers together across academic fields to focus on how the warming planet is affecting chemical, ecological, and hydrological processes in Greenland. The interdisciplinary spirit reaches beyond the science to also train researchers in what the team calls Environmental Civics. They aim to connect people from all walks of life to the important research they are doing. Read more in our feature story, produced in collaboration with the UF Water Institute.
More Feature Stories
Feature Video
Learn more about Earth systems-related topics through our other student-produced educational videos!
Stories to Watch
To pair with the rest of our educational content in each Earth to Florida newsletter, we bring you monthly updates on statewide environmental news.
Action of the Week
What We're Reading
Environmental protection and social justice are deeply intertwined, and we cannot accurately communicate the environmental issues facing our state without acknowledging this relationship. In this monthly Earth to Florida segment, we will share articles and videos that help explain these connections.
Tell Me About
Explore the posts below to learn about various environmental issues in Florida! Be sure to follow us on Instagram (@UFEarthSystems) for more!
View Earth to Florida Posts by Category
View all Earth to Florida posts