Monika Moorman, a 4th-grade teacher at Central Park Elementary in Broward County has been named the Scientist in Every Florida School SuperStar Teacher of the Quarter. She was also recognized as the Broward School District Teacher of the Year earlier in 2021.
Each quarter, the award recognizes one outstanding K-12 public school teacher in Florida for going above and beyond to share their passion for teaching science by participating in SEFS programming, like virtual scientist classroom visits.
Moorman was nominated for this state-wide recognition by Central Park Elementary School Principal Cherise Coleman as an outstanding example of someone who has taken advantage of SEFS programming and implemented it into her classroom. "Monika constantly seeks out professional development opportunities that enable her to bring unique educational experiences to her students," Coleman said. "When she came across the SEFS initiative, she knew it was a perfect platform to build a long-term, collaborative partnership between her students and scientists. As a result, in the course of two years alone, she engaged her students in a variety of problem-based learning projects."
As part of a long-term collaboration with UF scientists, Moorman introduced students to the"Growing Under the Rainbow" project to educate students about plant science, biotechnology, the scientific method, and the potential implications in sustaining life in space. In addition, Moorman has taken part in the SEFS "Nature of Science" professional development as well as a Paleo PD, which allowed her students to be paleontologists and contribute to the Florida Museum of Natural History's collections by sorting through matrix for microfossils. Moorman has continued to bring a diverse representation of scientists into her classroom, from both a cultural and scientific specialty perspective. Visits have included the areas of astronomy, civil engineering, mechanical engineering, geology, paleontology, and cybersecurity to name a few.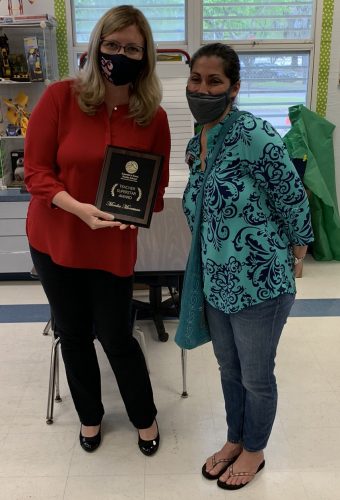 Stephanie Killingsworth, K-12 Education and Outreach Coordinator for SEFS, expressed her highest regard for Monika stating, "Even before the SEFS program was able to expand into Broward County, Monika made sure to establish a rapport and relationship with SEFS. It's evident she wants to offer amazing experiences and project-based learning applications to her students that are rooted in real-world and career opportunities. Her 4th graders are being exposed to such great things from a truly inspiring teacher. SEFS is thrilled to present Monika with this award. "
Follow more on this great story captured on video by BECON TV: Scientist in Every Florida School SuperStar Award.
For more information about "Scientist in Every Florida School," click here.