On January 1 of this year, we had no idea what 2020 had in store for us. The Scientist in Every Florida School team had already made plans for in-person scientist visits at public schools in the program's five pilot counties (Alachua, Escambia, Lee, Palm Beach and Seminole) and planned several special events to be held in-person with various partner organizations. By March, the ongoing global pandemic made it was clear that these plans had to change. Despite these challenges, SEFS was not only able to continue to cultivate relationships with teachers and scientists but also managed to expand its reach to new audiences as well.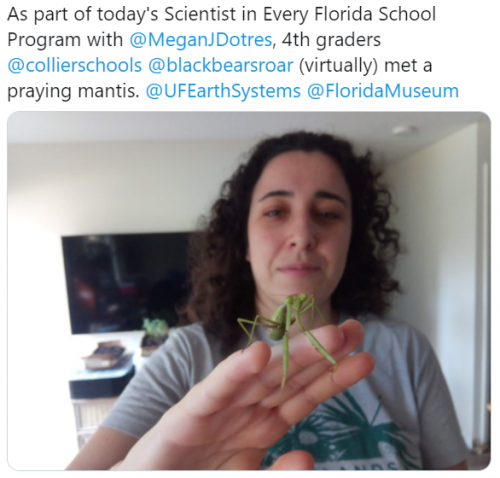 As soon as school closures were announced in the wake of the COVID-19 pandemic, the SEFS team got to work creating a suite of state standards-backed digital resources to help teachers with their transition to virtual education. The resources were created at the request of teachers looking for help with specific topics and then made available online for anyone to use in their lessons.
As the SEFS team continued to work on converting their plans from physical to virtual, they were able to find some bright spots among the challenges. For the first time, they were able to reach beyond the five pilot counties and bring scientists to students across the state, adapting their "Request a Scientist" program to match teachers and scientists via Zoom, Google Meets, and Microsoft Teams. With distance no longer an issue, the virtual visits also allowed a greater range of scientists and topics.
Distance learning gave students throughout Florida the opportunity to attend a variety of virtual field trips and events with people and places far from home. As part of their rapid response effort to provide daily enrichment activities to students learning from home, SEFS launched the Daily Dose and the Friday Q&A series in collaboration with Valencia College of Lake Nona's Community Scholars Initiative. Videos of the live-streamed Q&A series were also made available on the TESI YouTube channel.
Other virtual events that were launched this Spring included the Into the Garden Series co-hosted by Mounts Botanical Garden of Palm Beach County. This series took K-12 students on virtual field trips with scientists to explore topics related to the plants, insects, and even art installations found at the gardens. The Ocean Expert Exchange series, co-hosted by the ANGARI Foundation, provided students with short presentations on marine science topics followed by a Q&A. Both series were brought back for the fall semester.
The K-12 teachers themselves didn't miss out on virtual learning either. SEFS' second annual professional development workshop, "The Nature of Science," brought together 40 teachers from 10 counties to work with scientists on lesson plans that help students better understand the "nature of science," or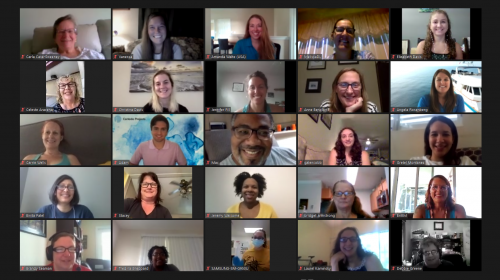 the tools, theories and skills used to carry out research. Though some participants missed the hands-on experience of visiting a lab, others who would have been unable to travel for the workshop were excited to have the opportunity to participate via Zoom.
As we plan for the new year, we know that COVID-19 will continue to challenge teachers and students everywhere and in new ways. We look forward to continuing to adapt and innovate to support Florida's educators and learners across the state.
2020 Impacts By the Numbers:
Scientists across the state completed 351 visits to classrooms, representing 180 schools and more than 14,150 students.
The growing SEFS network now supports collaboration among 1,000 public school teachers and more than 400 scientists.
The SEFS team produced 7 virtual events for teachers and students amid the COVID-19 pandemic, attracting more than 500 participants.
$20,000 in private funding was acquired to support Scientist in Every Florida School science learning programs.
To learn more about SEFS, click here.
Resources mentioned in this article: