The Florida Museum's Vertebrate Paleontology collections provide the most complete basis available for study of Cenozoic vertebrate life and evolution in the eastern United States and the circum-Caribbean Basin area.
Combined, the five separate collections total about 900,000 specimens, of which more than 580,000 are catalogued and on a searchable online database. Holotypes number about 275 specimens. Learn more about the collections…
Volunteer Dig at Montbrook Fossil Site–Latest News!
The volunteer fossil dig for the Spring 2021 season (January 26 to May 8) will include a small group of volunteers each day. See the volunteering in the field web page to see details.
Special Message for Visiting Researchers
As of December 1, 2020, visiting researcher are allowed to work in the vertebrate paleontology collections of the Florida Museum of Natural History. All visitor must follow CDC protocols to prevent the spread of Covid-19, including mask wearing that covers mouth and nose and practicing safe social distancing. Visiting researchers must arrange an appointment with either one of the curators or the senior collection manager.
All About Montbrook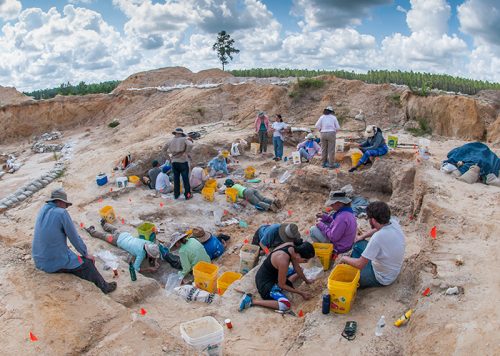 For the latest news about the Montbrook fossil site, about both the field and the museum collection, check out the Montbrook Fossil Dig blog.
Recent Research News From Our Collections