The Division of Vertebrate Paleontology has at least one fossil collecting session per year that uses volunteer assistance.
This will generally be during the drier and cooler times of the year, either spring or fall. Age limits and physical requirements will vary depending on the conditions at the particular fossil site we are working.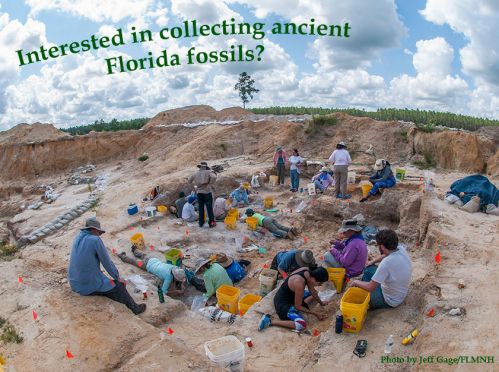 In the spring of 2020 we will have a major fossil dig at the Hemphillian Montbrook Site  near the town of Williston in Levy County, Florida. The previously announced dig at Thomas Farm has been cancelled. If you have already signed up for the Thomas Farm dig, your reserved dates have been switched to Montbrook.
Montbrook is a very productive site, and almost all volunteers will find some fossil specimens on their first day.
Follow the Montbrook Fossil Dig Blog to join in on the fun! (Photo galleries, videos, updates, featured fossils, etc.)
---
Spring 2020 Digging Information
NOTICE: As of 3/19/2020, because of the Covid-19 pandemic, volunteers are no longer allowed at the Montbrook fossil dig. For now, please do not send in new applications. All reservations for the month of March will be cancelled. We will assess the situation in two weeks and make a decision about April.
Minimum age for participants is 15 years; those who are from 15 to 17 years old must be accompanied by one or more of the following: parent; grandparent; legal guardian; or sibling older than 21. Volunteer can choose to just work a single day, or as many days that are available. The table below shows the digging dates, location being dug, and number of places available for additional volunteers. This table will be updated daily.
Montbrook is about 45 minute-long drive south of Gainesville, located a short distance south of Williston off of US Highway 41.
There is no cost to volunteer. However, if you wish to contribute money to help us maintain our annual volunteer fossil digs and to process and store the collected fossils, you can use this secure link to donate online. Donations through the UF Foundation are tax deductible.
How to Apply
Current Florida Museum volunteers or those that participated in our fossil digs at Montbrook in the Fall of 2018 or 2019, or Spring 2019 do not need to submit an application form to become an official museum volunteer. They just need to send an email to rhulbert@flmnh.ufl.edu listing their name and which day or days they wish to volunteer. Check the table below to make sure places are available for all members of your party before making your reservations.
Starting March 2, other members of the public can begin to reserve places for the 2020 Spring dig. The first step is to fill out this application form to become an official Florida Museum volunteer.  Adults (18 years and older) should use this form; junior volunteers (15-17 years old) should use this form. Completed application forms can be submitted via email to volunteers@flmnh.ufl.edu or by mail to Florida Museum of Natural History Volunteer Department, P.O. Box 112710, Gainesville, FL 32611-2710. After that, send an email to rhulbert@flmnh.ufl.edu listing the name or names of the volunteers and the day or days to be worked. Look at the table below to see the number of open places on each day.
| | |
| --- | --- |
| Date and Site | Number of Available Places |
| March 19 at Montbrook |   2 |
| March 21 at Montbrook |   0 |
| March 22 at Montbrook |   0 |
| March 23 at Montbrook |   0 |
| March 26 at Montbrook |   1 |
| March 27 at Montbrook |   5 |
| March 28 at Montbrook |   1 |
| March 29 at Montbrook |   0 |
| March 30 at Montbrook |   0 |
| March 31 at Montbrook |   0 |
| April 2 at Montbrook |   2 |
| April 3 at Montbrook |   4 |
| April 4 at Montbrook |   0 |
| April 5 at Montbrook |   0 |
| April 6 at Montbrook |   1 |
| April 7 at Montbrook |   6 |
| April 9 at Montbrook |   0 |
| April 10 at Montbrook |   0 |
| April 11 at Montbrook |   1 |
| April 12 at Montbrook |   2 |
| April 13 at Montbrook |   2 |
| April 14 at Montbrook |   2 |
| April 16 at Montbrook |   0 |
| April 17 at Montbrook |   6 |
| April 18 at Montbrook |   0 |
| April 19 at Montbrook |   0 |
| April 20 at Montbrook |   2 |
| April 21 at Montbrook |   3 |
This fall we excavated at Montbrook from November 7 to December 9. One hundred ten volunteers worked a total of 1,426 person-hours in 24 days! Museum staff and UF paleontogy students dug for an additional 715 hours. This despite unusually hot weather at the start of the seaon and cold, rainy days towards the end.
Our top volunteers, who each worked 20 or more hours were: David Cox, John Freund, Susan Harris, John Helling, Vickie Jacobs, Larry Jensen, Sharon Lord, Ken and Tammy Marks, Melanie Masdea, Donna McCullough, Garrett and Steven Munger, Judy Peterson, Deborah Poulalion, Arnold Sacco, Carol and Bill Sewell, Dean Warner and Michele Wilbanks. Like last spring, Susan Harris narrowly surpassed Carol and Bill Sewell to claim top honors for most hours worked (71.5). While many of those names are holdovers from prior seasons, it is also great to be able to add some new names to the top volunteers list. Thank you all so much for your dedication to the fossil site and to the Hodge family for allowing us continued access to the site and working to solve our drainage problems!
Some highlights from this season:
Sue Tennant found a nearly complete lower jaw of the lynx-like cat "Felis" rexroadensis. It is more complete than any previously known specimen of this species from Florida. Previously the species was known from Montbrook by just a single isolated tooth and a tibia.
Michele Wilbanks discovered a partial skull of the peccary Protherohyus brachydontus. This is the second skull of this species found at Montbrook, and just the third known from Florida. Its relative completeness won't be known until it is prepared out of its plaster jacket, but most of the teeth are present.
On the very last scheduled digging day, Jaiden Torres collected a nearly complete bird leg bone that our avian paleontologist David Steadman has identified as the first fossil from an ibis to be found at Montbrook, and a possible new species.
Another concentration of proboscidean fossils were collected within a relatively small area about 5 meters long and 4 meters wide. These included two skulls, one with both tusks and the other with one of its tusks, and three sets of paired right and left lower jaws. All three of the mandibles appear to be relatively complete and lack much of the crushing that has distorted many of the previously collected specimens. One of the skulls and two of the mandibles are from the gomphothere family of proboscideans; the identity of the others awaits preparation to reveal their teeth. All five specimens were initially discovered by volunteers. Congratulations go out to Susan Harris, Steven Munger, Larry Jenson, Cryatal Diaz and Ryan Thompson for finding these great specimens.
A total of 40 plaster jackets were made and successfully collected this season. They ranged in size from that of a coffee cup for a skull of the turtle Trachemys to a six-foot-long monster containing a proboscidean skull that had to be carried out of the site by one of the excavators.
208 volunteers, 51 students for course credit, 14 teachers for professional development, and 38 Florida Museum staff devoted a grand total of 4,977 hours to Montbrook this season! The Spring 2018 digging season ran for 90 days, from Friday, January 19th until Sunday, May 13th.
Many different groups joined us, including students from St. Olaf College in Minnesota, UF students enrolled in Jonathan Bloch's Florida Vertebrate Paleontology course and Laura Cotton's Invertebrate Paleontology course, exhibits staff of the Florida Museum, High school students of the Gainesville Youth Fossil Club, and members of the Florida Paleontological Society.
Check out our Museum Voices blog for Florida Vertebrate Paleontology student content from their experiences digging at Montbrook this season.
Thanks so much to everyone who has volunteered their time at Montbrook! None of this would've happened without your help. A special thanks to those volunteers who helped with the final push to remove those last large specimens and who worked over 30 hours this season. These people include (in alphabetical order): William Buhi, David Cox, Joshua Doby, David Evans, Joseph Fulco, Ben Grubbs, Susan Harris, John Helling, Daniel Ibison, Maya Ibison, James Kendrick, Sharon Lord, Margaret Messineo, Paula Mitchell, Robert Mitchell, Garrett Munger, Steven Munger, Andrew Puckett, Carol Sewell, William Sewell, Sharon, Shears, Emily Sonnenberg, Maryan Stubbs, , Dean Warner, and Judith Wilbanks. Susan Harris wins the award for most volunteer hours at 152.25 this season; this is not including the hours she also spends preparing fossils back at the museum! Thank you Susan! Second place goes to Garrett Munger at 123.25 hours this season, which is also incredible because he is in high school and plans to volunteer in the collection this Summer! Also a huge thank you to all Florida Museum vertebrate paleontology staff and students who make this possible!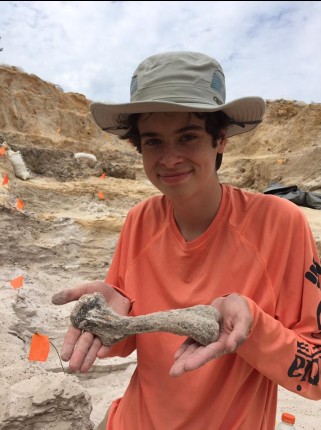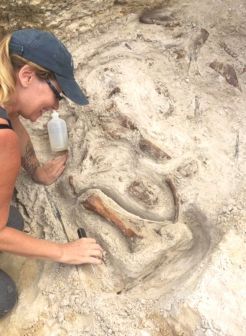 From October 5th to December 18th, Montbrook has seen 177 volunteers digging 5 days per week, for a grand total of 2,170 person-hours in 53 days!
Our top volunteers, putting in over 30 hours and uncovering the most fossils, include William Buhi, David Cox, Joshua Doby, Sherry Harmon, Susan Harris, John Helling, Cindy Lockner, Sharon Lord, Christopher McAleer, Margaret Messineo, Carol Sewell, William Sewell, Sharon Shears, and Michele Wilbanks. Carol Sewell, William Sewell, and Susan Harris volunteered over 100 hours each!
Thank you all so much for your dedication to the fossil site and to the property landowner for allowing us such access!
Some highlights from this season:
The very first day of digging following the summer break, a baby gomphothere skeleton was exposed. Since then it's been Gomph-A-Palooza.
We celebrated our two-year anniversary, expanded the pit, prepared plaster jackets for the public in the Florida Museum's 100-Year Anniversary exhibit, cataloged our 10,000th specimen, and hosted a tour of the site for our youngest group yet, the Earth Sciences class of East Marion Elementary.
We plan to dig 84 days for the Spring 2018 season. Imagine the possibilities!
Top volunteers at Montbrook between 10/1/16 and 5/21/17, each with 50 or more hours volunteered are: Bill Buhi, Ella Cooney, Jerry Donaldson, David Evans, Sherry Harmon, John Helling, Cindy Lockner, Sharon Lord, Mary Lynch, Amanda Ploener, Carol Sewell, Bill Sewell, Sharon Shears, Bob Tarnuzzer, Terry Tydings, Dean Warner, Michele Wilbanks, and Patricia Williams. The honor for most hours worked is shared by Carol and Bill Sewell, both with 293 hours.
Total number of volunteers who worked at the site between 10/1/16 and 5/21/17 is 380, who collectively visited the site a total of 1139 times and worked a total of 5,428 hours.This is 59% of the total hours put into the excavation at Montbrook. The effort by volunteers, FLMNH staff, students, and teachers during the season resulted in a total of 9,221 hours worked.
Thanks to our unusually dry weather, we only had 3 days rained out, two of those because of Hurricane Matthew early in October. Therefore, we had even more possible days to excavate fossils than anticipated. Collectively 168 different volunteers participated in the dig this season, contributing over 1,800 hours of work at the site and finding many thousands of fossils, including the first skull from a carnivore found at Montbrook. We thank again all those who came out and worked with us, in good weather or bad, to make this dig another great success.
Twenty volunteers worked at the site for 20 or more hours (some much more), and we want to especially acknowledge their efforts. They are William Buhi, Suzanne Conner, Ella Cooney, Jerry Donaldson, David Evans, Alexander Gerasimov, Mackenzie Goode, Kara Ericson, John Helling, Cindy Lockner, Sheila Lucas, Mary Lynch, Amanda Ploener, Peter Roode, Sharon Shears, Karen Stansell, Dean Warner, Lee Williams, Nancy Williams, and Patricia Williams.