Personnel of the Division of Vertebrate Paleontology of the Florida Museum of Natural History will identify fossils that have been legally collected or purchased.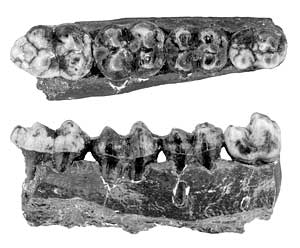 To aid our identifications, tell us where the specimen was found, to the best of your knowledge. Our greatest expertise lies with specimens from Florida and the rest of the Southeast, and from the Caribbean region. We recommend you look elsewhere for help with specimens from outside of these regions.
A special note about "dinosaur eggs" from Florida. These are concretions, and are not fossils! There are no naturally occurring fossils of dinosaurs in the state. The nearest dinosaur fossils have been found in central western Georgia and central Alabama.
There are three basic methods we prefer:
Electronic Images. Send us digital images of specimens either as e-mail attachments in JPEG format (to rhulbert@flmnh.ufl.edu) or post them on your own web site and e-mail us the address (URL) of the site. Please include a ruler or some other indication of scale in the image. Take pictures of more than one side of the specimen.
Bring the Specimens to Powell Hall. Those in the Gainesville area can bring their specimens directly to us. We are located on the UF campus on Hull Road in the UF Cultural Plaza. You will need a temporary permit to park on-campus. We recommend that you call or e-mail us and make an appointment, as sometimes all our personnel are out in the field or otherwise unavailable. Our phone number is 352-273-2046. When reaching Powell Hall, go in the front doors and call our phone number. Available hours are M-F, 10-5, and on weekends by appointment only.
Mailing Specimens. Mail or ship specimens to: Div. of Vertebrate Paleontology, Florida Museum of Natural History, Dickinson Hall, Univ. of Florida, Gainesville, FL 32611-7800. Pack fossils as you would fragile china. We recommend wrapping each specimen individually in bubble-wrap or soft paper, placing them inside a padded box, then put the boxes with specimens in a larger, sturdy box cushioned with packing material. Make sure to include a return address and phone number within the package. We are NOT responsible for damage done in transit both to and from the museum.
We are happy to provide this service to the public. For large collections (more than 10 specimens), we ask that you make a voluntary contribution, to offset the time involved, to the VP Research Fund in the UF Foundation. It supports field work to collect fossils throughout Florida.