T
he International Shark Attack File investigated 140 alleged shark-human interactions worldwide in 2019. ISAF confirmed 64 unprovoked shark attacks on humans and 41 confirmed provoked attacks.
| | |
| --- | --- |
| Unprovoked Attacks | 64 |
| Provoked Attacks | 41 |
| Boat Attacks | 12 |
| Scavenge | 1 |
| Public Aquaria | 1 |
| Doubtful | 3 |
| No assignment could be made | 9 |
| Not Confirmed | 9 |
| Total Cases | 140 |
"Unprovoked attacks" are defined as incidents where an attack on a live human occurs in the shark's natural habitat with no human provocation of the shark.
"Provoked attacks" occur when a human initiates interaction with a shark in some way. These include instances when divers are bitten after harassing or trying to touch sharks, attacks on spearfishers, attacks on people attempting to feed sharks, bites occurring while unhooking or removing a shark from a fishing net, and so forth.
Of the remaining 35 cases, 12 involved bites to motorized or non-motorized marine vessels ("boat attacks"), one involved shark-inflicted post-mortem bites ("scavenge"), and one case involved a diver in a public aquarium. Three cases were regarded as "doubtful" or incidents that likely did not involve a shark. These included one case attributed to bluefish and one case attributed to a stingray.
There were nine cases in which shark-human interaction was confirmed, but the nature of the incident remained unclear with the available data ("No assignment could be made").
2019 at a glance: The worldwide total of unprovoked shark attacks was significantly lower than average
The 2019 worldwide total of 64 confirmed unprovoked cases were lower than the most recent five-year (2014-2018) average of 82 incidents annually. There were five fatal attacks this year, two of which were confirmed to be unprovoked. This number is in line with the annual global average of four fatalities per year.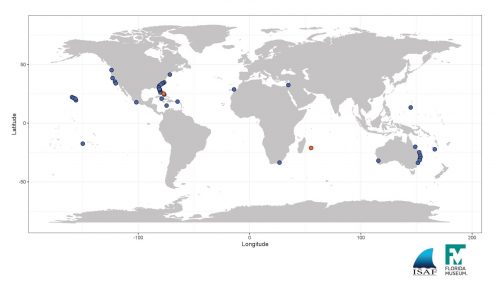 ISAF does not assign significance to short-term trends, as annual fluctuations in shark-human interactions are common. Year-to-year variability in oceanographic, socioeconomic, and meteorological conditions significantly influences the local abundance of sharks and humans in the water, increasing the odds of encountering one another.
The more humans in the sea, the more human-shark interactions
The number of human-shark interactions is strongly correlated with time spent by humans in the sea. As the human population continues to expand, and interest in outdoor aquatic recreational activities increases, the frequency of shark attacks will likely rise. Public awareness of shark-related issues has increased due to media coverage of sharks and improved global communications between ISAF, scientific observers, and beach safety organizations. This has led to an improved reporting of human-shark interactions.
The U.S. leads the world in number of unprovoked attacks in 2019
| | | |
| --- | --- | --- |
| Locality | Total | Fatal |
| USA | 41 | 0 |
| Australia | 11 | 0 |
| Bahama Islands | 2 | 1 |
| Canary Islands | 1 | 0 |
| Caribbean Islands | 1 | 0 |
| Cuba | 1 | 0 |
| French Polynesia | 1 | 0 |
| Guam | 1 | 0 |
| Israel | 1 | 0 |
| Mexico | 1 | 0 |
| New Caledonia | 1 | 0 |
| Republic of South Africa | 1 | 0 |
| Réunion Island | 1 | 1 |
| Worldwide | 64 | 2 |
Consistent with long-term trends, the United States experienced the most unprovoked shark attacks in 2019, with 41 confirmed cases. This is higher than the 32 incidents that occurred in the U.S. in 2018. The 41 cases represent 64% of the worldwide total. This is an increase from 2018 when 48% of the worldwide unprovoked attacks occurred in the U.S.
Australia's total of 11 unprovoked incidents was lower than the most recent five-year annual average of 16 incidents for the region. Six bites occurred in New South Wales, four in Queensland and one in Western Australia.
The Bahama Islands experienced two attacks in 2019, one of which was a fatal incident. The remaining unprovoked fatality of the year occurred at Reunion Island. Single incidents occurred in the Canary Islands, Caribbean Islands, Cuba, French Polynesia, Guam, Israel, Mexico, New Caledonia, and South Africa.
Following normal trends, Florida had the most unprovoked attacks in the U.S.
| | |
| --- | --- |
| 2019 U.S. Statistics | |
| Florida | 21 |
| Hawaii | 9 |
| California | 3 |
| North Carolina | 3 |
| Georgia | 1 |
| Oregon | 1 |
| Rhode Island | 1 |
| South Carolina | 1 |
| Virgin Islands | 1 |
| Total Cases | 41 |
For decades, Florida has topped global charts in the number of shark attacks, and this trend continued in 2019. Florida's 21 cases represent 51% of the U.S. total and 33% of unprovoked attacks worldwide. However, the state saw a significant drop from its most recent five-year annual average of 32 incidents.
Unprovoked shark attacks also occurred in Hawaii (9), California (3), and North Carolina (3), with single incidents in Georgia, Oregon, Rhode Island, South Carolina, and the Virgin Islands.
In Florida, Volusia County had the most shark attacks (9), representing 43% of the Florida total, in line with the five-year annual average of nine incidents in the area. The remaining incidents occurred in Brevard (2) and Duval (5) counties, with single incidents occurring in Broward, Martin, Nassau, Palm Beach, and St. Johns counties.
Most attacks related to surfing and board sports
| | |
| --- | --- |
| Victim Activity at Time of Attack | |
| Surfing/board sports | 53% |
| Swimming/wading | 25% |
| Snorkeling/free-diving | 11% |
| Body surfing/horseplay | 8% |
| Scuba | 3% |
Following recent trends, surfers and those participating in board sports accounted for most incidents (53% of the total cases). This group spends a large amount of time in the surf zone, an area commonly frequented by sharks, and may unintentionally attract sharks by splashing, paddling, and "wiping out." Swimmers and waders accounted for 25% of incidents, with remaining incidents divided between snorkelers/free divers (11%), body-surfers (8%), and scuba divers (3%).
Risk of shark attack remains extremely low
The total number of unprovoked shark attacks worldwide is extremely low, given the number of people participating in aquatic recreation each year. Fatality rates have declined for decades, reflecting advances in beach safety, medical treatment, and public awareness. This underscores the importance of global efforts to improve ocean rescue, medical care, and shark education.
ISAF offers resources for reducing your risk of shark attack and instructions for what to do if you are attacked.
Sharks play a key role in ocean health
Most of the world's shark populations are in decline or exist at greatly reduced levels, as a consequence of overfishing and habitat loss. On average, there are only four fatalities attributable to unprovoked attacks by sharks worldwide each year. By contrast, fisheries remove about 100 million sharks and rays annually.
As predators, sharks remove weak and diseased animals, increasing the overall health of their environments and indirectly assisting fisheries stocks around the world. Regional evidence shows that when protections are enforced, populations recover. However, because sharks and rays are slow to reproduce, populations can take several decades to recover to levels where they no longer need protection.
Reports of sharks following fishing boats may not signal shark rebound
Recent reports from commercial and recreational fishers along the U.S. East Coast document dense aggregations of sharks following fishing vessels. These observations have led to claims that sharks populations have already recovered. Census data over regional scales do not support this idea. While often impressive, these aggregations are highly localized and likely the result of diminished distribution and abundance of prey species, rather than a reflection of a wider-scale recovery. Sharks and their habitats remain in critical need of conservation to ensure their long-term sustainability.
Gavin Naylor, Ph.D.
Program Director, International Shark Attack File
Florida Program for Shark Research
Florida Museum of Natural History – University of Florida
Gainesville, FL 32611 USA
(352) 273-1954
EMAIL: gnaylor@flmnh.ufl.edu.
Tyler Bowling
Program Manager, International Shark Attack File
Florida Program for Shark Research
Florida Museum of Natural History – University of Florida
Gainesville, FL 32611 USA
(352) 273-1949
EMAIL: tbowling2@ufl.edu
Follow Us!