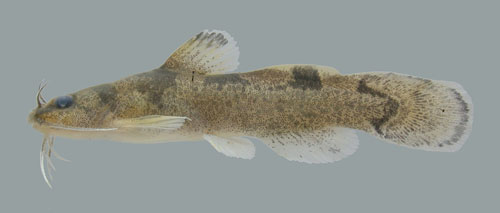 BRINDLED MADTOM
Noturus miurus Jordan 1877
Identification: The Brindled Madtom has a stout body with the deepest point located in front of the dorsal fin. The body is light yellow or brown above with dark mottling and 4 vague saddles, and is white to yellow below. The top 1/3 of the dorsal fin has a black blotch extending across the 1st 3-5 rays. A black saddle under the adipose fin extends through the fin to its edge. The caudal fin is rounded and has a brown or black border. Other fins have brown or black mottling. The adipose fin is broadly joined to the caudal fin. The pectoral spine has large teeth on the front (usually 5-9) and rear. The anal fin has 13-17 rays. To 5 in. (13 cm) total length.
Range: The Brindled Madtom is found in the lower Great Lakes drainages, Ontario and New York, southwest through most of the Ohio River basin and the lower Mississippi River basin. It occurs as far west as eastern Kansas and Oklahoma. It also is found in the Mohawk River, New York, and the Pearl River and Lake Pontchartrain drainages on the central Gulf Slope, Mississippi and Louisiana. This species is common.
Habitat: The Brindled Madtom lives in rocky and sandy riffles, runs and flowing pools in creeks and small rivers, and along rocky margins of lakes. It often is found among woody debris.
Similar species: The Checkered Madtom, Noturus flavater, has a broad black bar at the caudal fin base, an adipose fin free from the caudal fin, a straight rear edge on the caudal fin, and prominent saddles. The Yellowfin Madtom, Noturus flavipinnis, lacks a dark blotch on the dorsal fin, and has a straight rear edge on the caudal fin and usually 2 light spots in front of the dorsal fin.