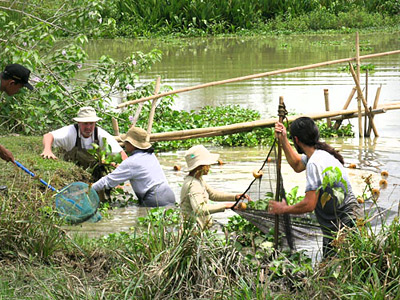 An Expedition to Indonesia by Lawrence M. Page; compiled by J. Grosso and G. E. Sheehy
In an expedition sponsored by the All Catfish Species Inventory (ACSI), Larry Page, Andres Lopez, and Robert Robins from the Florida Museum of Natural History traveled to the island of Sumatra, Indonesia, in late 2005 in search of new species of fishes. Joining them on the expedition were Renny Hadiaty and Ike Rachmatika from the Research Center for Biology at the Indonesian Institute of Science (LIPI). Approximately 3500 specimens of 150 species were collected, including six to eight previously undescribed species. The expedition was funded by U.S. National Science Foundation Award DEB 0315963.
All images are copyright protected and may not be used without the consent of the photographer. Email Lawrence Page.
-Click on thumbnails for larger images-