Due to Hurricane Ian, the Reign Imperial Stout Beer Launch event originally scheduled for Sept. 30 has been postponed to Oct. 15.
---
The Florida Museum and First Magnitude Brewing Co. invite you to a fundraiser to help Restore the Reign of the Monarch. As part of the event, First Magnitude will release a special brew called "Reign," highlighting the monarch butterfly.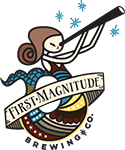 Rich malt and bittersweet chocolate flavors dominate this big imperial stout. Notes of toffee, raisins, and oatmeal cookies are present as well, with a pleasant and mildly herbal hop finish. The beer will be available in cans and on tap, and we will also have custom tulip beer glasses available for sale, as well as "Keep Monarchs Safe," our coloring book about monarchs.
Monarch butterflies are in serious trouble. Across eastern North America, migrating populations have plummeted more than 80% over the past two decades. News in the West is even worse, with population numbers down to less than 1% of their historic size. To counteract these declines, we must work together to help rebuild monarch breeding habitats to save the king of butterflies. Together, we can Restore the Reign of the Monarch.
25% of sales of Reign will be used for monarch habitat restoration work, facilitated by the Xerces Society for Invertebrate Conservation.
The first 100 customers to purchase a Reign can or bottle will receive a Swamp Milkweed plant with their purchase!
Save the Date on Facebook
Learn more about at-risk butterfly conservation work in our Daniels Lab.
Explore our guide to Florida's 50 most common native wildflowers and butterflies.
Read: A kaleidoscope of monarchs: Marveling at one of nature's greatest journeys
Cover image courtesy of University of Florida/Brianne Lehan
---
The Florida Museum may photograph or video visitors for educational and promotional purposes. Attendance to a Florida Museum event constitutes the attendee's consent regarding the possibility of appearing in Museum marketing materials.