Explore the wonders of life on Earth!
Spring Plant Sale:
March 24-25, 2017 | 10 a.m.-5 p.m.
March 26, 2017 | 1 p.m.-5 p.m.
The Museum's spring sale is one of the largest of the year, featuring more than 150 species of difficult-to-find and pollinator-friendly plants. Learn how to attract butterflies to your home and which plants are proven winners. Accent, host, native and nectar plants are available for purchase, with proceeds benefiting the Butterfly Rainforest.
Earth Day Exploration:
Resumes in 2018
Celebrate Earth Day at the Florida Museum with hands-on activities and a large pollinator-friendly plant sale. Check this site for the latest information as the Museum prepares for a better Earth Day celebration than ever before.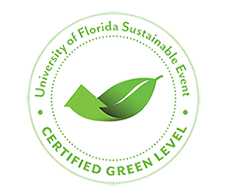 Past activities include:
Biological diversity and cultural heritage displays from Dickinson Hall
Geocaching in the Cultural Plaza
Outdoor children's activity area
Earth Charter Game activity station
People and the Planet acting classes hosted by the Hippodrome State Theatre Teen Ensemble
Outdoor children's activity area featuring FutureFlash! Climate Challenge and Sing for the Climate! presentation