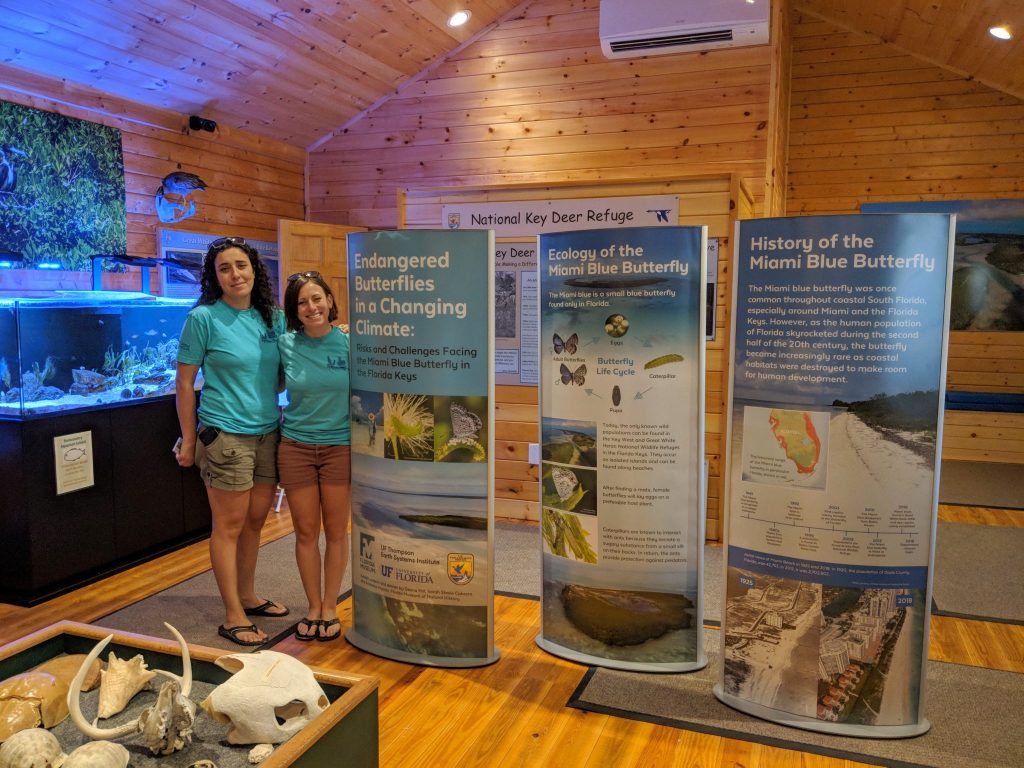 The Miami blue butterfly and its habitat face threats from climate change and human development. Researchers at the Florida Museum are working to restore populations through captive breeding and releases.
As a way to educate the public about threats to the Miami blue, Geena Hill and Sarah Steele Cabrera, graduate students at the Florida Museum of Natural History, recently unveiled a new traveling exhibit and coloring book created through their grant from the UF Thomson Earth Systems Institute.
Their project, "Endangered Butterflies in a Changing Climate: Risks and Challenges of the Miami Blue Butterfly in the Florida Keys​" seeks to teach lifelong learners and children about the federally endangered species found only in the Florida Keys.
Hill and Steele Cabrera, along with Florida Museum creative director Andreina Hornez Peralta, developed the exhibit that was recently installed at the Florida Keys National Wildlife Refuges Nature Center in Big Pine Key, which attracts approximately 25,000 visitors annually. With the help of artist Samm Wehman Epstein, they also created a coloring book to tell the story of the Miami blue.
Both the exhibit and the coloring book were debuted during an event attended by center volunteers and staff. Hill, Steele Cabrera, and Florida Museum research technician Taylor Hunt gave presentations about their research and ongoing conservation work.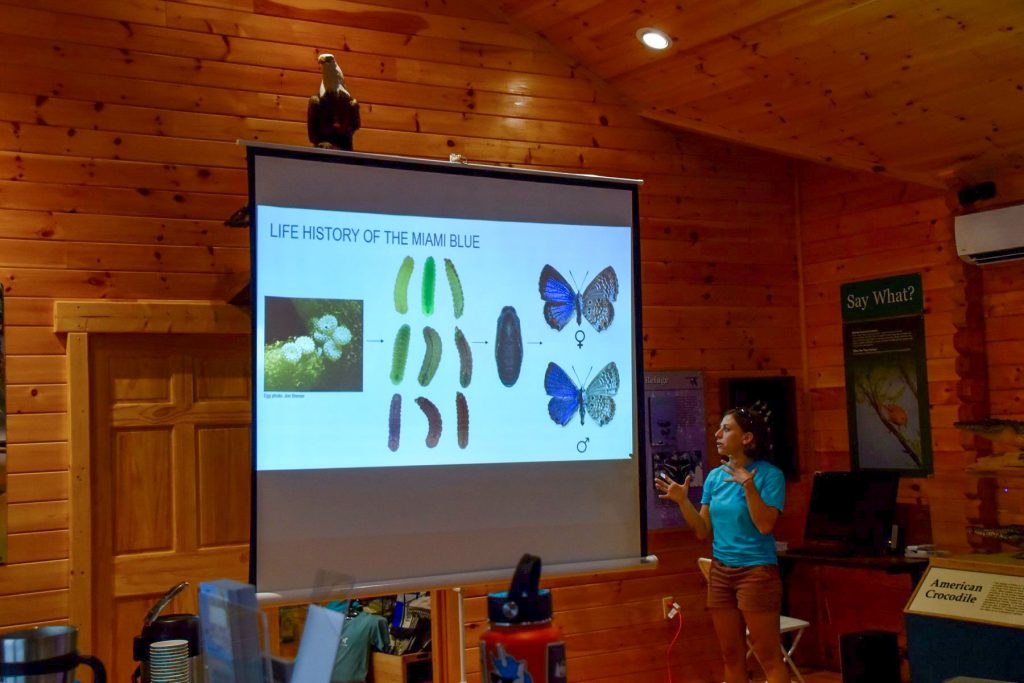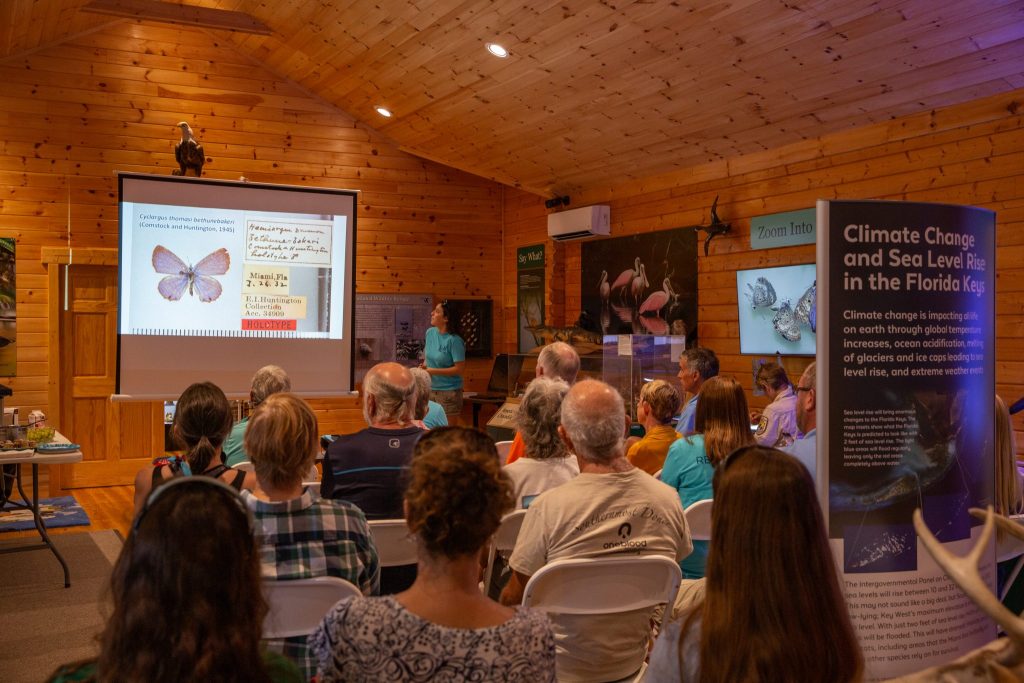 "The educational presentation to volunteers was fantastic. With great graphics and educational info it was much appreciated and goes a long way in making volunteers feel their efforts in helping save this endangered species are appreciated and worthwhile," said Kristie Killam, park ranger at the Florida Keys National Wildlife Refuges Complex.
"We are excited to partner with the Florida Museum of Natural History on saving the endangered Miami blue butterfly from extinction. The beautiful and educational traveling exhibit is a wonderful addition to our new Florida Keys National Wildlife Refuges Nature Center. It will inform thousands of visitors and community members about this endangered butterfly and actions people can take to help. We were pleased to be able to be part of this creative process."
The traveling exhibit will be displayed at the nature center through spring 2020 so that it can be seen by visitors to the Keys during the busy winter season.
Hill and Steele Cabrera plan to do at least one more public presentation with this exhibit at the nature center and incorporate the coloring book into presentations with school children in South Florida during the upcoming school year.
The coloring book, "The Tiny and Tough Miami Blue Butterfly," is freely available as a printable PDF. Download at:  The Tiny and Tough Miami Blue Butterfly​.
For more information on ongoing conservation work on the Miami blue and other imperiled butterflies, visit Jaret Daniels' lab website at https://www.floridamuseum.ufl.edu/daniels-lab/
To read about all of the 2018 TESI grant recipients, visit: https://www.floridamuseum.ufl.edu/earth-systems/blog/announcing-the-2018-ties-grant-recipients/