Seagrass may not look like much, but Jamila Roth wants to make sure that Florida students of all ages know that it's more important than they think. 
With funding from the University of Florida Thompson Earth Systems Institute's education and outreach grants program, the fourth-year Ph.D. student in the UF School of Natural Resources and the Environment created lesson plans about seagrass that she used to teach third through seventh graders at four after school science clubs across Alachua County.  
"I think that seagrass is just a really exciting and engaging ecosystem, and so it's perfect for educating K–12 students," Roth said. "It can be simplified in order to teach many really important ecological concepts about food webs and ecosystem services and biodiversity." 
And seagrasses do provide many important benefits to Florida waterways. 
It's estimated that they provide services valued at $34,000 per hectare (roughly 2.5 acres) per year to local communities, Roth said. They improve the beauty and health of the entire coastal system by filtering the water and removing nutrients. Seagrasses also play a role in mitigating climate change by storing carbon. 
Armed with smoked mullet dip and live sea urchins, Roth visited clubs throughout the Gainesville area in the spring and summer of 2019. Roth showed the students sea urchins munching on seagrass to demonstrate how the grasses are an important food source in coastal ecosystems. The fish dip — made of mullet, a species that uses seagrass habitat for food and shelter — showed that humans benefit from and are a part of the seagrass ecosystem, too.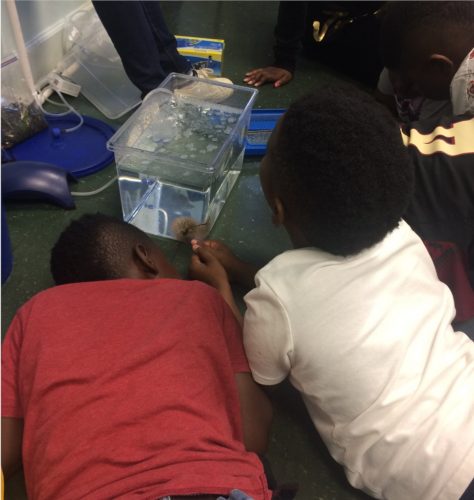 "Watching them see a sea urchin for the first time and ask questions about it — that curiosity and excitement was really fun," she said. 
She also created a seagrass activity book that students could complete on their own without the help of a teacher. 
Pre- and post-test results showed that the activities helped students improve their understanding of many concepts related to Florida learning standards and Next Generation Science Standards, including improved understanding of ecological roles and ecosystem services, Roth said. 
Roth shared her findings at the Florida Marine Science Educators Association and the Coastal and Estuarine Research Federation (CERF) conferences in 2019, she said. She was awarded a Graduate Student Poster Presentation Award at CERF and was featured in its newsletter. She also shared her findings and activities at the Scientist in Every Florida School Wetlands Summit in January of 2020. 
Roth has shared her lesson plans online on various platforms and recently wrote a paper about them that was published Oct. 9 in the journal Science Activities.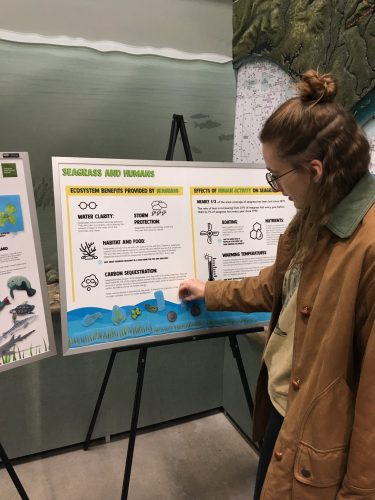 Besides her direct outreach with students, Roth also used TESI funds to create an interactive seagrass exhibit at the Nature Coast Biological Station in Cedar Key. While the station is currently closed to visitors because of COVID-19, her exhibit features a magnetic whiteboard activity where people can move around different parts of seagrass ecosystems and food webs to see how they interact. 
Roth said she thinks opening up a dialogue and sharing the scientific process with the community is an important part of science. 
Her interest in aquatic research began when she got a chance to work with invasive species in the Finger Lakes of New York and continued while studying marine science abroad in Costa Rica. Her passion was further cemented in college when she met some inspiring teachers and professors. 
"Their enthusiasm was contagious," she said. 
TESI provided support for the entire process of Roth's project, including developing a method for evaluating the outcomes of the activities.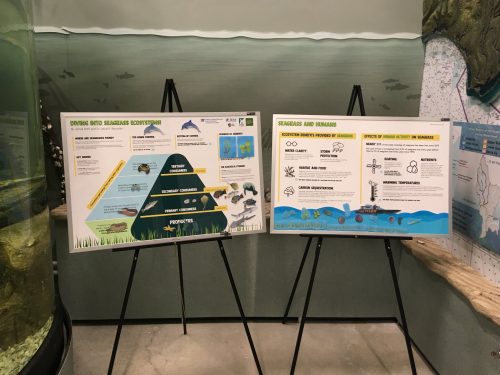 "I'm really grateful for the support from TESI and the opportunity to do this project, Roth said. "It's definitely been a really rewarding experience."
And Roth's journey with seagrass isn't over yet. 
She is currently working on her doctoral dissertation, which explores the effects of environmental change on seagrass resilience and herbivore interactions. She said in the future, she wants to continue working on coastal ecology research and sharing her findings with the community.