Pasha Antonenko, Jeremy Waisome, and Victor Perez have been named 2022-2024 TESI Faculty Fellows. Faculty Fellows are selected every two years to recognize their contributions to TESI. In their role, they will be working to develop the AI learning in K-12 with Fossil Sharks Professional Development Program, which was recently funded by the National Science Foundation. Read more about each Fellow below: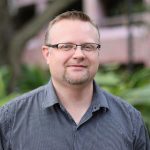 Pasha Antonenko, an associate professor of educational technology in the UF College of Education and the director of the Neuroscience Applications for Learning (NeurAL) Lab, has been a TESI Faculty Fellow since 2018. His research has been funded by state and federal agencies and focuses on developing, implementing, and studying technologies for scaffolding learning.
Victor Perez is the assistant curator of paleontology at the Calvert Marine Museum in Maryland. His research focuses on the evolution and ecology of fossil sharks and rays. He also utilizes these charismatic creatures to engage public audiences and conduct research on the impact of informal STEM learning.
Jeremy Waisome is an instructional assistant professor in the UF Herbert Wertheim College of Engineering Department of Engineering Education. Her research interests relate to effective mentoring strategies for diversifying STEM+C (STEM and Computing). Waisome is an avid science communicator and is the cohost of two podcasts, including the UF podcast, Unstoppable Minds. She also serves as the Faculty Advisor for the UF Chapter of the National Society of Black Engineers.