Marion County's Jowan Johnson-Allen, a first-grade teacher at Saddlewood Elementary, has been named the Scientist in Every Florida School (SEFS) Superstar Teacher of the Quarter.
Each quarter, SEFS recognizes one outstanding K-12 public school teacher in Florida for going above and beyond to share their passion for teaching science by participating in SEFS programming, like virtual scientist classroom visits. 
SEFS K-12 Scientist in Residence Alan Ivory nominated Johnson-Allen for this statewide recognition due to her extensive participation in SEFS programs over the last school year. She participated in the 12-week "Creature Feature" Zoom series, a partnership with the Silver River Museum and Environmental Education Center in Ocala. During the series, students participated in a storybook read-along, followed by a virtual visit with a real creature that was a focus of the story. In the Creature Feature based on the book "The Girl Who Wore Snakes" by Angela Johnson, students were introduced to the story's star creature, a corn snake, from the Silver River Museum.  Students were also introduced to sea turtles, key deer, owls and more
throughout the series. After the feature, Johnson-Allen worked with the students on detailed lessons that expanded on the education content from the livestream. According to Ivory, she never missed a week sharing her students' work with SEFS.
"She has so much passion for teaching science," he said, "you could tell she spent time after our Zooms to really drive the lesson home."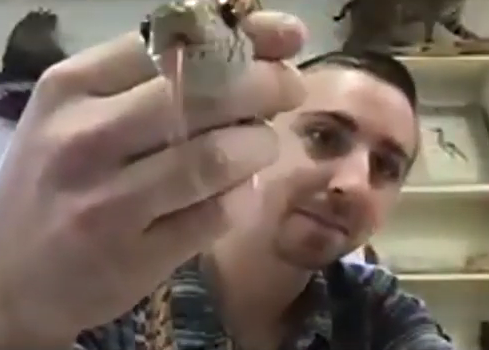 In addition to the impact she has made in the classroom, Johnson-Allen has also been an active advocate for SEFS, encouraging other teachers to take part in its variety of free educational programs. After her first meeting with SEFS, she promoted the program at a staff meeting, and there was a noticeable increase in Saddlewood Elementary teachers in attendance at the next Creature Feature. 
Last month, Marion County Public Schools documented the moment Johnson-Allen was presented with the award by Ivory. In attendance was the principal of the school, Heather Lipira, the Director of Elementary Education, Jennifer Beck, and the Area Director of Elementary, Ann Hembrook.
To see the award presentation and learn more about this outstanding teacher, visit the following link:  SEFS Teacher of the Quarter Award. 
Learn more about the Scientist in Every Florida School program.