Hi! My name is Alexia Cosman, and I am the 2022 Florida Program for Shark Research Intern! I am now a third-year undergraduate student at the University of Florida, majoring in Microbiology and Cell Science at the College of Liberal Arts and Sciences. For a little background on me, I am originally from Toronto, Canada, and moved down to Fort Lauderdale, Florida, when I was four years old. I have been obsessed with all things shark since my dad introduced me to the Jaws franchise in elementary school – from the movies to the novels to every nonfiction book I could find in the library, sharks have always been at the forefront of my interests. What began as a childhood fascination quickly turned into a deep passion for these magnificent animals and efforts to protect them.
When I first got the call that I had been chosen for this internship, it was impossible to contain my excitement. My mind was moving at 100 miles per minute, thinking about how cool of an experience this would be, how much I would learn and grow, how much fun I would have. What I did not anticipate, however, was the number of obstacles involved in fieldwork and how quickly you must adapt to overcome them. It was a steep learning curve, but I would not have had it any other way.
To preface, Joe Miguez is the master's student whose project I'd be assisting on for the course of the summer; he is trying to discover more about the genetic differences (if any) between the freshwater Atlantic stingrays (Hypanus sabina) of Lake George and the marine Atlantic stingrays of the Matanzas River and how they survive in different salinities. In fact, the population of Atlantic stingrays present in the St. John's River system of Florida is unique as it is the only population of permanent freshwater elasmobranchs in North America! A rough outline of the experiment would include capturing male and female subjects of both variants of rays utilizing a trot line as well as traditional rod and reel methods. Capture was followed by a 5-day acclimation period in the tanks at the UF Whitney Lab, and finally, a dissection to collect tissues thought to play a role in osmoregulation, or the body's ability to control water and salt concentrations. Following extensive laboratory work and gene sequencing in the fall, Joe hopes to find a difference between the populations that is large enough to justify speciation!
To start from the very beginning: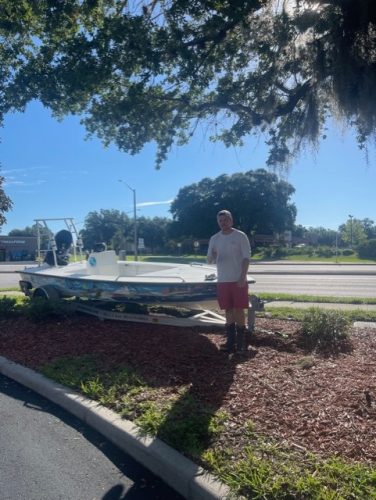 After a strenuous morning of hitching the boat trailer to the truck, we were off! Morale was extremely high, and so was the volume on our speaker blasting "Danger Zone" by Kenny Loggins. As we said goodbye to UF's Gainesville Campus, Joe and I heard a peculiar noise come from outside the truck. We took one look at each other and then another at the side mirrors and noticed that our trailer had opted for a coffee break at the local Dunkin Donuts. We watched as the trailer rolled out from behind us and towards the parking lot on the right; nearly missing a fire hydrant and the Dunkin Donuts storefront, our trailer decided there would be no fishing for the foreseeable future.
Fortunately, we were given a rental trailer to keep the project moving, and within a month, we were back on our feet and finally ready to start fishing! Minus our second mate (we missed you, Sebrina), Joe and I set off to Salt Springs to hopefully capture some freshwater stingrays on Lake George. While I was worried at first about the lack of extra hands on the boat, Joe and I were able to settle into a rhythm that resulted in some of the smoothest longline setting I've ever seen. For those who are unaware, a longline or trot line is a heavy fishing line (ours was about 300 feet long) that has individual hooks attached by smaller lines at intervals. Both ends of our trot line each had a 50-lb cement weight to hold tension (to keep our hooks in a straight line) and a buoy to mark the location for retrieval as well as alert other boaters of the line's presence. Each of our smaller lines consisted of a tuna clip, two feet of monofilament, and a small circle hook – we call these gangions. Right as Joe began to pull our first trot line in, I heard a very guttural inhale followed by an extremely jarring, "OH MY GOD." I nearly fell off the cooler I was sitting on and looked over the side of the boat only to see something small and brown flopping frantically on the end of the gangion Joe was holding. "We've got a ray, we've got a ray!" Our first Atlantic stingray, named HSAB001, was caught on the first gangion we ever set in Lake George, followed by two more on the same line. We quickly sexed, measured, and identified our first three research subjects, careful to clip their extremely sharp barbs before we did so. Feeling beyond lucky to have caught anything, we set a course for the UF Whitney Lab for Marine Bioscience in beautiful St. Augustine to get our rays to the acclimation tanks we had set up in the weeks prior.
Fishing days on Lake George became some of the longest days of my life, but I wouldn't trade them for anything. Many hours' worth of fishing, driving between the field and lab, husbandry (animal care), and dissecting every day became a normal I felt lucky to experience. Some of our biggest challenges came from aspects of the experiment we hadn't even dreamed would be an issue; for example, animal husbandry became a skill Joe and I were forced to quickly brush up on. The UF Whitney Lab, while stocked with all the marine equipment we could ever need, it was just that: a marine lab. To be specific, during the acclimation period, our saltwater tanks constantly had water flowing in and out of the tank, whereas our freshwater tanks would not. This means the tanks for our freshwater friends would have to be closely monitored for water chemistry paired with daily water changes that involved hauling buckets of water out of each tank and replacing it with treated freshwater. At first, this sounded super easy and efficient – Joe and I would later learn that after a long day of fishing, water changes were the last thing our tired arms wanted to do. Nevertheless, we did our best to keep our stingrays happy and healthy despite some setbacks.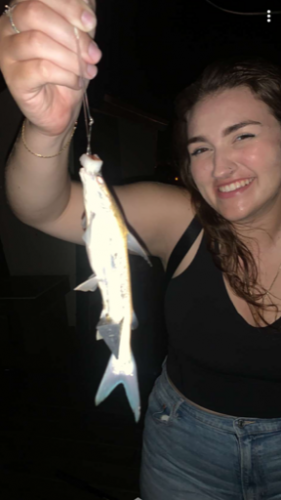 We were very pleasantly surprised by the ease with which we were able to capture freshwater rays down in Salt Springs, so much so that we rarely found ourselves worrying about finding the marine variety in St. Augustine! Prior to moving into the lab, we had heard from several members of Whitney staff that the rays we were looking for were abundant in the shallows directly off the marine lab. Curious to test out the accuracy of these statements, Joe and I decided to spend a sunset on the Whitney dock with a couple of fishing rods and some chips to keep us company. Unfortunately, Joe ended up pulling up about four Hardhead catfish (Ariopsis felis) in a row, and when the fifth one emerged on the end of his line, we decided our efforts had been futile.
The next day, we thought scoping out the Matanzas Inlet bridge (only five minutes away from the lab) would yield some information since there was always a considerable number of anglers casting lines, and we were curious as to what they were pulling up. So, we packed up our rods and tackle once more to set up on the beautiful bridge at dusk, only to be greeted by more of Joe's personal favorite, the Hardhead catfish! On our long walk across the bridge and back to the truck, Joe decided it may be a good idea to introduce ourselves to the locals and see if they were catching anything close to what we were looking for. More than once, we were told that Flagler Pier was a hotspot for stingrays, and it was super common to see them being pulled up on fishing rods there. So, the next morning, we woke up and followed our lead to Flagler Beach in search of a pier that was apparently famous for the number of sharks and rays being caught. Shocked by how beautiful the scene was, full of surfers and bright blue water, we had a good feeling about finding what we needed at this pier.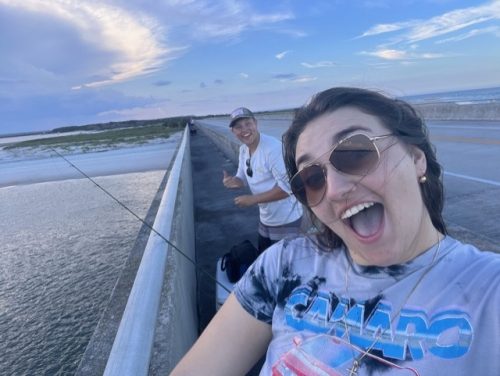 After several hours of fishing with only more catfish and ladyfish to show for it, we were beginning to get restless. Thinking about how nice a smidge of shade and some ice cream would be, I heard Joe say, "Got a bite!" Now, this didn't really faze me since he'd been saying that since 10 am that morning, only to reel in some tiny fish we had no need for. I shot him my most encouraging smile and said, "Too bad it's not a ray!" Joe responded with, "Alexia, I think you might want to come over here and take a look at this." I looked over the side of the pier, and sure enough, there was a stingray flopping on the end of his rod. I could barely breathe at how excited I was to see this pancake of a fish, and it had been so long since we had last caught a stingray. After getting our friend in the net and de-barbed by Joe, we searched for but could not find the pointed rostrum that is characteristic of Atlantic stingrays and let out a small sigh of frustration. However, this was the absolute highlight of a long and hot day, and we had caught a stingray after all! Just not the right one. After removing the hook and taking some pictures, we gave our Bluntnose (Hypanus say) or Southern (Hypanus americanus) stingray a kiss (not really) and sent her on home.
We returned to the pier after dinner that night to see if fishing in the dark would improve our chances of catching or watching someone else catch an Atlantic ray. We were still on the high of catching a stingray that day and believed our luck would bring us the research subjects we needed. While pier nights were some of the most fun I'd had this entire trip, we never saw or heard of another stingray, other than from some self-confident fishermen that were convinced a "massive stingray" is what broke their line. We didn't have it in us to tell them that the pier's cement pillars were probably the culprit of that. Regardless, Joe introduced himself and his project to the people we did come across, and one boy and his father recommended the mudflats of the Matanzas, claiming that there's so many Atlantic rays, you could just "net 'em!" Safe to say, Joe and I knew we would not be netting these extremely nimble creatures, as we witnessed firsthand how difficult it was to safely net them in their tanks back at the lab. However, we treated their suggestions as valuable intel on our investigation for the last known location of our saltwater rays. We returned to the pier a couple more times to make sure the rays really weren't there and caught nothing more than catfish, although Joe claims to have had a huge shark break off his line our last night at Flagler. After the disappointment of the last few days, I let him have that victory.
The next day, we spent about 8 hours on the Matanzas River, setting trot lines that pulled up more catfish (yay) and an occasional shrimp eel. Not to mention, our lines and hooks constantly got tangled due to the strong current pulsing below the surface of the water. After several extremely frustrating sets, we learned that the wind and current were moving in opposite directions and that setting with the wind like we did on Lake George would no longer work for us with the ocean so close by. That day, we traveled over 10 miles up the river, setting lines as close as we could to the shallows of the oyster beds littered along the banks. High boat traffic, suffocating humidity, and stinging catfish made it the most miserable day of the trip, but Joe and I somehow still managed to have a good time. Who knew that hitting other boats' wakes could be so much fun?
Feeling defeated and sunburnt, we made our way back to Whitney to unload and clean the boat. While we were soaping up the gunwales, one of the staff members from the lab stopped by to introduce himself as Lane and check on how our fishing was going. We told him about our lack of success on the bridge, pier, and now the Matanzas River, only for him to tell us we'd been fishing in all the wrong places and possibly with the wrong bait! Lane invited us out fishing with him the next day and assured us that he grew up on the Matanzas and knew exactly where we could find these elusive rays. We now refer to Lane as our saving grace since he was the reason we caught not one but FOUR marine stingrays: one male and three females. There was no way we would have been able to safely navigate the oyster shoals and outgoing tide without Lane, and were so grateful he wanted to help us. Thank you, Lane!
Finding our way back to the spot he had shown us just a day before without beaching ourselves was quite the experience; it involved using the boat pole to measure depth and a rope so we could pull the boat through the shallows, and by "we," I mean Joe. We would get to our fishing location just as the tide began to go out, leaving us in about two feet of muddy water. When the low tide reached its peak, we sat in about a foot of water, basically stranded until the tide would roll back in. I must say, though, fishing in the backwaters of the Matanzas amidst the oyster beds did end up being quite fun.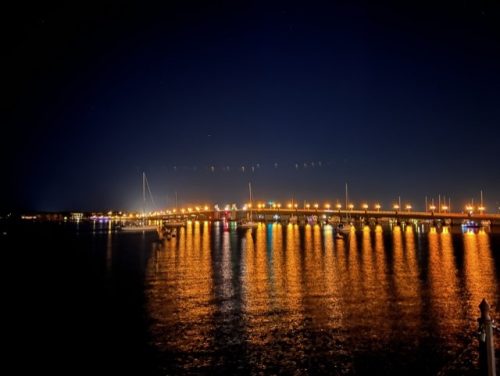 After extremely long days of capturing and transporting our animals, nights were spent rejuvenating with chips and guacamole, good music, and an occasional game of Battleship. There were several nights we ventured into St. Augustine to see what the city had to offer, and as far as food and views were concerned, Joe and I were beyond impressed. Opposed to walking through the historic Saint Augustine fort and across the Bridge of Lions, we spent other nights on the Flagler Beach Pier, just 20 minutes south of the Whitney Lab. We didn't have much downtime, but with the time we did have, we made sure to make the most of our experience and explore as much as we could.
This has been the internship of a lifetime for me, as I've gained invaluable knowledge and skills in so many areas, from boating to animal husbandry to tissue collection. To be honest, I came into this entirely unsure of where my future in marine biology would be, which is slightly scary when it feels like everyone else already knows what they want to do with their lives. However, after this internship, I can confidently say that my future is in research. Having Joe as a mentor has been extremely helpful in narrowing down my plans after graduating from UF, as I've decided that I do, in fact, want to pursue a master's degree in marine biology and, one day, a Ph.
This truly has been an eye-opening experience for me, and I wish that every student could have an opportunity like this that imbues them with practical lifelong skills and offers much-needed clarity and direction in discovering the career path best fits them.
Thanks for reading my rendition of the internship of a lifetime!