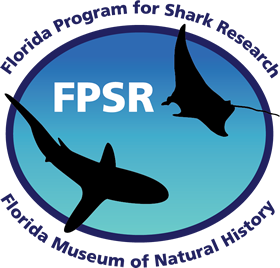 The Florida Program for Shark Research (FPSR), directed by Dr. Gavin Naylor and staffed by a team of research scientists and educators, includes the Chondrichthyan Tree of Life Project, the International Shark Attack File (ISAF), the International Sawfish Encounter Database (ISED) and hosts the preeminent website focusing on shark research, biodiversity and conservation.
The FPSR is a major research and education program that integrates cutting-edge research with education and outreach, reaching a worldwide audience. The primary objectives of projects conducted by the Florida Program for Shark Research include:
Investigate, compile and synthesize information on shark attack.
Compile reports and conduct studies on the five species of sawfishes worldwide.
Actively engage in promoting the goals of international elasmobranch research and conservation.
Conduct studies on the diversity of Chondrichthyan fishes through systematics and evolutionary relationships.
Use population genetics to determine the relative abundance and distribution of sharks.
Provide educational and technical training of students and raise public awareness about elasmobranchs through dispensation of advisory information and educational materials.
The International Shark Attack File is a compendium of scientific investigations of all known shark attacks on humans that is maintained at the Florida Museum of Natural History and is operated in cooperation with the American Elasmobranch Society (AES), the international scientific organization of researchers studying sharks and their relatives.
The International Sawfish Encounter Database documents all known encounters with the five species of sawfishes found worldwide, with emphasis on the federally endangered smalltooth sawfish (Pristis pectinata) and the equally threatened largetooth sawfish (P. pristis). The ISED integrates U.S. data formerly held by Mote Marine Laboratory, two data sets from the Florida Fish and Wildlife Conservation Commission, a pair of data sets databases from private sawfish aficionados, plus the Florida Museum's own data.
The Chondrichthyan Tree of Life Project documents the diversity of living Chondrichthyan fishes (sharks, skates, rays and chimaeras) through anatomical, DNA, and fossil data.
The website is one of the largest and most frequently accessed elasmobranch site on the Web and provides educational material about sharks and their kin, as well as serving as the host site for the  ISAF, ISED, and the Chondrichthyan Tree of Life Project.