Hidden behind the collection glass, stashed within the compactors, a collection of wild silks lies dormant, ready to be explored by curious minds. Akin to its surrounding neighbors of exotic Lepidoptera specimens, the larva spun, human crafted silk fabrics hail from all around the world.
Donated over the years, the collection encompassing upwards of 66 exclusive items found its way to the McGuire Center for Lepidoptera and Biodiversity, thanks to a generous and benevolent donation from Dr. Richard Peigler (University of the Incarnate Word).
Wild silk is not nearly as luxurious as domestic silk found in today's clothing industry. This is raw, rough, and textured silk which feels almost paper-like to the human touch.
This silk is harvested from the cocoons of various silk moths that encounter little to no human interaction. The practice of producing silk – termed sericulture, stretches back 5 millennia, and astonishingly, is a craft performed to this very day.
Our collection spans across the many different types of wild silks found around the globe. Browse below to see and learn about the different types of silk moths and their silk products.
Muga Silk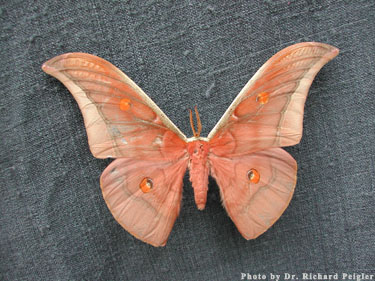 Antheraea assamensis is the silkmoth that produces muga silk. The majority of muga silk is produced and woven in Assam, India. The caterpillars feed on trees in the laurel family (Lauraceae), but also trees from the magnolia family.
The silk produced is golden in color, which inherently does not require dyeing. It is highly regarded in India and has extensive cultural value in Assam. Saris, wrappers, chaddars, and other fabric pieces of muga silk are sometimes embroidered or brocaded with traditional motifs using traditional colors such as red, yellow, and green.
Tropical Tasar Silk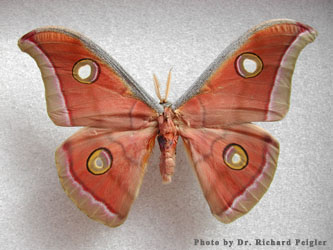 Antheraea paphia is the silkmoth that produces tropical tasar silk and is produced in eastern India. The caterpillar lives on several different kinds of trees, Indian dammer (Shorea robusta), white murdah (Terminalia arjuna), and laurel (Terminalia tomentosa).
The silk is a natural brown or beige color and has been produced for thousands of years. Many eastern tribes of India find this silk an important part of their culture. It is used to make various clothing items such as saris, scarves, wrappers, and kurtas. The pieces can be brocaded with repeating patterns of traditional motifs or left natural.
Landibé Silk
Landibé silk is produced from several species of moths from the genus Borocera, only found in Madagascar. This moth is small, brown and related to the African moth Gonometa.
Women in central Madagascar collect, spin, and weave the silk to create different pieces, such as scarves and shawls.  The pieces range in earth-tone colors, which are created using natural plant dyes, or natural materials like mud or charcoal.
Cricula Silk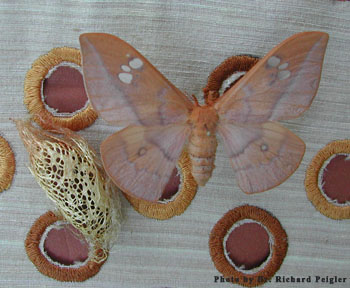 Cricula silk derives from the large genus Cricula. There are more than twenty species that span from India to the Philippines, and eastern Indonesia.
The silk is a dull yellow color, far different from the metallic golden color of the cocoon. Processing these cocoons for silk is a tedious task. When the caterpillar is constructing the cocoon it sheds urticating hairs, which must be removed so the silk does not cause itching when worn.
Fagara Silk
F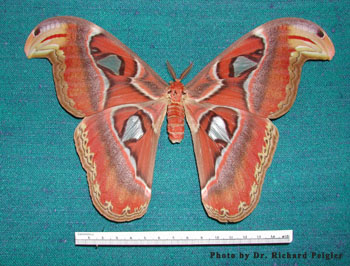 agara silk is produced from the large moth, Attacus atlas.  This moth is from the tropical regions of southeastern Asia.  The caterpillars feed on various plants such as avocado (Persea americana), guava (Psidium guajava), camphor (Cinnamomum camphora), mango (Mangifera indica), and various rainforest trees
Various shades of brown and tan silks are produced. The color depends on the plant that the caterpillar feeds upon. Many products are produced from this type of wild silk, such as ties, purses, shirts, and scarves.
Eri Silk
Eri silk comes from the moth Samia ricini, which has been domesticated for the purposes of sericulture. The eri silkworm feeds on various plants, but mainly castor bean leaves (Ricinus communis). This silk is mainly produced in North East India, but also produced in Southeast Asia.
Eri silk is heavier compared to other types of silk. It is a strong and durable fabric that has a coarse texture. It used for various items, such as shawls, blankets, pillowcases, and various other items.
Kalahari Wild Silk
Two moth species are used for the Kalahari Wild Silk. The first species is Gonometa postica. This moth feeds on trees in the bean family, such as camel thorn (Acacia erioloba). The second species is Gonometa rufobrunnea, which feeds on mopane (Colophospermum mopane).
Kalahari Wild Silk has been produced in Johannesburg, the North West Province of South Africa, eastern Namibia, and eastern Botswana. The silk has been used to produce scarves, shawls, and clothing. The silk has a natural golden brown color, which is often preferred instead of dyeing.
Mulberry Silk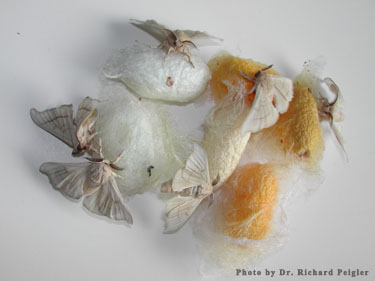 Mulberry silk is the product of the domesticated silkmoth, Bombyx mori. This silkmoth was domesticated from the wild silkmoth, Bombyx mandarina. The domesticated, Bombyx mori, was derived from regions in China. The preferred food for this moth is white mulberry leaves. This moth is economically important for it is the primary producer of silk.
Mulberry silk is naturally white in color, which makes it easy to dye. This silk can have different textures, from rough and course, to smooth and silky. There are several different fabrics that use mulberry silk, such as chiffon, duppioni, charmeuse, etc.
Sanyan Silk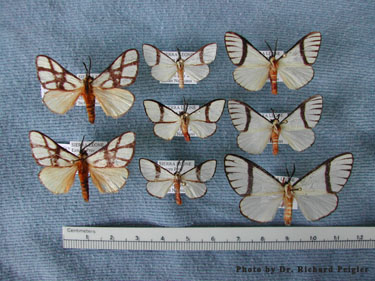 Sanyan silk is a product from West Africa and has been produced for centuries. The Yoruba and Hausa people of Nigeria are the primary users of this silk. There are several species of silkmoths involved in making this silk and they belong to the Anaphe and Epanaphe genera.
Men traditionally do the weaving in which they weave narrow strips and then sew the strips together to create a larger piece of textile to be used in clothing construction. Several items of clothing are constructed, such as an ipele (woman's dress or wrapper) and gbariye (men's robe).
Tensan Silk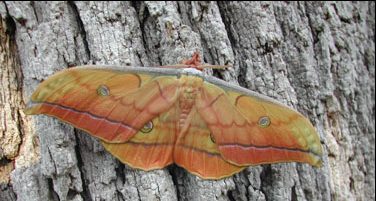 Antheraea yamamai is the Japanese silkmoth that produces Tensan silk. This moth belongs to the Saturniidae family. For more than a thousand years this silkmoth has been cultivated in Japan. The larvae mostly feed on oak trees (Quercus).
The silk is naturally pale green in color. This silk is very strong and has an elastic characteristic. The silk is very expensive in Japan.
Tussah Silk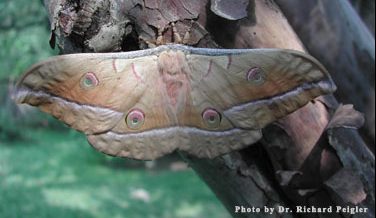 Tussah silk derives from the silk moth Antheraea pernyi and is the most well known of wild silks. This moth is primarily grown in China on oak trees, in the provinces of Shandong, Liaoning, and Hebei. But tussah silk is also found in Japan and North and South Korea.
This silk can be reeled to have either a smooth or a rough finish. It has been used in a variety of different products such as suits, dresses, scarves, handicrafts and furnishing.
Resources
Badola, K., & Peigler, R.S.  2013.  Eri Silk: Cocoon to cloth. Bishen Singh Mahendra Pal Singh, Dehra Dun, India. 93 pp.
Peigler, R. S.  1993.  Wild silks of the world.  American Entomologist 39(3): 151- 161.
Peigler, R. S.  1994.  Non-sericultural uses of moth cocoons in diverse cultures. Proceedings of the Denver Museum of  Natural History, Series 3, Number 5: 1-20. Can be accessed on the following link: http://www.dmns.org/science/museum-scientists/proceedings
Peigler, R.S. 2004. Chapter 10: The silkmoths of Madagascar, pp. 154-163, in C.M. Kusimba, J.C. Odland, and B. Bronson, editors, Unwrapping the textile traditions of Madagascar. Field Museum, Chicago, and UCLA Fowler Museum of Cultural History, Los Angeles. 196 pp.
Peigler, R. S.  2012.  Diverse evidence that Antheraea pernyi (Lepidoptera: Saturniidae) is entirely of sericultural origin.  Tropical Lepidoptera Research 22(2): 93-99. PDF
Peigler, R.S., & Maldonado, M.  2005. Uses of cocoons of Eupackardia calleta and Rothschildia cincta (Lepidoptera: Saturniidae) by Yaqui Indians in Arizona and Mexico. Nachrichten des Entomologischen Vereins Apollo 26(3): 111-119. PDF
Seltzer, J. L., & Peigler, R. S.  2014. Wild Silk Textiles. Retrieved May 22, 2016, from http://mississippientomologicalmuseum.org.msstate.edu/AnthroEnt/Textiles/Introduction.html#.V0H2EpMrKEI
Travis, J.H., Jr, & Peigler, R.S. 2016. A closer look at wild silks. textiles (The Official Magazine of the Textile Institute, Manchester) 2016, Issue 2: 22-24.
Web page created by Stacey Huber, M.A.