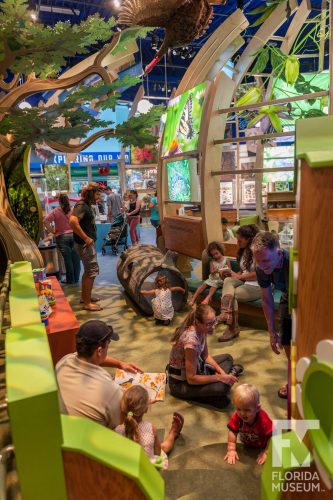 Opening the new permanent exhibit, the Discovery Zone, was only made possible by hundreds of people working together over the course of more than two years.
On Saturday, July 15th, we had a preview event for many of the key supporters who helped this exhibit materialize, including Beverly and Jon Thompson whom the exhibit is named in honor of. Then on Sunday we held a sneak peek of the exhibit for museum members and their children, before opening it to the public on Monday.
"Our community, indeed the region, has very little other informal education spaces like this for young children," said Darcie MacMahon, Florida Museum exhibits and public programs director. "We hope to inspire, early in children's lives, a passion for life on Earth."
This exhibit is intended for children up to 8 years old, with 2,000 sq. ft. of learning space to explore. From cases of specimens, to interactive visual displays, to eye-catching exploration stations, there's something for every age of young scientists.
During our first two weeks open, we had around 8,000 people visit the new Discovery Zone!
Discovery Zone Info   Become a Museum Member
More Info