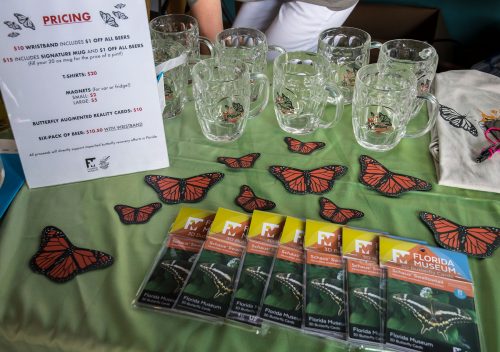 The Florida Museum and First Magnitude Brewing Co. released a specialty German-style lager called Migration Märzen. This take on the Oktoberfest style is perfect to celebrate the annual fall journey of the iconic Monarch butterfly.
The Monarch (Danaus plexippus) is one of the most beloved animals in North America. Beyond being a common garden visitor, it is well known for making an amazing 3,000 mile annual migration. Monarchs are threatened by loss and degradation of habitat, disease, adverse weather and the ongoing decline of native milkweeds.
On September 15, 2017, the Daniels Lab at the McGuire Center for Lepidoptera and Biodiversity and First Magnitude released this  specialty German-style lager to raise awareness for rare and at-risk butterflies in Florida. Visitors at the brewery got to try the beer, buy glasses and t-shirts, and talk with researchers about their work with butterflies. This is the third beer in this ongoing collaboration. The proceeds from these beers benefit butterfly conservation and research in Florida.
More