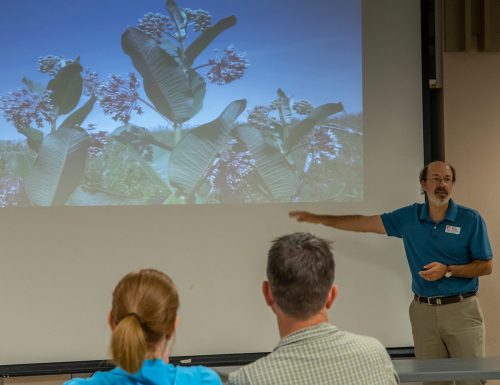 Jaret Daniels has been working with imperiled butterflies for decades. From the Miami blue to the frosted elfin to the iconic Monarch, many of these species need advocacy and support from the public—especially here in Florida. Our state offers unique environments for a wide variety of butterflies and other insects, and unfortunately, many populations have been threatened by human activity.
To foster community conservation efforts, Jaret has partnered with other University of Florida outreach programs to offer a course intended for beginners and novices to learn about bees and butterflies. It explores ways we can create gardens in backyards and common spaces that support healthy pollinator populations in any space, small or large.
Course
In this course, you will learn all about bees and butterflies, two important groups of pollinators, and how to create and manage gardens to support them.
Gardening for Pollinators topics include:
Bee and butterfly diversity, biology and identification.
Garden design and management.
Plant selection for pollinators in Florida.
The course is completely online through the Canvas Network and self-paced, consisting of short lectures, guided activities and assessments. Register to start now and take up to 45 days to complete the course at your own pace.
Certificate upon completion of course.
Instructors
Rachel Mallinger, assistant professor of Entomology at UF, specializes in wild bee biology and conservation.
Jaret Daniels, curator and director at the Florida Museum of Natural History McGuire Center for Lepidoptera and Biodiversity, is an expert in butterfly research and conservation.
Wayne Hobbs, county extension agent in Clay County, is an environmental horticulture agent and Master Gardener coordinator.
Registration
Fee: $20
Registration info: This course closed for the year on Nov. 1, 2022. Stay tuned for 2023 course dates!
Contact
Questions? Contact  Rachel Mallinger at rachel.mallinger@ufl.edu
This course is a partnership between the UF Department of Entomology and Nematology, UF IFAS Extension and the Florida Museum.
More