Celebrate 'International Women and Girls in Science Day' with hands-on activities and experiments! Hear from local scientists in a virtual panel discussion about women and science during this FREE program open to everyone.
In 2015, the United Nations selected Feb. 11 as 'International Women and Girls in Science Day' in order to further achieve gender equality and encourage more female participation in science. Join us for a day full of activities and conversation with a variety of scientists! Activities will take place on the lawn in front of the museum and the panel discussion will be live-streamed, weather permitting.
Activities
Girls Do Science
Meet local scientists and participate in cool experiments throughout the afternoon!
Women Do Science Panel Presentation: 2-3 p.m.
In this VIRTUAL presentation, hear women share the stories of their pathways into science and their incredible adventures along the way! Learn about careers in science and women scientists from around the world. After the presentation, Gabby Salazar, author of "No Boundaries: 25 Women Explorers and Scientists Share Adventures, Inspiration, and Advice," will have a book signing.
Zoom sign-up
Today's Panelists
Gabby Salazar
, author of "No Boundaries: 25 Women Explorers and Scientists Share Adventures, Inspiration, and Advice"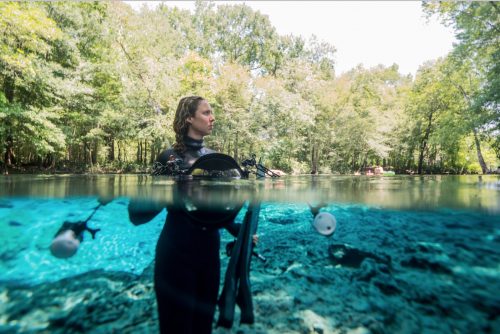 Jennifer Adler
, conservation photographer and underwater photojournalist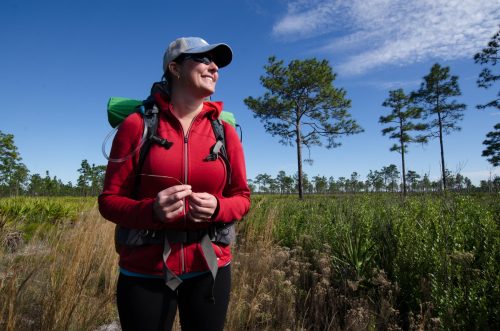 Mallory
Dimmitt
, CEO of the
Florida Wildlife Corridor Coalition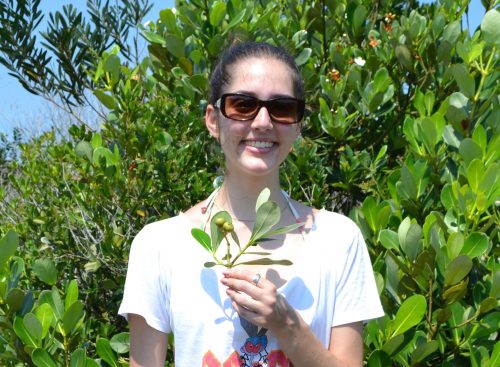 Maria Beatriz de Souza Cortez,
Ph.D. candidate in
The Soltis Lab
While the event activities are FREE, there is an admission charge for the Tiny Titans and Butterfly Rainforest exhibits.
Gabby Salazar is the author of "No Boundaries: 25 Women Explorers and Scientists Share Adventures, Inspiration, and Advice", which she created with her colleague Clare Fieseler. Gabby is a National Geographic Explorer, a nature and conservation photographer, and a social scientist. As Associate Fellow of the International League of Conservation Photographers, she has worked on environmental photography projects across the globe, spending months at a time living in tropical rainforests and on tropical islands. Salazar has an MSc in Conservation Science from Imperial College London and is currently a doctoral student at the University of Florida's School of Forest, Fisheries, and Geomatics Science, where she studies environmental marketing.
Jennifer Adler is a conservation photographer and underwater photojournalist. Her work is informed by her scientific background, and she uses her imagery to communicate science and conservation. She has a degree in marine biology from Brown University and a Ph.D. in interdisciplinary ecology from the University of Florida. She specializes in underwater photography and is a trained freediver and cave diver. An ongoing theme in her work is the connection between people and water in a changing climate. Her grant-funded and assignment work has taken her all over the world to document science and conservation for The Nature Conservancy, National Geographic, Huffington Post and the International Women's Media Foundation.
Mallory Dimmitt is the inaugural CEO of the Florida Wildlife Corridor Coalition and former Vice President of Strategic Development for Lykes Bros. Inc., a fifth-generation family-owned agribusiness based in Florida. Previously, Mallory led The Nature Conservancy's Colorado Plateau Initiative from Telluride, Colorado, assessing large-scale conservation opportunities in a four-state region of the West, and prior to that directed the Southwest Colorado Project for the Conservancy's Colorado Chapter. She has served as a member of Telluride's Town Council and has worked with local, regional, state, and federal agencies and organizations on natural resource issues. Mallory earned her B.S. in Natural Resources from the University of the South in Sewanee, Tennessee. She was awarded a Doris Duke Conservation Fellowship at Duke University's Nicholas School of Environment, where she earned a Masters of Environmental Management (MEM) in Environmental Economics and Policy.
Maria Beatriz de Souza Cortez is a Ph.D. candidate in the Soltis Lab at the Florida Museum of Natural History and the Biology Department. Maria obtained her Master's in plant biology from the State University of Campinas in Brazil. Her current research focuses on exploring patterns of plant diversity in the campos rupestres, a grassy and rocky area located on mountain tops of Brazil. She is also interested in bridging Western scientific knowledge and traditional ecological knowledge, especially where it relates to biocultural conservation efforts
Dr. Megan Ennes is the moderator for this discussion. She is the Assistant Curator of Museum Education in the Department of Natural History at the University of Florida. A former museum educator, her research focuses on the use of online learning in museums as well as how to support the professional development of museum educators. She also examines how museums can support the science interests and career aspirations of underrepresented groups through family programming and ecocivic engagement.
Organizer
Venue

3215 Hull Road




Gainesville

,

FL

32611
---
The Florida Museum may photograph or video visitors for educational and promotional purposes. Attendance to a Florida Museum event constitutes the attendee's consent regarding the possibility of appearing in Museum marketing materials.